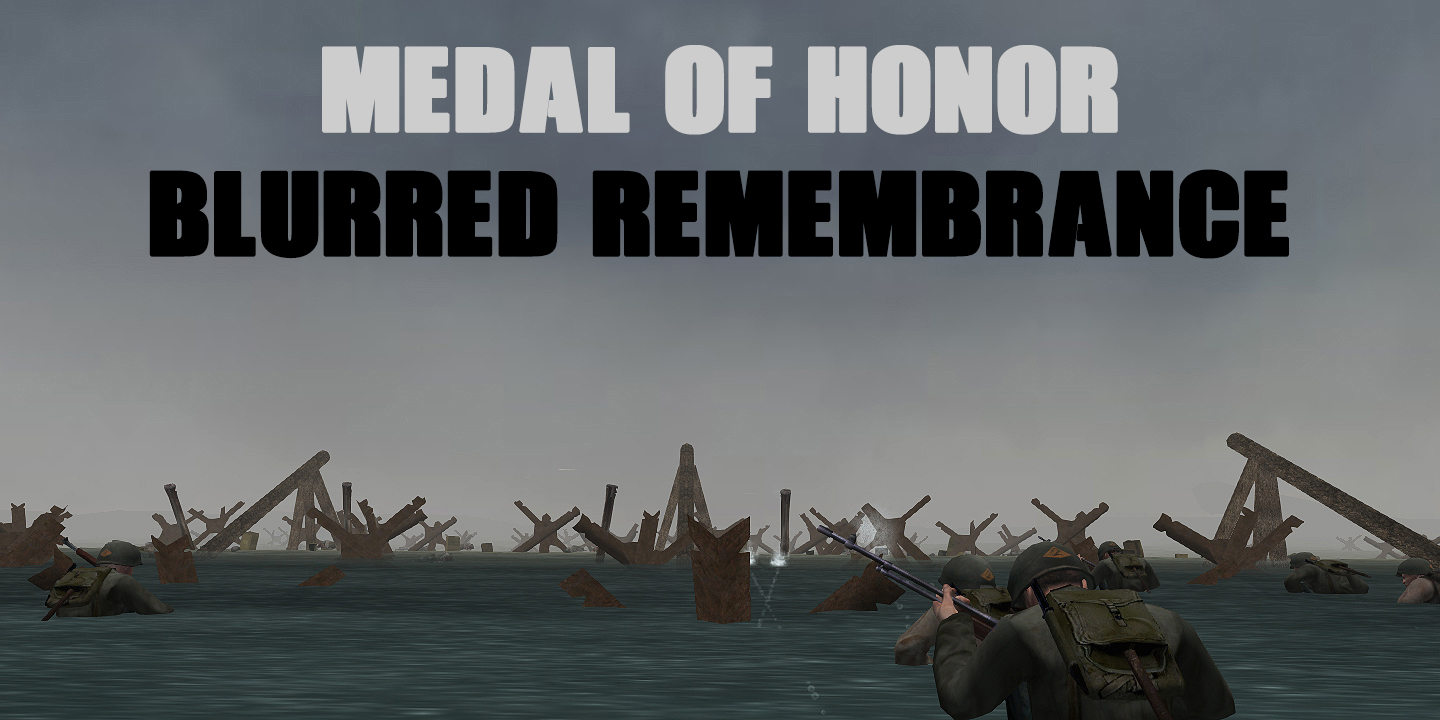 Independent, revised, reviewed and enhanced conversion
of Medal of Honor: Allied Assault.
** THE CONTENT **

Medal of Honor: Allied Assault + Spearhead + Breakthrough +

7 additional campaigns

New old textures, model & script updates

Two ironsight-modifications for nearly all campaigns

Runtimes to start all campaigns, conversions
Installer, extended config setup, tools, info-files, icons
> CAMPAGINS


Medal of Honor: Allied Assault Campaign


Breakthrough Campaign

Spearhead Campaign

Das Ende - Peenemünde V2 Rocket Campaign

Alsace: Defeating Operation Nordwind - Fall 1944 Campaign


Carentan, France

Krugerland - Mission behind enemy lines

La Coupole - Infiltration out of the water

Mission XYZ - 9 levels combined by various authors

Coop for Allied Assault, Spearhead & Breakthrough
> COOP & MULTIPLAYER


Medal of Honor: Blurred Remembrance includes Cooperative gameplay with V1.60. We included four modifications for coop and runtimes to start each, start server, choose settings and so on. The Cooperative Mod is made by Marvin_hun & S.D.A..
For Multiplayer we added runtimes for dedicated server host's for the possibility of hosting servers running features of Blurred Remembrance. However, Blurred Remembrance was always intended to be a Singleplayer experience, therefor no stock Multiplayer is available.
We want to guarantee that Blurred Remembrance is a user-friendly and non-frustrating experience, without reinstall because of errors. Therefor recommend to use
Medal of Honor: Revival for the better experience of stock Multiplayer and custom downloads.
** Ironsights Mods - MoHAIM & Reactivated2 **


MoHAIM & Reactivated2 are mods to aim on sight. These are available for conversions of Medal of Honor Allied Assault.
To aim on sight press the walk button. The view is changing and the crosshair will disappear.
You can bind Run/Walk from the Medal of Honor Options menu, panel Controls, to the right
mouse button. You will need Secondary Attack to aim with sniper rifles. Therefor you may use
Left Shift or a other button.
> MoHAIM Mod
> Reactivated2 Mod
** Texture Mods **
To give Medal of Honor: Blurred Remembrance a fine look we took together some texture packs and made 1080p available within the configuration setup. Everything for more enjoyment.
> Comparision of the Textures
> Game-Impressions with the Texturepackage & GFX-Setup

** Blurred Remembrance FULL CREDITS **
Game & Engine
Allied Assault; 2015, Inc. & EA Games
Quake Engine; id Software, Inc.
Spearhead; Dreamworks Games
Breakthrough; TKO Software
Mods
MoHAIM (Ironsight mod) - Dr Doom and Klau
Reactivated2 (Ironsight mod) - Don, Sorridstroker,Klaus, Elite3d, Drowned Fish
Textures & Models
Newlight, Newlight for Spearhead & Breakthrough - imtheheadhunter
MOHAA High Definition - [EOI]MoLoCh, [EOI]SuB-0, [EOI]b0x
The Perfect Assault v2 & v3 - Jakob93
Realistic Blood - AresKiller
Breaktrough Garand for AA (final), New Player Viewsleves for AA (final), Spearhead Shell for Allied Assault (2.0), VAL50 High Quality Texture Pack (beta1) - val50
Campaigns and Maps
Das Ende (Spearhead conversion) - B&B Mapping Designs
La Coupole - Manstein Leveldesigns
Carentan & Krugerland campaign - Herr Kruger
Alsace: Defeating Operation Nordwind campaign - Crunch & Von
Mission XYZ map: Pathfinders (final) - 1337Smithy
Mission XYZ map: Bahnhof1938 - Cheech
Mission XYZ map: Remagen_sp1 - Hogleg
Mission XYZ map: Churchcrookham2 - Mj
Mission XYZ map: Die Verteidigungslinie der Deutschen - J.H.n>
Mission XYZ map: Mohdm1_mission (3rd map; v2) - TopTiger & AI_map_maker
Mission XYZ maps: Village, Douvres, Westwall - Manstein Leveldesigns
Cooperative Mod: Marvin_hun & S.D.A.
Miscellaneous
Base for Icons of Medal of Honor: Blurred Remembrance - Blackbolt
Quake Axe for Medal of Honor: Blurred Remembrance Errorfix - Da-Beast
Custom-Resolutions & 3D Settings for games with Quake-Engine III & some help - ZYQUIST
Server-Fixes for Breakthrough & Spearhead Multiplayer 2010 - Daven & Elgan, Luigi Auriemma, RunningBon, sorridstroker
Unofficial 1.12 (RC3.5.1) patch for MOHAA - x-null.net
Using Notpad++ for Configuration - Don Ho
Providing a Buglist for Medal of Honor: Blurred Remembrance V1.50 - MODDB-User Paulissimo
Blurred Remembrance Mod
_UNWRITTEN - Mod, Moddb, Code, Collector, Photoshop, Installer script
ZYQUIST - Mod, Moddb, Code, Support, Photoshop, Guide
DERRULB - Packaging installer, Upload
** WHAT ELSE YOU SHOULD KNOW **
> IT'S STANDALONE
Medal of Honor: Allied Assault is not separately modifiable such as Call of Duty. Modifications by
various authors were not compatible together, causing errors and glitches. This is the
reason why I made Blurred Remembrance a standalone conversion.
You will just be able to play the Medal of Honor: Blurred Remembrance conversions. To play the
original Medal of Honor: Allied Assault you need the original CD's.
> THE HARDWARESUPPORT
The game and tools are running on MS Windows 32 and 64 bit, Blurred Remembrance is developed on MS Windows 7 64bit with 32bit tools
INTEL graphic-cards normally aren't supported by the default MOHAA & Blurred Remembrance
Blurred Remembrance supports a resolution up to 1080p 16:9 and 4:3, however 1440 x 1080p (4:3) is recommended
For crashes please read the Walkthrough included in the installment
Windows 8 and 10 could use an other OpenGL file for playing Blurred Remembrance, a program for different OpenGL setups is included
> THE DISCLAIMER
Some MS Windows or hardware setups and settings could cause crashes when playing Blurred Remembrance. Please remember that we did not edited the engine and simply modded a solution everyone could have fun playing this game with merged mods. The default MOHAA would possibly crash too on your machine. So please! - Don't review this mod with bad points, while we did hard work to get everything together. It`s your machine and your skill to make games run on it.
> INFORMATIONS ABOUT ANTIVIRUS
The installed runtime shortcuts (like MoH BR - _UNWRITTEN.exe) may cause some problems with
Antivirus Software. They are clean and you can exclude them from checking. Also the downloadable installer is packed separate in case of this issue.
>> DOWNLOAD <<
Simply collect all 6 downloads. Afterwards collect all 5 .bin parts and the installer .exe unzipped together in one folder in order to install Blurred Remembrance. Read all instructions carefully.
BLURRED REMEMBRANCE V1.60 INSTALLER

BLURRED REMEMBRANCE PART 1

BLURRED REMEMBRANCE PART 2

BLURRED REMEMBRANCE PART 3

BLURRED REMEMBRANCE PART 4
BLURRED REMEMBRANCE PART 5

** FEEDBACK **

We really appreciate all kinds of feedback. Let us know here on ModDB what you think
about the mod and we are sure to reply. More reviews are welcome.
Regards _UNWRITTEN, ZYQUIST & DERRULB
Special thanks to the mentioned authors & to the possibilities of ModDB.
Now make your full battle experience.