April has come to an end and the team yet again has interesting progress to report - and teases with developments that we can not yet talk about. In today's update we're presenting to you the four variants of the Bushwacker you'll be able to use in MWLL's first release, a status update on the SA_Marshes map and definitely one of the best playtest impressions ever.
Four variants: Inner Sphere BUSHWACKER
Unlike last week's two featured Mechs - the Owens and the Awesome - the Inner Sphere's Bushwacker is still waiting for his shiny new clothes to arrive. However, it is in game already and the screenshot below introduces to you the four versions currently implemented.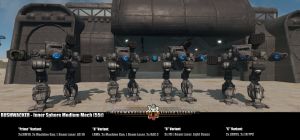 Progress: SA_Marshes
The Solaris Arena swamp-style map SA_Marshes has experienced major improvements since the last screenshots. Its creator -OM-Sanyassi spent a lot of time on the airfield which is more and more turning out to be the real hot combat zone in this foggy, steamy place. Check out the panorama impressions below!
While we're talking about maps for the Solaris Arena game mode, we'd like to draw your attention to the public poll we're currently running on our forums. We'd like to know which SolarisArena map you are most looking forward to?
Playtest impressions
Again, here are a few pictures from this week's playtest.