This update we bring you our Money Transfer system.
WEA Money Crates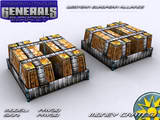 While AC developed advanced ways to teleport developing the multi-object teleportation system also known as Chrono tech, WEA preferred to research other fields they considered more important such as advanced energy production systems or advanced energy weapons. However the primitive teleportation technology available to almost all developed countries by then, were put to a better use by WEA High Command with their development of the teleporting supply routes. Basically using the older technology they managed to teleport a single money container to any base or outpost that needed it.
AC Money Truck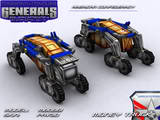 The AC constructed a reasonable speed yet highly durable truck to transport money to their allies and help the war effort. Although the design looks rather flimsy, it is in fact built from a specially designed, light weight armour. This therefore allows it to have a high speed with no loss of durability. Also, the fact they will not need a great deal of the armour helps keep down costs. This truck has excellent resistance to land based threats but air units can tear through the armour in a matter of seconds. It is therefore recommended that AC commanders use Sky Knight's to escort the truck until it reaches its intended destination. Battlefield reports suggest, after the enemy have destroyed one of these trucks, they are able to salvage a portion of the money being transferred.
UAN Support Plane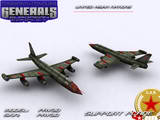 The UAN commanders also saw the need for a way to transfer money to their allies. The UAN used their extensive knowledge of aircraft to build a fast, heavily armoured supply plane. This plane could be adapted to carry several different payloads, one of which being the money crates. Unfortunately, if the planes are shot down en route to an allies base, a portion of the money will still be available for anyone to salvage.
UAN were so pleased with the final design of their plane, that they decided to use it in all future bombing run and airstrike operations.
We hope you've enjoyed our update.
This is the EC team signing off.