Hi Everyone,
So firstly I wanted to say thanks for following us along on our development journey. We've been developing Failure: NeuroSlicers for the the past 3 years, completely self funded, and your support means a lot to us. Although we've still got a way to go before we're ready for a full launch we're happy to announce that we're going to be doing closed Pre-Alpha later this year. There are a couple of ways to get involved which I cover a bit further down this post.
Firstly, lets get the latest Trailer out of the way. So without further adieu, here it is:
Anyway, this update concerns our recent time over in Birmingham, UK for Insomnia61, the UK's largest gaming culture event.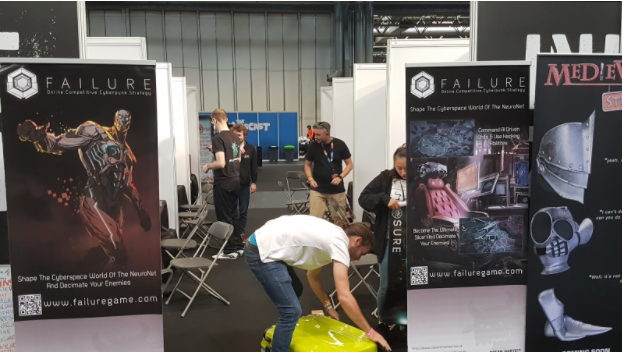 What an amazing 4 days we had, talking to a real cool bunch of gamers and other developers (and even some publishers). Insomnia was the first consumer event we've done and what a place to do it in! If you guys have never been to the Birmingham NEC; its like a city, in fact it has almost a quarter of a million square meters of exhibition space; that's the size of around 35 premier league football pitches!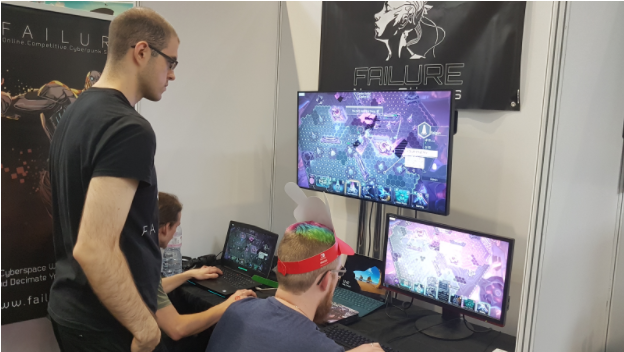 The Indie area of Insomnia was in a prime location which meant we had a constant influx of new players coming over to check out the game each day and on day 2,3 and 4 we even had a large number of returning players come and play again and again, which was great to see.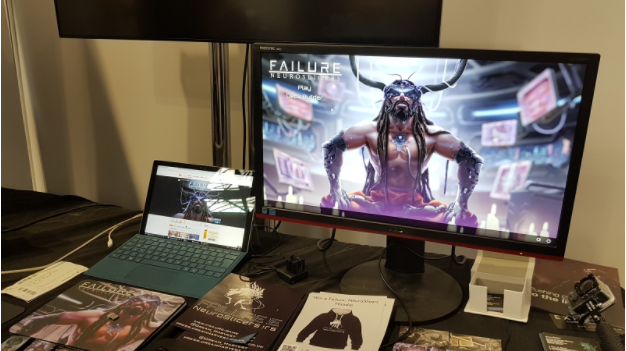 During the 4 days we were giving away some cool collectable badges to everyone who sat down and played and if anyone managed to beat either Milcho or I they would walk away with a cool limited edition Mouse pad - surfice to say, quite a few people managed to walk away with Mousepads.....I swear Milcho must have thrown a few games....no one usually beats him!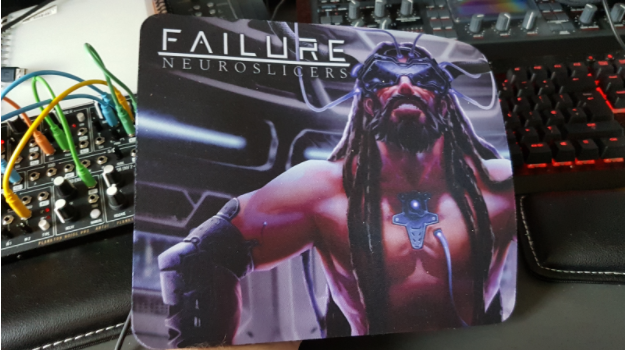 We ended up getting some really helpful feedback, but the general consensus from almost every player was that we're onto something special with Failure: NeuroSlicers. Some people even came back to us to tell us it was their favorite game of the show which was super nice of them.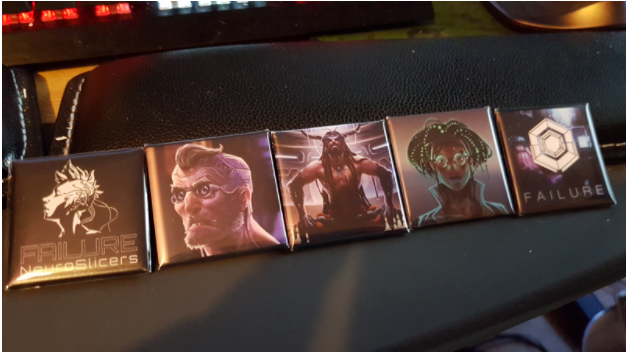 If you weren't able to make it down to Insomnia, don't forget that you can get access to an Interview recorded on the last day of the show for free in our rewards section at:
If you want to support us further then we also filmed a mini documentary during our time there and you'll also get one of the exclusive limited edition square badges that we handed out. And if you really want to splash out and get one of the cool limited edition mousepads, all 5 of the limited edition badges and access to our Closed Pre-Alpha when it launches later this year then we have that as a reward as well.
We're also growing our Discord community in preparation for the Closed Pre-Alpha launch happening later this year. Want to get involved without paying for access on Brightlocker? Then come join us over at Discord.Failure.Game and get talking with the rest of the community.
So as mentioned, there are two ways you can get involved with the Pre-Alpha, either head over to our Brightlocker Rewards section and Purchase access where you'll be able to skip the queue, or head over to our Discord Community and get involved in the discussion.
Looking forward to chatting.
Thanks
Justin French
Founder / CEO / Creative Director
Dream Harvest