In this month's update I would like to show our fans a few ways how we have been improving Land of Legends. I've taken a look at our Media page and realised how terribly outdated our screenshots are. While I would just love to throw them all out and start with a fresh batch of new screenshots, they also show pretty well how the mod has flourished over the past years.
First off, creating custom content has always been the goal of this mod since it started. We wanted to make something unique, something the regular Half-Life content couldn't offer. We started with the most important content, which are models and textures. More and more we've discovered how much content could be changed, like skies, HUD, sounds and gameplay. This first screenshot shows the improvements we've made to the environment and the overall experience of the surroundings. More NPCs, more interactive elements and a richer world will contribute to a better gaming experience.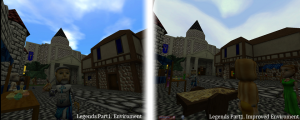 Secondly, there have been a lot of visual adjustments. As you can see from the screenshot below, we've used better lighting techniques to bring our world to life. Half-Life's Goldsource engine is old and all effects are static, which means there is a limit to how well maps can look. By using visual tricks and clever use of the engine resources, we're boosting the maps to a new level. We are aware that its also possible to fake bump mapping effects and use detail textures, which will make the maps look even nicer, but most of our maps are on the brink of hitting the engine limits as they are, so sadly enough, that will not be an option for us.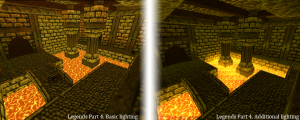 Lastly, we've added a lot of environment sounds and dynamic elements that you can't see from screenshots, but those also contribute to the overall experience, making Land of Legends the colourful world we wanted it to be.
As you can see I've taken some time to update our ModDB page. I hope you all like it! Thanks for reading!