It's a Lakeside Jumping Spider Love Story.
"Creature Quests" are DoN's new gampelay focused maps with support for Steam Leaderboards and eventually Multiplayer, Co-Op and more.
Released now, is the first challenge map where you play as a female or male Jumping Spider voyaging across a deceptively placid lake tracking the pheromone scent of your Lady(/Sir) Love :)
Here's an overview personally narrated by me (Venu, DoN's Dev):
2) Female Jumping Spider:
1) Male Jumping Spider:
Participate & Win Prizes!
DoN's first leaderboard contest will run until 10th of April 2017. You can win prizes by simply gaining a place in the Steam Top 10 leaderboard for the Lady Love challenge map!
For a full list of prizes and rules please check out this Steam Announcement.
The current leader is Steam user "NuclearMedic" with a blistering run of 1:15 seconds! Better put your Jumping boots on and join the action because Lady Love is waiting on the other side of the lake and you're not the only Phidippus Regius in town!
Pssst...Want to participate but don't have the game yet? Drop a note to www.drunkonnectar.com/contact/ and I'll see what I can do :)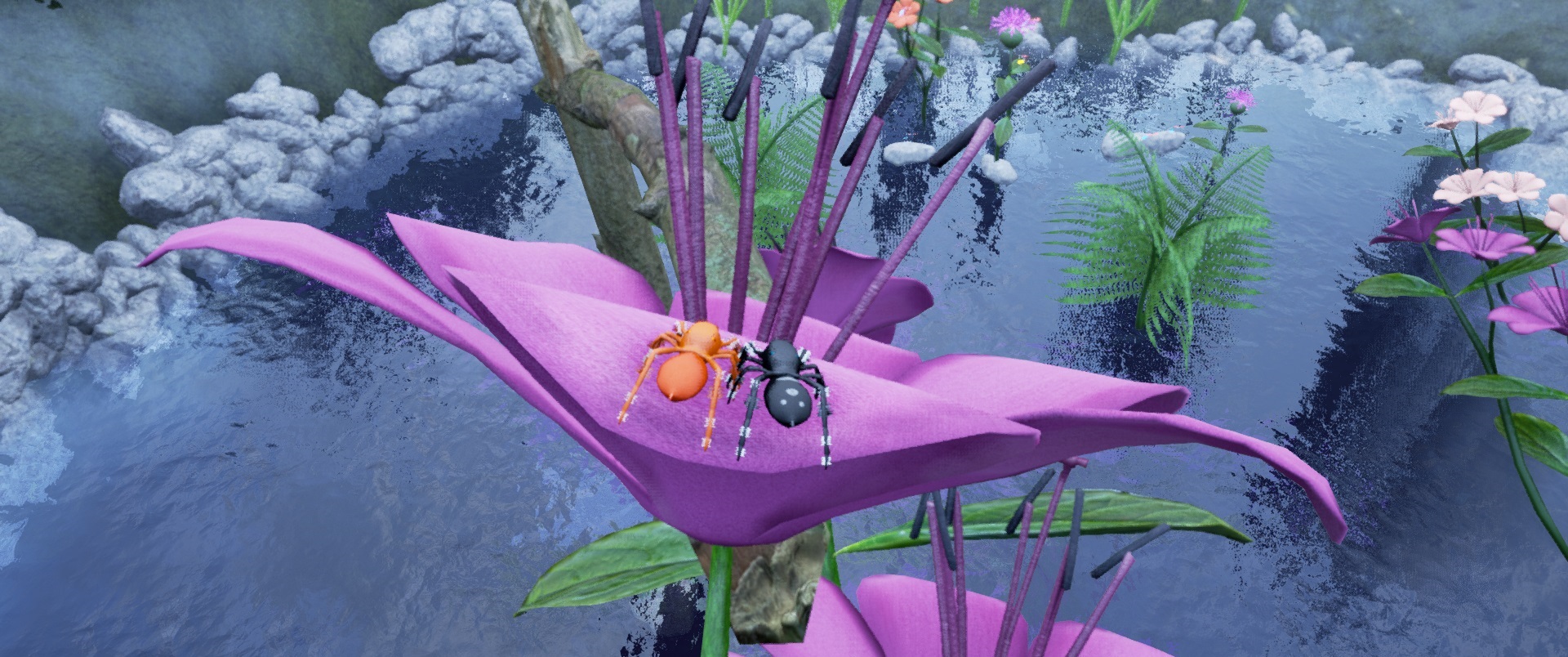 DoN's 2017 Trailer
It's been a while since DoN's 2017 trailer was released, but as I never got the opportunity to share that here on IndieDB I thought this was a nice time to sneak it in.
Here it is!
The Next Creature Quest
Work begins on the next Creature Quest this week! If you have a particular setpiece in mind or a creature you were keen on seeing in the main simulation but isn't prioritized yet, just let me know; that's because it's significantly easier to bring new creatures into Creature Quests than the simulation game modes (which need a more academic treatment, in their current form at least).
That's it for this round of news; join the contest, get your name up on the leaderboard, and who knows, you might just be the one to earn a permanent place in DoN's In-Game-Hall-Of-Fame :D
That's it for this Creature Quest, these trumpets shall blare again when the next one is ready!
With ❤,
Venugopalan Sreedharan