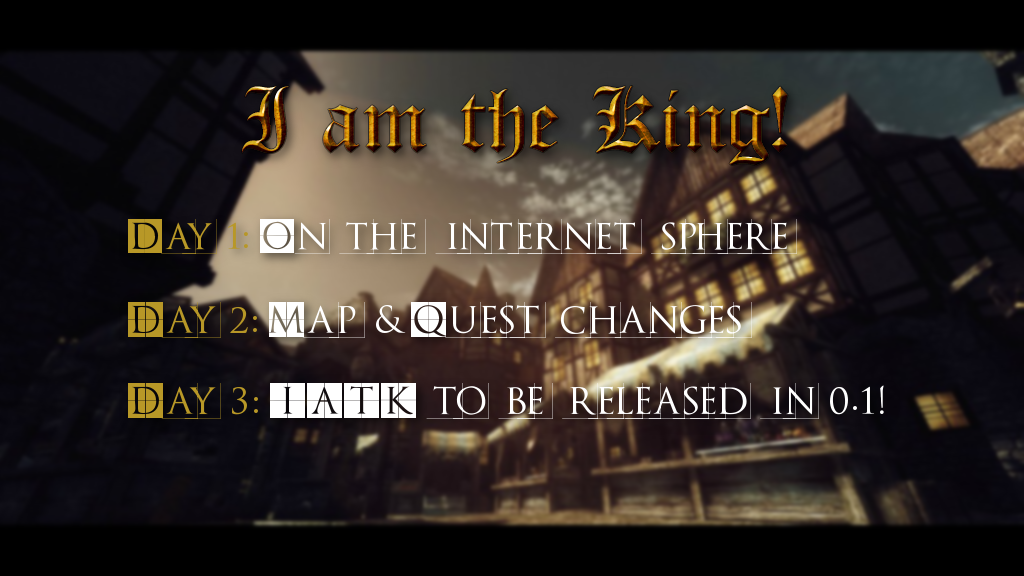 A fan always expects, and he is right, to test the product, the mod. Even if there will be some delay, he is now able to estimate the release date of IATK. Details below!
11/11/11 : here we go! Skyrim is available, mod ideas are everywhere besides still waiting for the creation kit which was released later, and thanks to them the game still lives 4 years later. Among those mod author there is Arkanikorde who, we know it, has been the origin of "I am the King!", an abstract concept which comes to fame, as a major project one Bethesda's game.
During four years the project team has created an entire region on paper, with its background, stories, tales, geography, quests and more. But besides the team lacks on the technical points: turn-over from mod specialists, technical or IRL issues coming over and over, it is truly difficult to complete successfully a task where all the protagonists are there during their free time.
But we keep moving, and in order for us to stop being waited, and stop making you wait for us, we have decided to release IATK in its final version for the first and great region: Penthiver. In 0.1 according our notation.
Which will be probably reached by 2016!

What about the content? One big region formed by cities, villages, castles, dungeons and forests. Some side quests and main plots, as the regional civil war (we will talk about it soon). We can say almost out-and-out. What will be missing? Well, first of all the main quest and the royalty simulator, because planed for the end of the development. Those regions will not be there: Lestre, Athel-Loren and Sintavoir, but each one are smaller than Penthiver.

Now you know everything. Everything? Almost… One last word to warm you, we won't be a part of the MOTY this year, the ModDB contest which rewards the best mods, in order to be fully concentrated on the development, without absent-mindeness.
Now you know the whole story!
The LRCM Team