Hello! It's been a while since we've posted something that big. It's true that we have posted some short messages (those news in the column in the right section of our website) as well as facebook posts, however motivated by a large amount of e-mails and forum request I've decided to spend some time and tell you what have changed in Edengrad during the last… half a year. So… let's get started, shall we?CameraYes, you are right, we have written a long article about it some time ago. But we haven't mark it done. Actually we have been working on it the whole time, so right now we have a mix between third person view and isometric view. What does it mean you wonder? Basically it's still isometric view, but we allow you to control the angle of the camera. Anyway check it out by yourselves.
[YOUTUBE]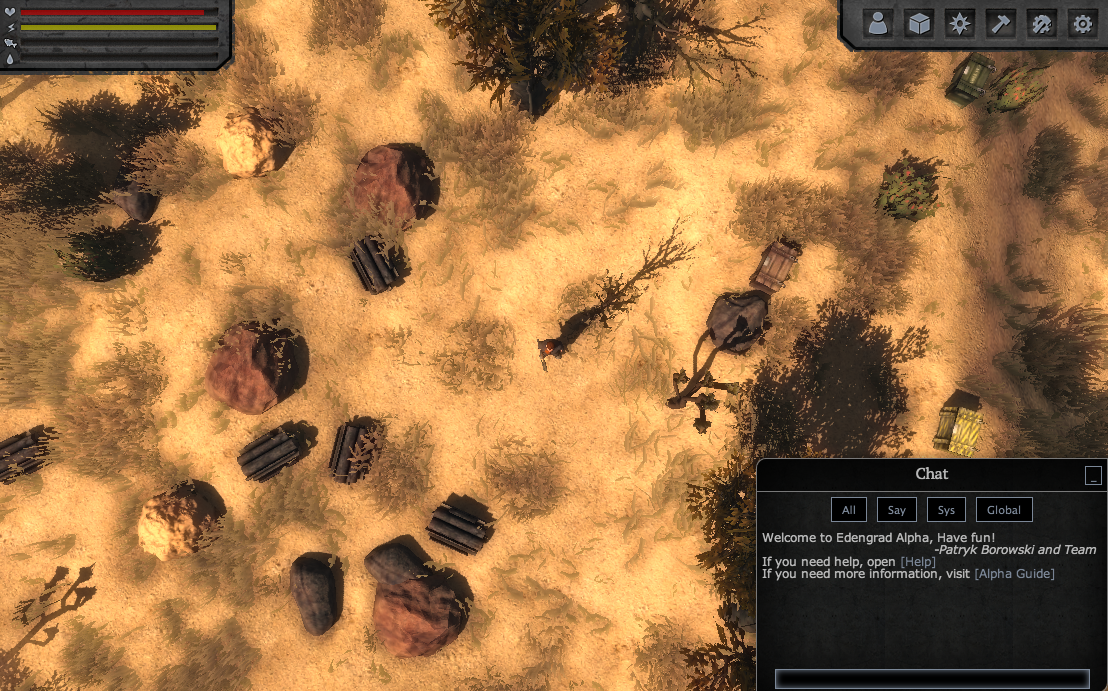 TopDown camera, useful during building.
Skills and professions
Skills are one of the most important thing in this game. Basing on them you can say "which lvl" our character have and what it can do. Every profession like tailoring or building have its own skill tree where we can spend our skill points gained from increasing our profession level. Sounds complicated? Only in theory, I the matter of fact it's pretty simple. You get one skill point per 2 profession level. And we tried to make every skill in each tree useful, so spending your skill points won't be an easy choice. We spend lots of time on skill tree designs, and it's not rare when we rebuild on tree from scratch just to improve it.
While browsing through the skill tree it won't be hard to notice that most of the skill tree (or even all skill tree) are just a designs of items you can craft (f. e. tailoring or woodworking ). After unlocking that design you will materials, but also appropriate workshop to craft unlocked item. As resources are quite obvious, I'll now focus on workshops.
Every profession have its own unique workshop. After clicking on it a standard crafting window will appear, with unlocked designs and so on. Our graphic designers have spent enormous amount of time to make sure that all workshops will look unique and just awesome. Right now we have done 8 of 10 workshops that will be available in the lunch version of Edengrad.
As you see we are really busy, so it's all for now, but don't worry soon there will be a second news about our progress so far. But right now time to get back to Edengrad and finish rest of the workshops!
Take care, and stay updated for next post!