Hey guys, Flux here. In this post I want to elaborate a bit on the history of Blade Symphony. While this isn't a full retrospective (the game's not done!), I want to give you some insight into what this game means to me, personally, and why you should vote for us for Best Upcoming Mod of the Year.
It all started with a little game called Jedi Knight II: Jedi Outcast, a surprise title from then Raven Software. When I was in college I played countless hours of the game and discovered a niche dueling community that played the game with nothing but saber duels.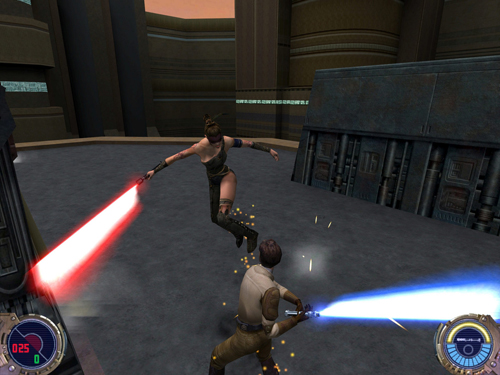 A duel in Jedi Knight II: Jedi Outcast.
We purposely played the game with no force powers, saber only, duels game mode and found it to be surprisingly fun. A duel community formed, and a simple act of "bowing" before a duel signified that you were part of this elite player-base who could kill anyone with just your lightsabre.
The gameplay itself was simple: you started off in front of your opponent and were given a sword with three different stances. You could direct your attacks in various directions and deflect incoming attacks. While you could jump, landing somewhere near your opponent meant death because one strike could easily kill you.
This gameplay was so addictive that I was shocked that no other titles followed suit or have had any similar mechanic since. And, while there were sequels to Jedi Knight and other games had adopted these elements, it was the constraints imposed upon ourselves as players that gave the game mode its addictive qualities.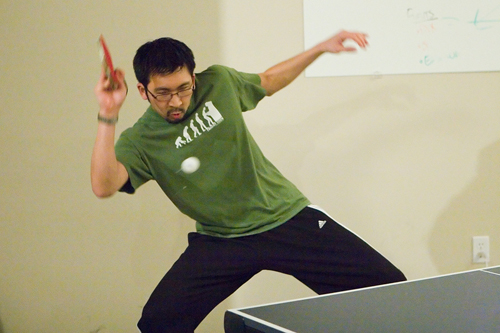 A ping-pong player engrossed in the game.
Constraints matter. It allows the game design to be highly focused, in the similar fashion that games like ping-pong, tennis, chess, or Go are the amazing games that they are, because players are focused on the details rather than overwhelmed by broad but shallow featuresets which are common in so many triple-A games.
A sudden epiphany struck me in the summer of 2006, my first year out of college. I realized then that I had the skills to actually make this ideal game - why not actually do it?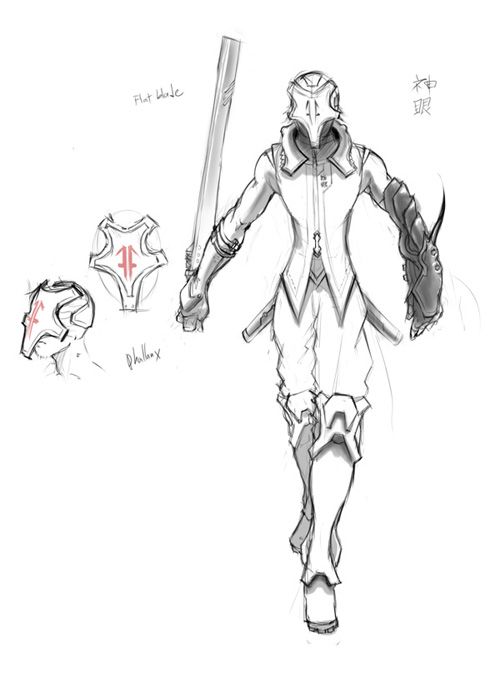 The very first concept art for Berimbau, Phalanx.
My friend Jason Balanza and I thus started Project Berimbau. It would be a pet project to include all our crazy fantastical ideas: a universe where you can control either samurai, cyber-ninjas, or knights and play in a "spatially-relevant" sword fighting duel game.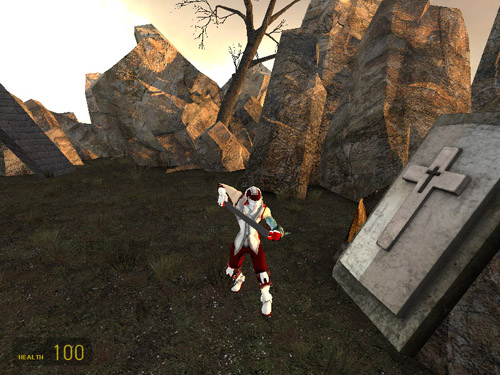 First build of Berimbau.
We were fans of anime and film, so we drew from every source that inspired us. We spent countless hours studying fights that we thought looked cool in movies and TV shows like Samurai Champloo, Blind Samurai Zatoichi, Casshern, Fearless, Gladiator or Azumi, to name a few.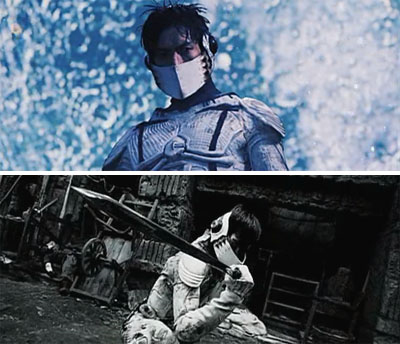 Casshern's outfit in the film.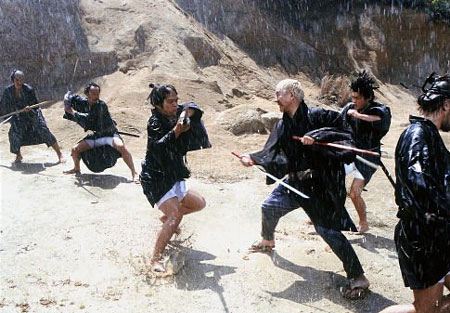 Zatoichi facing off against Yakuza.
When we finally had something to show, we posted right here on ModDB. You can even browse our old design documents which contain a bunch of our old concept art, storylines, etc.
Technical difficulties struck, and it stalled us for a year and half. Project Berimbau was put on hold, and there were actually experiments to move it off the Source Engine and implement it on the Quake 3 open source engine. We even had a build with blocking in Quake 3!
Nearly two years after it was put on hold, Jason and I decided to restart the project after the Source SDK had been updated and numerous bugs were fixed. We realized that we needed extra help, so we formed a team called Ninja Workshop which consisted of six people.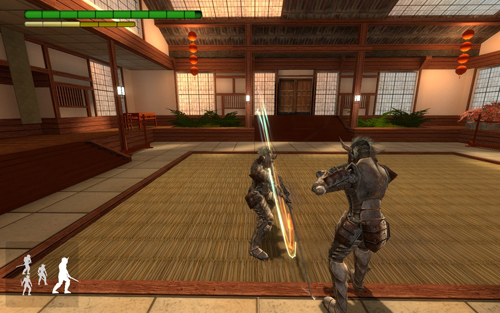 An early build of the game.
Development in Ninja Workshop went pretty smoothly. At this point we experimented with many different features, such as having a stamina bar, various stance switching methods, a lock-on camera. Most of these features ended up being dropped for good reason (for the most part, they weren't adding fun!).
Some time in early 2009 Ninja Workshop began talks with Team Dystopia on possibly combining forces. Team Dystopia was looking for a game to quickly develop (oh, the irony) as a stepping-stone to future projects, meanwhile Ninja Workshop was desperately looking for the type of talent and experience Team Dystopia already had. At the same time, Team Dystopia was transforming into an independent studio called Puny Human Games, and Berimbau would be a Puny Human Games project.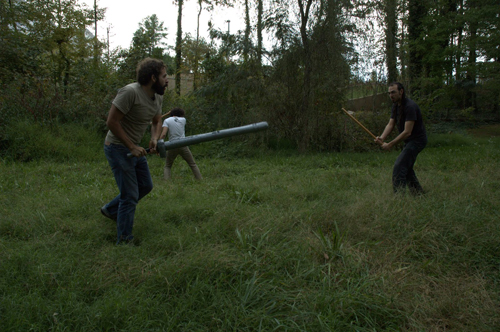 At Devapalooza 2009, brainstorming new attack animations.
Over the years I've worked on a nearly daily basis with the fine gentlemen who brought you Dystopia. We've had meet-ups where all of us from around the world fly in and hang out for a week, just to develop games.
These talented, unsung lads who have given cold hard effort to deliver what you see today are the heroes who truly deserve the Mod of the Year award. What you see today is the product of four years of insane work just to make a mod.
Historically, mods die out almost as soon as they are released. Mods cannot gain traction without a huge and loving fan-base, such as yourself. I want to end the post by saying that this mini-retrospective is not meant as a circle-jerk to win your vote. I believe in every fiber of my being that Blade Symphony deserves its time in the limelight. I only hope we can get everyone playing the game as soon as possible, and get as wide an audience as possible at launch - so that Blade Symphony can have a lasting impact.
---
You can follow us on twitter if you want, or Like our page on Facebook. And just for completeness' sake, here are our forums where you can talk about Blade Symphony, Dystopia and Puny Human in general.