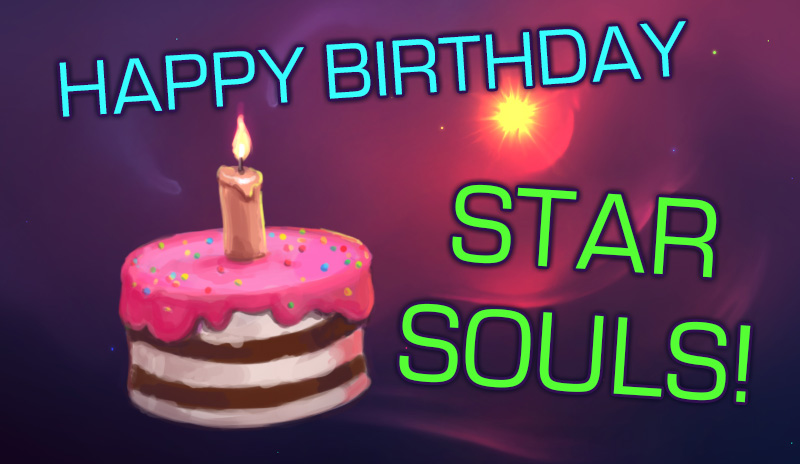 Our Little Story.
Some time ago I've found this funny old news: "On Saturday, January 28, the third Game Lab started."
A year ago exactly we started working on the Star Souls project (8 months are in active development). It is time to remember Our Little Story))
Our game designer and artist Dmitriy saw an invitation to a meeting of all "who wants to make games". The meeting was organized by educative company, where Dmitriy taught computer graphics. He worked for about 8 years in gamedev, and for a long time wanted to do something more – his own game. For this meeting, he made a short description of his future game Star Souls.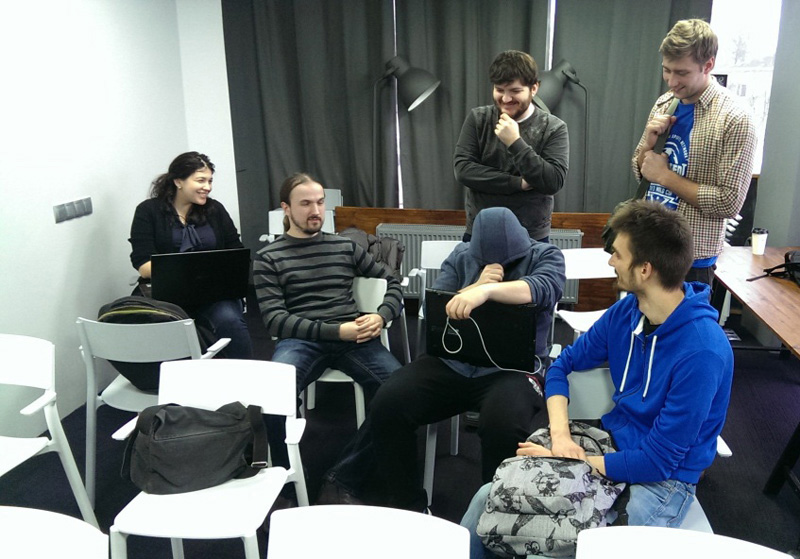 From the left: Karolina, Dmitriy, Arthur, someone in the hood, Dmitriy Kharko (in the checkered shirt), Anton (in a bright blue jacket). From this meeting Star Souls began.
At this meeting we got acquainted with our future Unity developer/programmer Kirill and composer/sound designer Anton. 28 January 2017 Star Souls game was officially born.
Kirill at work.
For two months, Kirill was making a prototype of the game, and Dmitriy was making graphics to it. When everything moved and worked, we've presented a Star Souls prototype on DevGAMM in Moscow. I wasn't there, there were only Dmitriy and Kirill.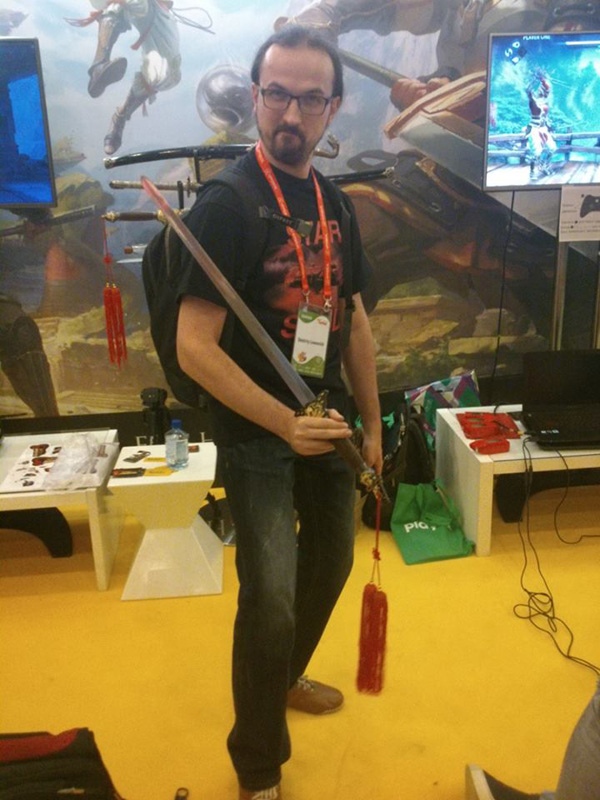 Dmitriy found a sword on DevGAMM. He loves fencing))) And here he's with his long hair.
To the prototype, Dmitriy collected a small, but very pathos trailer - from Anton's music, the speaker's Marina voice-over, his own art and gameplay video. Then Star Souls spaceships were stupid and very evil, it couldn't spin, were not afraid of dangers, but the picture was very pleasing to the eye))
Simultaneously, the game were shown on Steam Greenlight. The Greenlight was a matter of principle, because even then there were rumors of its closure. We did not know under what terms Steam Direct would work, so we did our best to get it.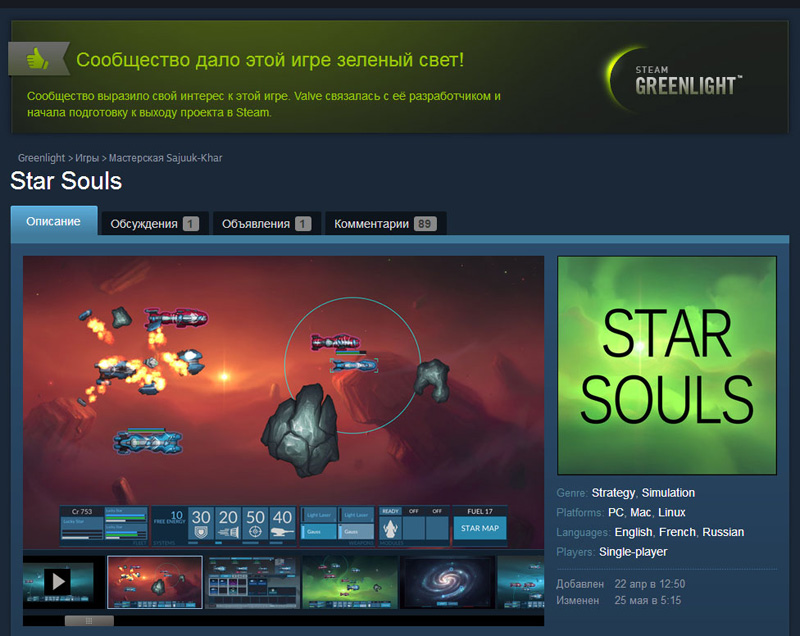 So, it is in Russian: Your game got Greenlight. When I saw it, I was so happy))
After Moscow DevGAMM, we received the joyful news that the game got Greenlight. The support of the community gave us strength, and we continued to work on the game.
Within a few months, a lot of work was done, and the game was no longer a prototype, but a serious project. Dmitry was engaged in game design, because Star Souls is generally his idea, and also drew, and drew, and drew. Kirill wrote the code and logic of battles, text events, a store, a star map, and probably something else that I don't understand. )) Anton wrote an intro to the game, combat and explorer themes, music for the store. Here is the music compilation:
Quite a fun thing was to record the voice over for the game. It will be in English and Russian. While the voice over is not included in the demo, but will be released approximately like this:
I made dozens of text events. At first they were a little boring, but then, after the quest engine was updated, more opportunities arose, and the quests became more diverse and interesting. By the way, for the quests we used Chat Mapper. The game is on the Unity engine.
Many who tried Star Souls demo say that the quests are similar in something to the Space Rangers. I rather had an example of TES 3 Morrowind, where, in my opinion, the textual dialogue part was simple and at the same time beautiful.
We decided on the appearance of playable races and their spaceships. I wanted them not to be absolutely fantastic, but a bit like the forms of life that existed on Earth. I thought about insects, reptiles and warm-blooded, which alternately reigned on our planet. The nature takes the same decisions under the same conditions, so it seems logical to me that on other planets life will also be somewhat similar to ours. So our Unity (warm-blooded), the Hive (insects) and Verdans (the lizards) appeared.
This is a small gameplay video from the Alpha Beta Gamer.
And this is what awaits the player in the Star Souls)))
When the game was already at the pre-alpha stage, we showed ourselves at DevGAMM in Minsk. Here we've rock))
Based on the suggestions of other developers, we have improved a lot in the game: artificial intelligence, complicated quests, made more elements of the active environment, corrected annoying bugs in the game.
While on this our history is interrupted. We go to crowdfunding, because, you know, indie developers have very little money.
We love our work very much and work with sincerity and dedication. We have an effective team that will happily continue to engage in this project, of course, if you want it))
Everything is in your hands.

You can support us on Thunderclap: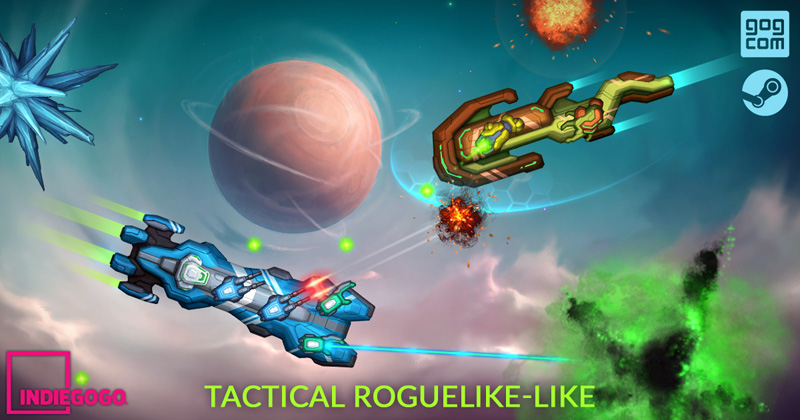 Thank you,
Karolina.