Hi, everyone. In Update V3.2, we've got the first fruits of our modeller's labours to show, new animations to go with our freshly-made weapon models, and also some substantial map progress to show. We're proud to present what we consider one of our best updates yet.
Team Updates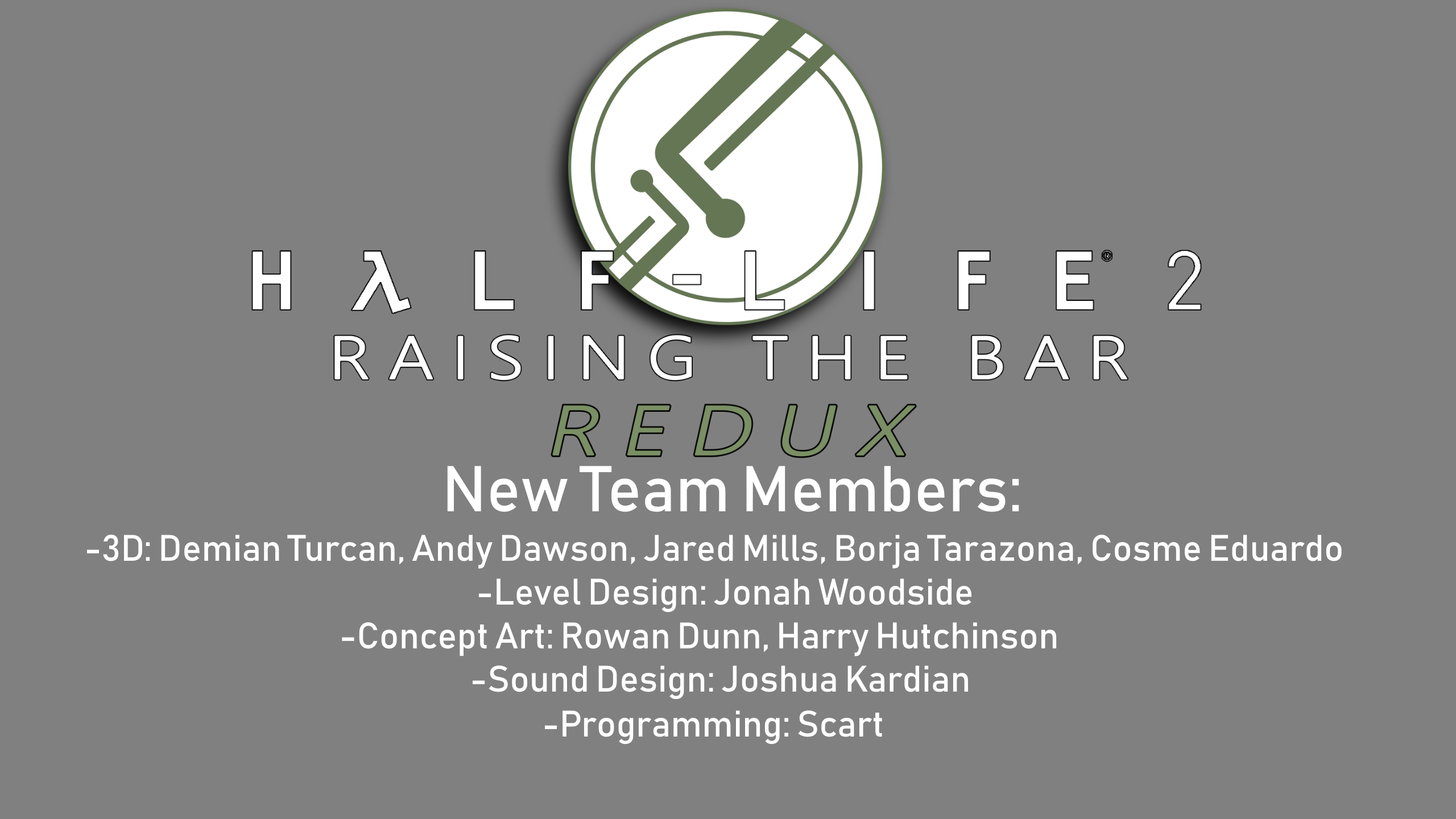 We've taken on a huge influx of people since the last update, all of which have already gone to work on the mod. In 3D, we've taken on Cosme Eduardo, Jared Mills, Borja Tarazona, and Demian Turcan for hard-surface work (like props and weapons), and Andy Dawson for creature design. We've also taken on Rowan Dunn and Harry Hutchinson in the concept art department, Jonah Woodside for level design, and Joshua Kardian for sound design. ADDENDUM: An oversight missed out this team member's contributions to the project so far, but Scart has also joined Raising the Bar: Redux as a programmer, and has already gotten to work fixing some of our biggest issues. Some of these new people's work is being showcased in this update; some others' work isn't quite ready for public showing yet, but it most likely will be by December 1st.
Weapon Updates
First-off in the long list of excellent model work Cosme, one of our new modellers, has done, we've got the weapon models for the Tau Cannon, the Sniper Rifle, and the Grenade. Cosme modelled and textured these three models entirely from scratch, and, as you can see in both the renders and in-game shots, it's hard to argue with his results. The Tau Cannon and Sniper Rifle were two sub-par weapon models we were always sceptical about how we'd go about replacing, but with a talented modeller like Cosme onboard, those concerns were wiped away. The grenade's new coat of paint is also very nice, and it helps us round off the improved look of our arsenal.
Terminal Plaza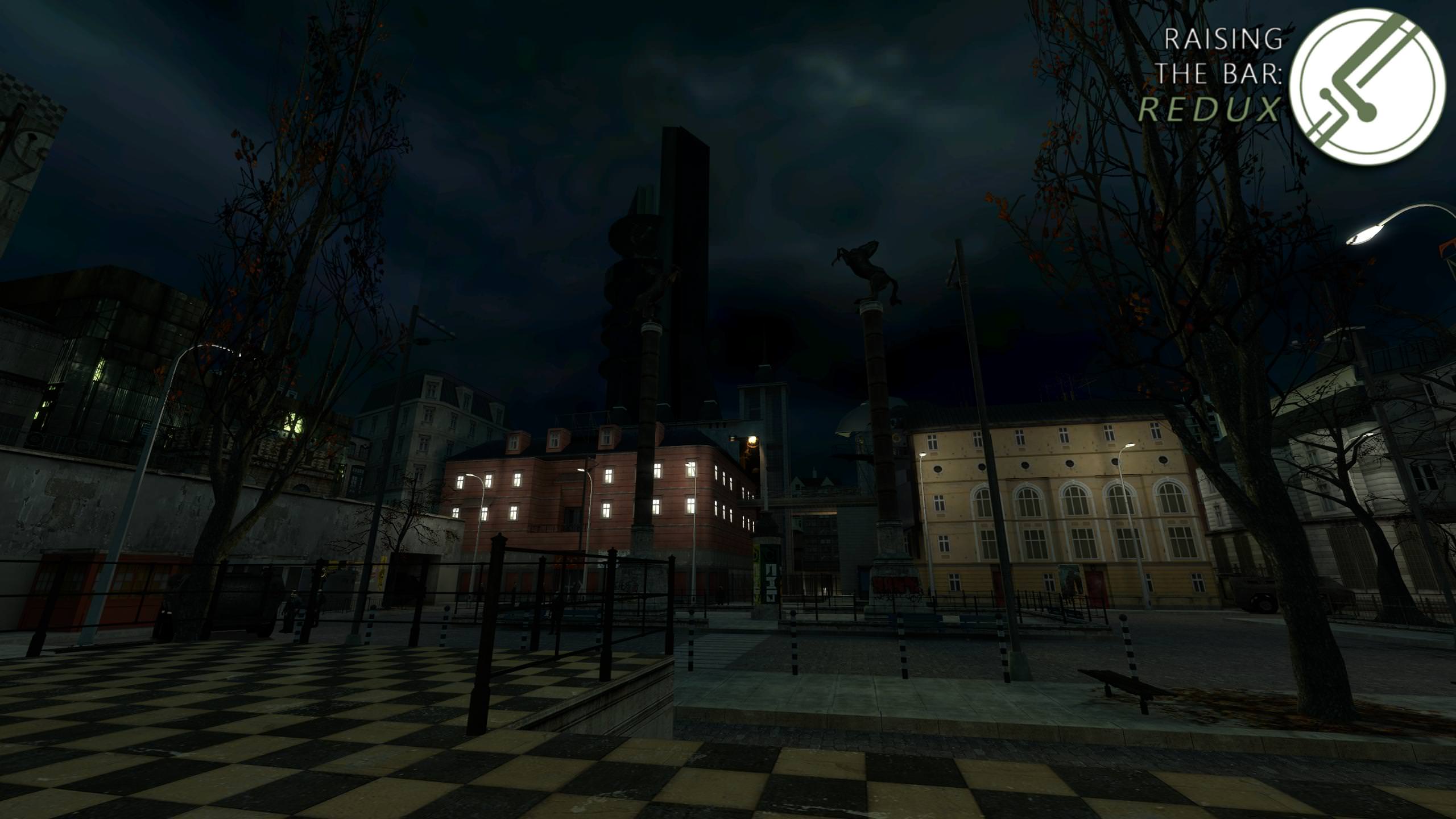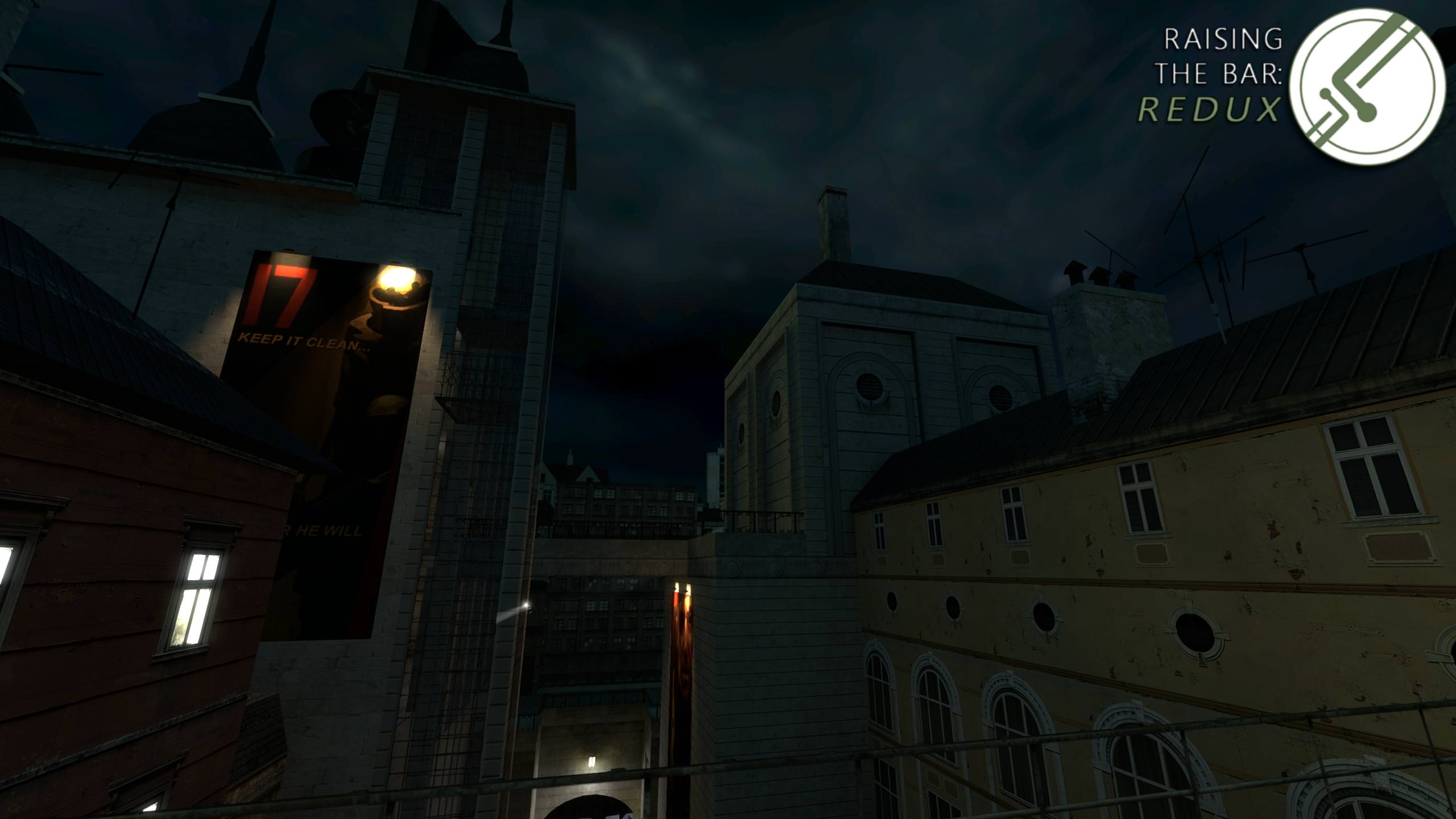 As many chapter one maps approach completion, we've begun conducting art passes on older maps, bringing them up to a higher standard of quality in preparation for chapter one's total completion. For the terminal plaza, this has involved standardization with our placeholder citadel (which will be replaced, but for now, is simply a matter of consistency), as well as the same base skybox as a number of other maps. We've also begun adding extra details around the map, such as the posters, more complicated brushwork to buildings, and more background buildings for better detail. Smaller fixes not visible here – like fixing problematic nodraws, making combine soldiers parading through the map hold OICWs, and the like – have also taken place.
Lab02 Teleporter Sequence Progress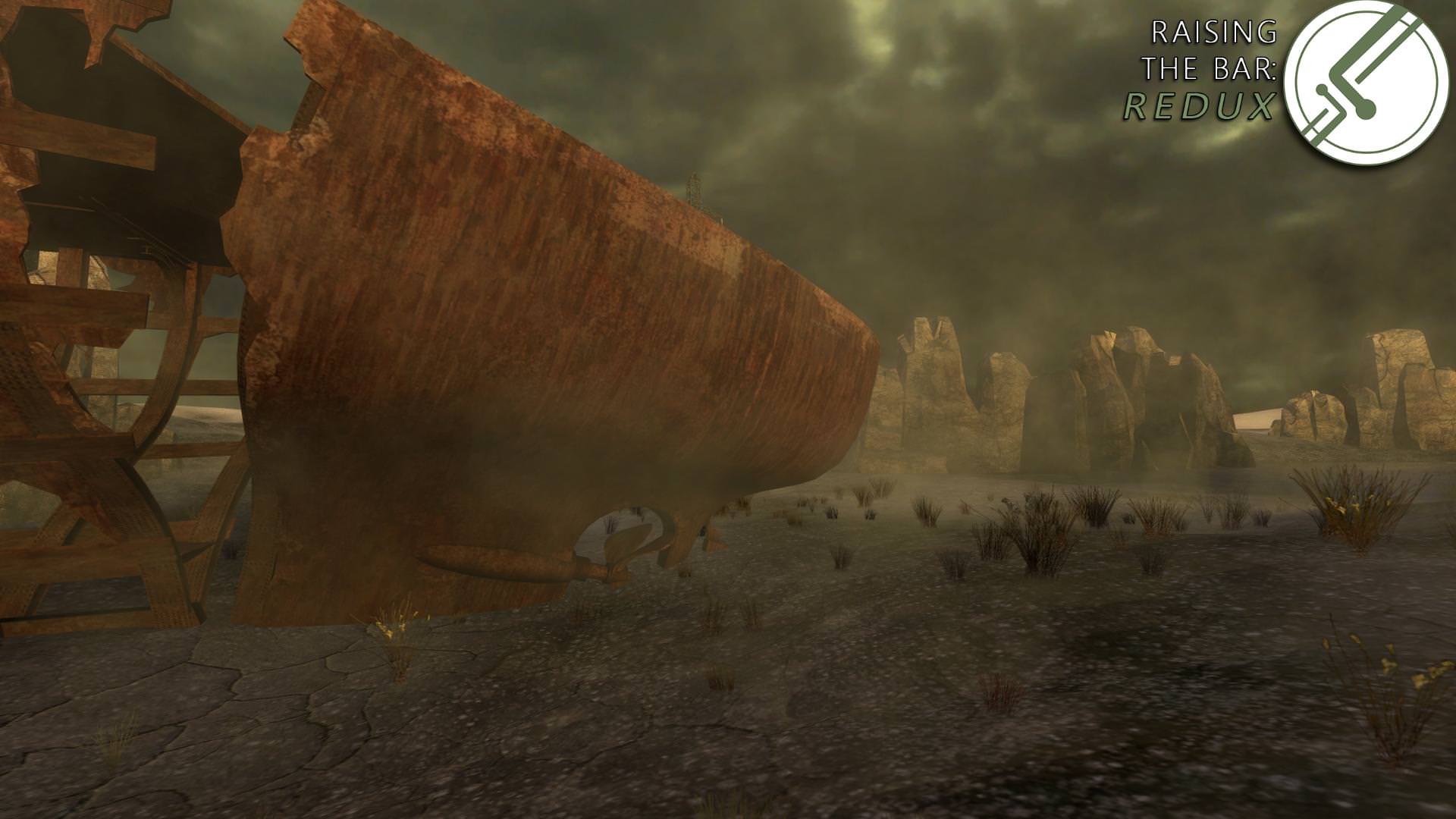 GameSmert, in charge of our narrative maps more often than not, has made significant progress with Lab02. For the teleporter sequence, he's gone to work creating a good-looking wasteland environment that will be one of many distinct environments the player finds themselves thrust into during the teleporter mishap sequence.
Map Props
Having discussed Lab02, now seems like a good time to draw attention to Cosme's other models – specifically, map specific props like the consul pod (seen in concept art of the Breencast) and the teleporter (also seen in concept art, this time for Kleiner's lab). Having dedicated modellers allows us to pursue avenues of design we might not otherwise have been able to before. These options will allow us to populate our maps with better details and make better use of our subject matter.
Inner Canals Progress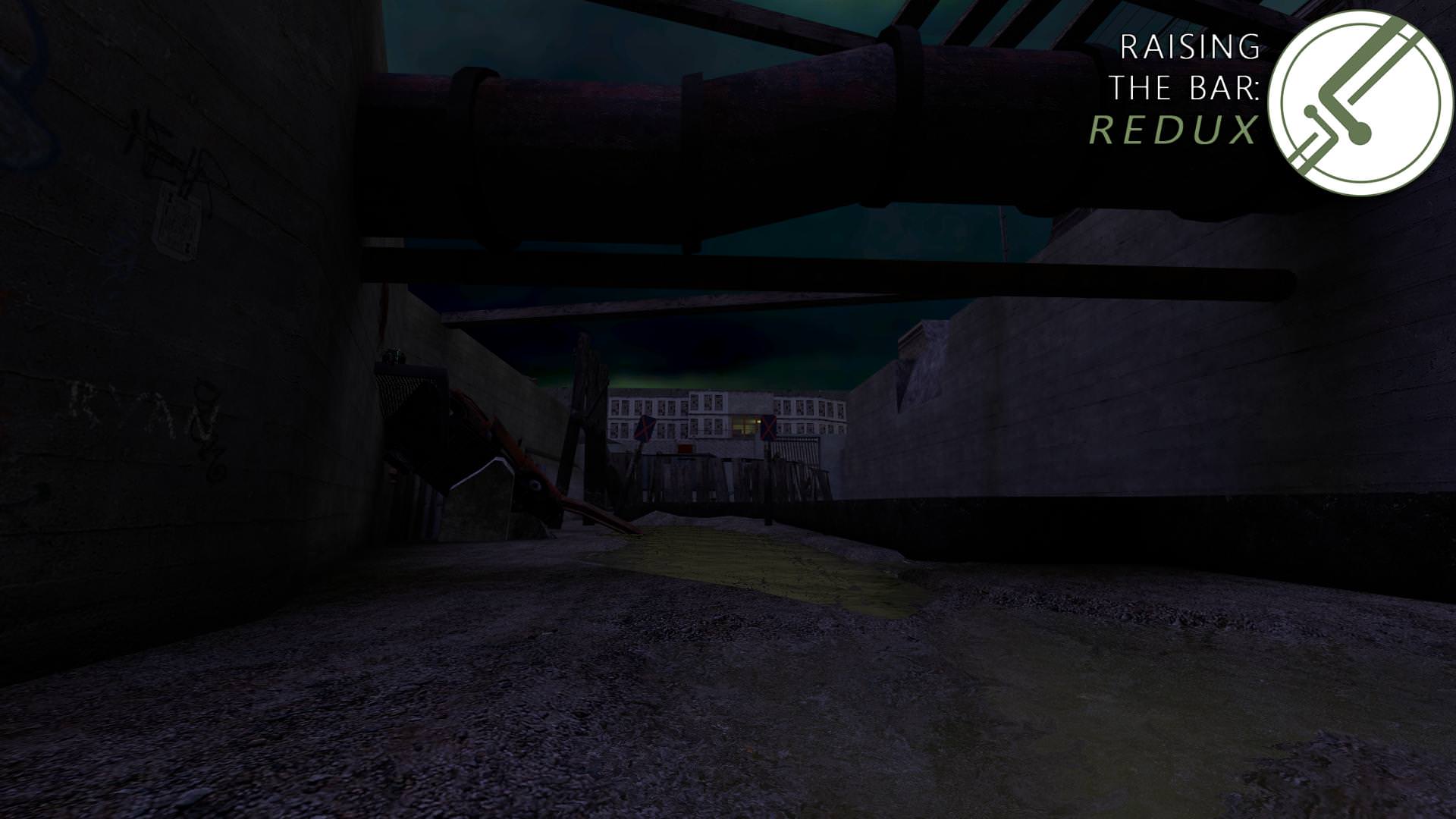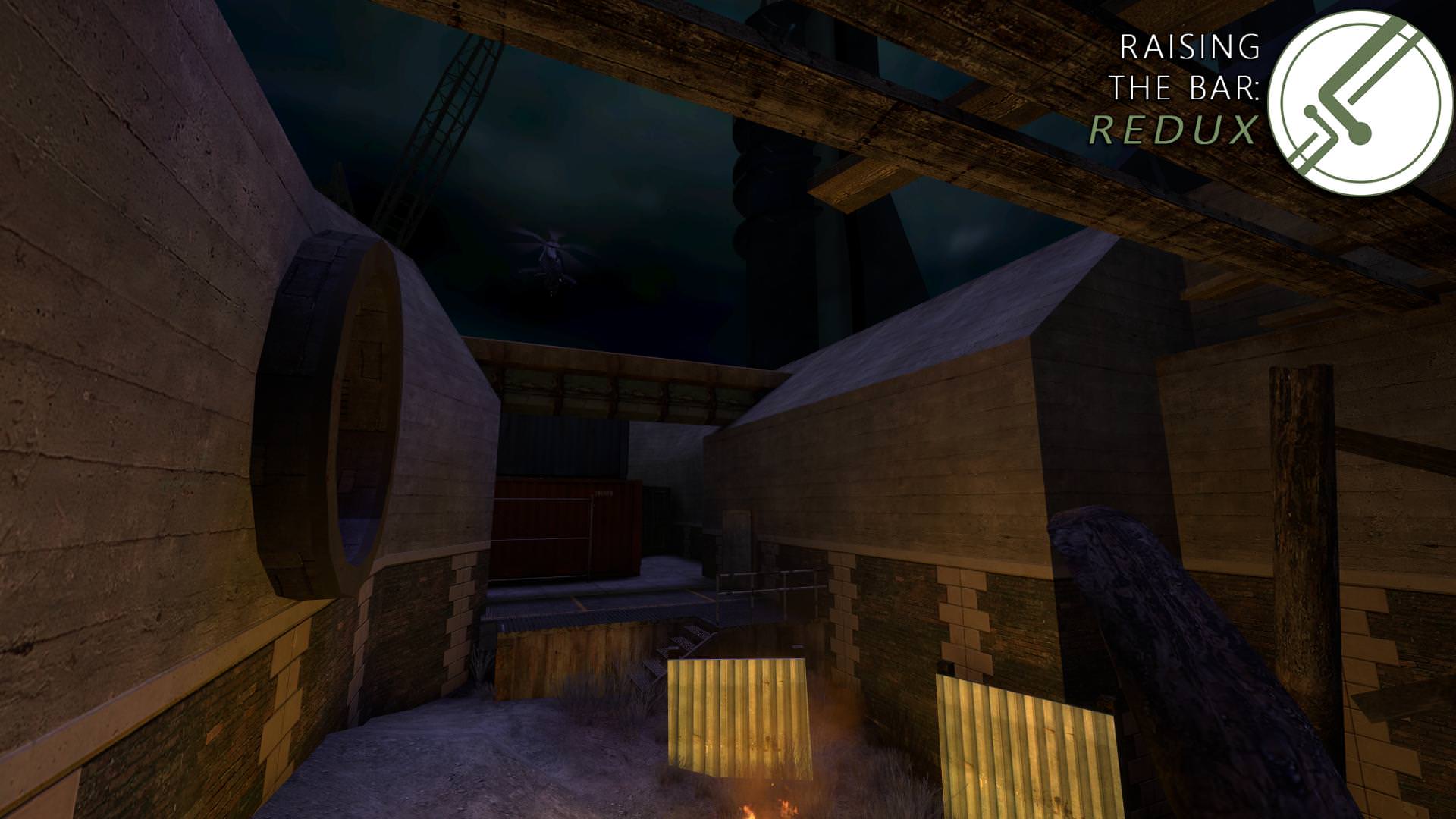 Honza has been continuing on the inner canals, adding extra details to it and helping to ensure we have a solid basis to build off of when we commit to chapter two fully in the level design department. The map still has a long way to go, but good pre-planning and groundwork will allow us to transition to a chapter two creation workflow more easily when the time comes.
Stalker Model
Next, we'd like to showcase another one of Cosme's models we've gotten in-game – his Stalker model. He did this model before joining the team for his portfolio, but he graciously allowed us to use it, in addition to his other work, in the mod. As you can see, it borrows heavy influence from early stalker designs, ones seen only in concept art, and our implementation ingame, whilst rough at first, was very rewarding when complete.
Consul Plaza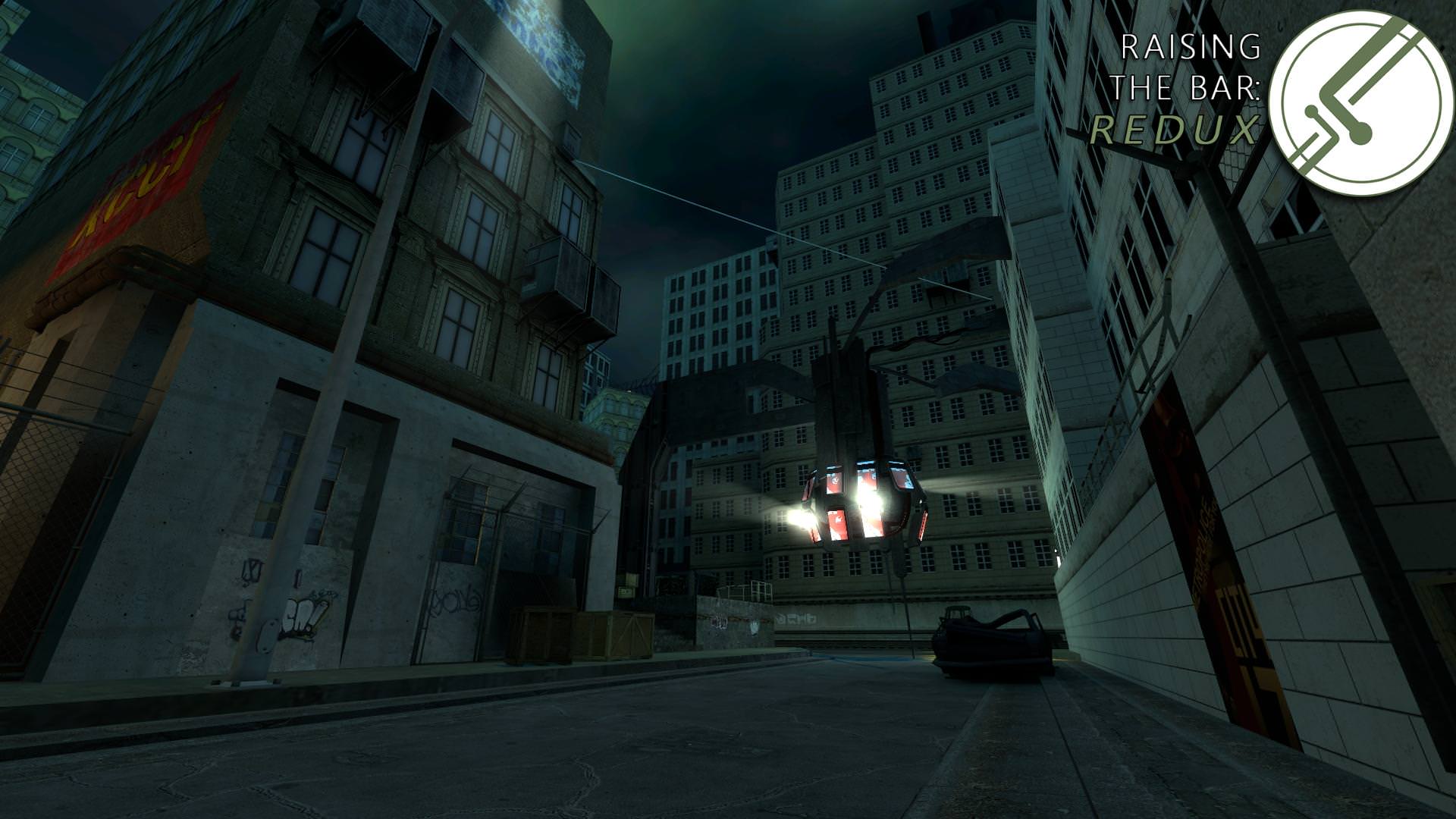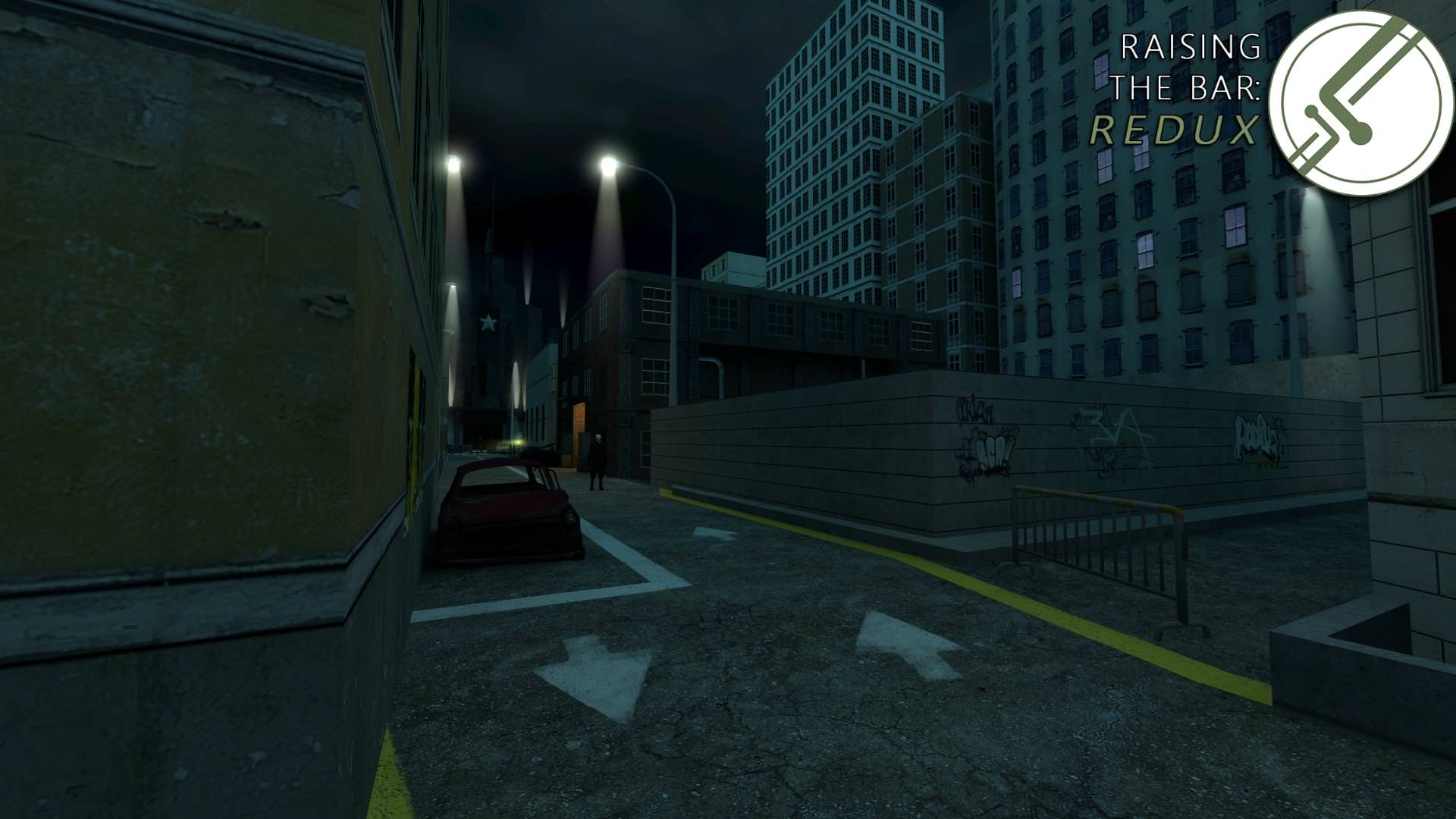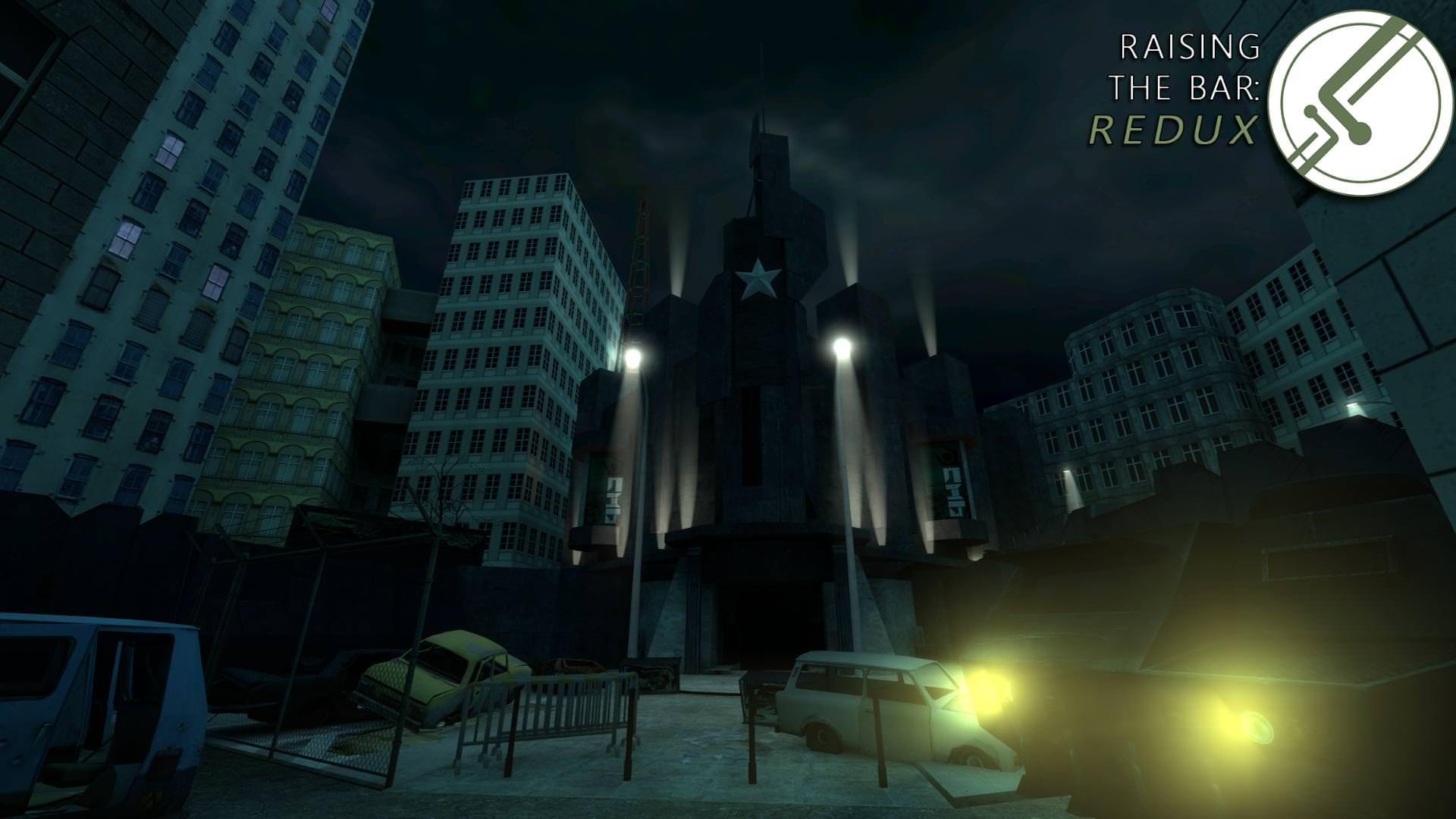 Finally, we've got our continued work on the consul plaza to showcase. In the last update, you saw that the consul plaza remake had begun to take place but was still very much in its infancy; however, the entire level design team pulled together, contributions from almost all mappers taking place in order to bring the consul plaza much closer to the standard we were looking for. As you can see, we've made good use of Cosme's Consul Pod prop, and we've also added extensive detail into the map's cityscape. Numerous secrets in hidden alleyways, nooks and crannies, and tucked away buildings await adventurous players in the consul plaza map, now, and we're very pleased with how it has turned out.
Finishing Up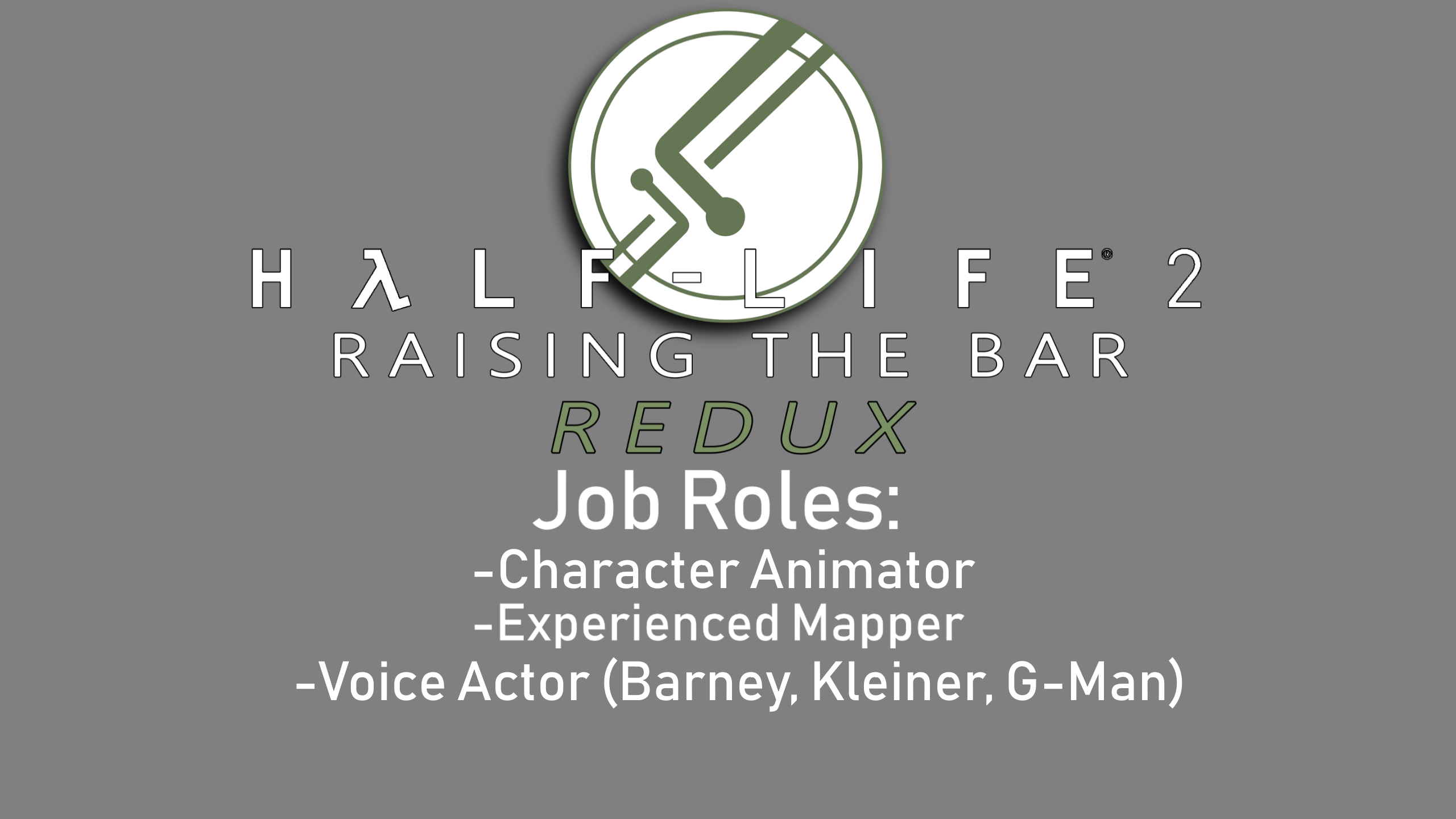 And with that, we conclude our third monthly update. Our mod continues to pick up momentum, continuing to push out new content to implement in-game, and with our new team members, we don't show any signs of slowing down.
Before ending, we'd like to announce a few roles we're looking for on the team at this moment:
An experienced mapper (scripting, ideally knowledge of scene creation)
Voice actors capable of competent impersonations of Barney, Kleiner, and the G-Man
A character animator able to generate IK rigs, rig models to armatures, and create competent animations for both creatures and bipeds.
If these positions interest you, please add me on discord at Count Kralichula#0901.
Thanks for your attention. Tune in next month for more!