Hi there, it's getting chilly over here in Japan, and the translator's residence, NY, too.
Here are some good news and bad news coming in today.
---
*Introduction of the anti-tank rocket launcher
Fortunately enough, we are happy to welcome the new 3D creator into our team.
He's already got his hands on the new job that would be available in upcoming version.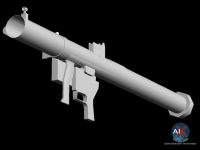 Here is a new AT rocket launcher called "SMAW"
We are going to replace the USMC AT soldier's kit from SRAW to this SMAW.
Also, we are ready to create PF-89 or DZJ-08 as CHPLA (China forces) counterparts.
By this change, every faction has only a rocket launcher as an anti-vehicle weapon and the AT missile is only available as pick-up kit across maps.
*Delay in the release date of upcoming version (v0.32)
We just noticed in the last news update that it would be between this November and December that the upcoming version is released.
However, unfortunately, we eventually learned that the development is taking a little too longer than we expected. Therefore we decided to extend the release date.
So far, an expected date of release is in the first half of January, 2013.
*Next Thing to Do, and Developers WANTED
And lastly, we officially announce our organizational structure, development plans, and our recruitment of modders.
We, as "AIX2 Expansion MiniMOD Development Team" is a small group that consist of Japanese volunteers.
On this website ModDB, there are four members enlisted and working, and officially we have a team leader who is also working on this mod.
As stated above, we are a very small group. Therefore, we don't have the clear views and milestones.
Every member gives ideas and they create on themselves, and then we get them on the actual version of this mod through beta testing.
Since we have to be really careful about the gaming balance of the mod, it's not quite possible to put whatever contents.
However, we almost freely come up with the hundreds of ideas and keep on developing.
Currently, we are planning to implement additional and new contents, and we need 3D model creator and level creator.
If you are an expert in creating these elements and are interested in participating in the development, you're welcome to MiniMOD team.
Upon communicating, we use our ModDB forum. We are all Japanese but if you are able to get in touch in English, that would not be a problem.
---
So far, we are receiving tens of great comments, feedbacks and cheerings from you guys.
Thank you for these warm messages. We'll continue working on this project appreciating those who like this MiniMOD.
See you soon, soldiers!