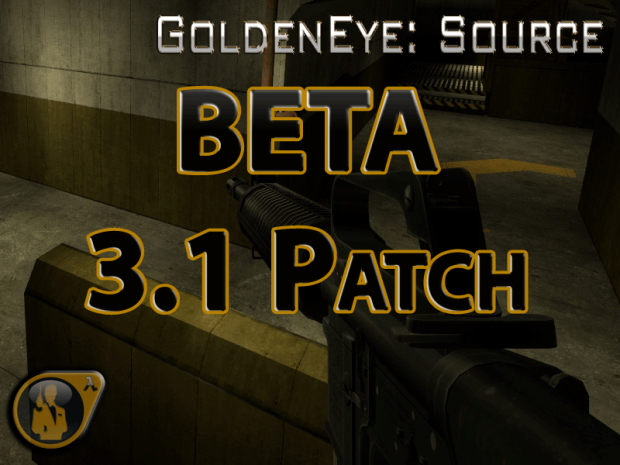 Just in time for Friday the 13th, we brought you the newest installment of GoldenEye: Source! Its time for you to get it and start flooding our faithful servers that have very quickly given us 20+ great options in just 12 hours of being released. Saturday night is GoldenEye: Souce night.
First of all check out our Beta 3.1_Changelog on the wiki to see just how much was done. The changelog was polished up nice and good the night of release. Feel free to also browse the other wiki articles that show many improvements that were achieved for servers and clients to utilize!
Here is the Mirror List (also available from Moddb) where you can download the patch (if you all ready have installed beta 3) or the full install for the new comers. Feel free to mirror the patch and full install files and just edit the wiki and add the mirror in.
Finally before you get your patch and join us in-game, enjoy a quick little cinematic trailer one of our trial developers has created this past week. It is the new trailer for the GE:S 3.1 Patch. Thanks to TheSSL and Get into it!

Message on playing and hosting


We'd like to see the community step up to the plate as we have in this release to fix many issues that were noticed by us and by the playerbase. While we have addressed the technical aspects there is still responsibility for players that can contribute to GE:S becoming more fun for each individual. Here are some tips, hints and suggestions for you to comb over!

type !help into the ingame chat for current game-mode info
type !loadout into the ingame chat for the current weaponset info
Scoreboard (hit tab) lists game-mode
Team select GUI (hit m) shows weaponset and select key variables

Modes
LTK = license to kill = any bullet that hits your opponent will kill
Deathmatch = normal hit values
MWGG = man with the golden gun = one golden gun in the map, find or kill the holder to become man wit the golden gun! [holder appears as yellow dot on radar if enabled]
YOLT = you only live twice = two lives and once they are gone you 'sit out' until the round is over. damage/health is not alterted
Teamplay can work in conjunction with all game-modes EXCEPT MWGG (teamplay = ge_teamplay 1)

Make common sense choices that suit YOU
If you join a server with 20+ people in and you instantly dont like how that plays, It is not a design fault. It is merely personal taste that most people will need that traditional goldeneye feeling and if that is you, think to yourself "maybe I should try one of these 15+ servers with 8-12 max set as the playercount" rather than just joining largest servers, hating it then uninstalling and complaining. Instead hop in a smaller server and see how you like that. It's still completely up to the playerbase to enter servers hosting the type of gameplay they want!
Something as sensical as that does not get seen often enough. While we really appreciate all who play, usually we see a user will join our forums and list a pointed message stating that It was a fault in the game we allowed a certain gameplay to exist. In fact the team actually debated a long time on hardcoding a limit so that no one could ever host large servers. They are less likely to capacitate our maps, but it was agreed simply not fair to ever limit serverhosts ourselves. The mere fact is you can yourself steer away from large servers easily with a common sense approach ; plus it must be noted with Teamplay enabled our largest maps can hold 24+ and still be a fair gameplay for fresh spawning players.
You may not be fully aware there is a design feature within GE:S and OB mods for tags. You can "Exclude" tags from the tags bar. In the event you never want to see a server listing 16+ users in it, these are tagged with "increased_maxplayers" so just exclude that from your tags filter. Additionally you can quickly find servers that are hosting your favourite game-mode this way! But beware that a few servers have the ge_gameplay_mode for game-modes which cycles defined or random modes each map.
Hosting the mod
If you choose to host unorthodox style gameplay (in goldeneye terms) like for instance 32 man LTK, please be kind and list in your hostname that it is for instance an "LTK fragfest" like Bradley university servers do (even list the words "crazy" or "whacky gameplay" in your hostname or tags). This ensures that when people read frag and such, and see the playercount being so high compared to their ge007 memories, they know that this server they were about to enter wont be a true goldeneye experience. So if they still decide to go in it might be for a laugh and some silly/fun times.
Also, serverhosts we urge you not to "set and forget" our mod, there are endless different combinations of variables and values you can configure that will completely change the conditions of your server ; even enabling it to change dynamically over the course of a day. Investigate different options and see what works for your users. It is always an option to ask the GE:S team for advice via our Forums! We will gladly bestow our GE:S hosting knowledge to all who ask.
---
Now that the disclaimer is done, and you didnt read it all ; Feel welcome to grab your downloads and get on in game and have at our creation, folks! Giving us good feedback is most encouraged and we know you will appreciate much of the changes we made. Remember, digg the above link if you like this patch! Spread the word, GE:S is updated and better than ever.
Forums.goldeneyesource.net
Steamcommunity.com
Sincerely,
Team GoldenEye: Source