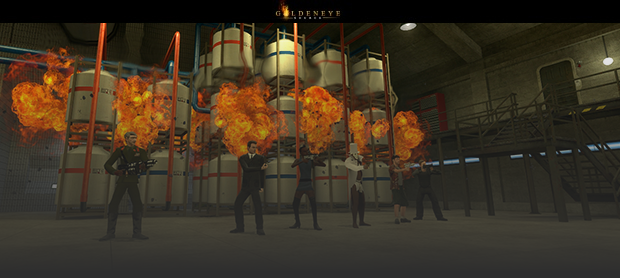 Hey loyal fans and downloaders,
We released on the night of the 10th to a quiet 300 downloads through our steam chat event. Then, armed with a base of mirrors and a seeding torrent we unleashed v4.1 properly. Expecting only 2-3 thousand downloads per day, we were excited and humbled by what happened all throughout the 11th of December. This post will deal with the aftermath, our milestone as a team and much more including your feedback, and our continuing advise to the players.


ModDB makes things easy, but we are also monitoring our mirrors and torrent figures. Doing a little math we estimate we are topping 120,000 downloads so far in just the two weeks since release.
So, with our release out the door on the 10th to the hardcore followers, we geared up for the moddb and general release on the 11th. Little did we know that Kotaku was going to be so sharp in it's response to our downloads being active, and start the ball rolling for a big few days. During the 11th we had around 50,000 page views on our moddb page, and around 15,000 downloads in 12 hours. Seems reddit caught wind of Kotaku, and while this was happening Evan Lahti was giving us lots of good-will over at PCgamer, which led to a mass of downloads there, too.
Evan Lahti says: December 14, 2010 at 5:57 pm
"If you've been reading our Downloads section you've already been yelled at by me to play this thing, but good lord: play this thing"
Moving from there with us at around 40 thousand moddb downloads on the 14th, is a weirdly small-known fact. We were also featured on steam! The syndication of PCgamer tunnels major HL2 mod news that isn't steamworked. GE:S got on steam! So.. I guess all you guys can stop asking for us to be put on steam?
Well, we hope to give you more information next time about some exciting aftermath goodness we have had from outlets such as PCgamer. We are looking to organize a podcast with them, and very soon you can see articles in their publication magazine, as well as the mod files on their accompanying disc. They are huge fans who get it 100%, and understand the passion of what we are doing as a fan-based recreation of GoldenEye ; And we are totally down with hanging out chatting to them! Also Nvidia got in touch with us (who already gave us a feature on their new gaming-focus site) about an interview piece on big impact mods. Really, this could go on, but we'll just issue a general thanks to all the outlets for news such as Tom's Hardware. Reddit of course was huge for us, landing a frontpage spot for over a day, and even Household Hacker gave us a plug. Thanks all!
This is a phenomenal rate of eyes on us. To give you a hypothetical, if only 1/100th of the downloaders were playing right now we would need an extra 30 servers just to handle it.


Five years is a long time, but when it's spent with your friends and fans of a beloved concept, it's not such a big sacrifice. Over 100 developers in total have worked side by side as a team and we are fueled by not only our own drive, but your excitement and eagerness to appreciate our efforts. And of course "Nickster" Bishop, for which everyone owes.
The whole team, past and present, gives this version 4.1 to the world, as our best way to celebrate five years of releasing this mod! Second best would be to join us for some New Years Day GE:S gaming in the evening from 4pm U.S (east), to celebrate the team milestone of release. We will be hosting an event in our Steam group chat, which is an extension of our official steam group. So, it would help to join it!
Enjoy our gift with us then and always, as it keeps on giving each day. In truth this mod takes too..so far over 80TB of bandwidth off ModDB's hands. As enzo.matrix, our co-creator said in the recent podcast 17 interview ; "Our bad". Listen to that interview here.
Thanks to William, Nic, and all of podcast 17 for once again having us on to chat about the mod. Lots of stuff within to hear even if you read this whole post. Plus, SSL and Wake also guest hosted the entire episode with William. You might be interested.


Players
We have been hearing all your feedback, both in-game and on our community forums. The feedback is mostly positive, and we have seen much less bug reporting this time, just the usual valve related stuff all mods get. It's been widely commented all over ; You are playing a game that would be worthy of purchase, and to compete with all your favorite commercial titles!
Servers
We would like to thank all of our servers for their donation of service and effort to get 30+ servers up within 24 hours. Since then we have grown to 45+ and better optimized, with almost 10 labeled "official".
Again thanks to Clicknkill.com in UK, and Wakkaservers.com in US, for being our official partners in fun. Get in touch with them for renting servers in those regions for good quality servers on cheaper than usual rates!
While our release has been received well from the videogame outlets around the web, we still have yet to completely fill up all our servers in peak times. The power is in your hands to help make our servers popular. We also need your feedback on our servers. Instead of blankly believing something is broken, ask yourself "have I been going to servers which serve my own taste". You can find a ton of info with one look on our all-educating wiki hub. The game is certainly no "fragfest" by design, and you will benefit from learning the gameplay, and which servers to choose for your own satisfaction. Some servers may be somewhat reckless, unwilling or ignorant to take our good advise to the necessary lengths, to give the best experience for all players.
The advise for the players to navigate the "bad seeds"? They can be avoided by doing the following ; Before you go in-game, ask yourself what kind of GoldenEye experience you want?
a)"I want to frag and go crazy with as many people as possible"
Perfectly valid. [16-24, no teamplay] Some people do want a chaotic romp from time to time. But understand that servers like this which have 16+ are automatically testing the waters of scalability with our creation. Any _classic maps on a server like this will have spawn issues and often be noticeably unfair. Nothing we can do there. The onus is on you to decide whether you want to leave for a better server, or endure the configs which servers have decided on. We'd like to clarify 32 man servers without teamplay enabled is fairly dumb. If you want to risk joining one like that? Well, you have been warned. 32 man servers should not be hosting non-teamplay game-modes ; also important to note. Learn the dynamics on our wiki!
Examples of large possible fragfest servers


b)"I want an updated experience of GoldenEye with jumping and teamplay enabled on vast maps"
We can do that. [10-14, <24 w/teamplay] We should say... Servers can accommodate that, if they so educate themselves and choose wisely! If you know where to look, its only a step away. Look for the "autoteamplay" tag in the filter section of the browser. This enables that even with up to 24 players, on medium-large maps it will be a stable gameplay with teams snapping in to place at a certain limit (usually 12-16). If you see a server hosting 24 man LTK, and it's not teamplay? Do yourself a favor and head on out into a better configured server.
Examples for filtering autoteamplay servers

It should be mentioned that all servers 10-14 max, have proven to scale perfectly to the majority of game-modes and map combinations, regardless of teamplay being initiated. There is a "sweet spot" and you can be assured that's where it is for those who seek a modern update to their old memories.
c)"I want a 'proper' GoldenEye experience. I want the visual nostalgia to match the gameplay"
Ah, the classic gamer. [4-10] There are plenty like you, and not enough efforts to make those servers popular so more get created. All it takes is hopping in those servers between 4-10 man limit in our game browser and wait for the like-minded to flock in! Most have only the smallest and _classic maps in rotation, and basically all have jump off and a simple, clean, canon experience. Perfect for friends across the net that want to battle and taunt over VOIP akin to the old days. Claim one today!
Good examples of classic servers

The word "limitless" isn't a buzz-word at GoldenEye: Source. The price we pay is that set-and-forget serverhosts can create the lesser experience everyone wants to avoid. Educate yourself to the intricacies and inform any servers you know to do the same. It's all about every party working to get us all in sync and have the best experiences possible. The servers, yourselves, and us! We aren't stopping our efforts to give you the best conditions to play with.
Split screen gameplay video

Video by Enzo.matrix, and special thanks to Wake and the whole Beta Test crew for making this cool concept come alive! You are most welcomed to watch it there and make one or two comments. Might help educate the mod-noobs you'd like to be your next fresh-meat!
---
So, what's next? A little break? Not really. Already developers are in-game, in development and churning up more goodness for our first content patch. On the media side we have more on the PCgamer developments coming up, a new "developer commentary" series in the works, giant FAQ being compiled, more about some possible tournaments and other community initiatives, and a plain old action packed promotional trailer made by Basstronix. So stay tuned but more important, get playing.
Nothing left but to say: See you in-game!
ClicknKill.com [Official UK provider]
GE:S Facebook Page
v4.1 Changelist Details
GoldenEye: Source Wiki
GE:S Youtube Page
Official Forums [Sign up today!]

Sincerely,
Team GoldenEye: Source.