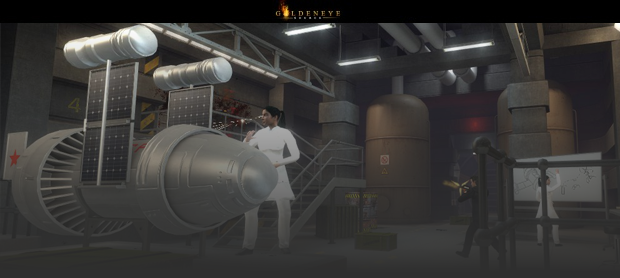 December 10th, 2010
Friday night, is GoldenEye: Source v4.1 night!
We might just outdo ourselves in your eyes this week, here at GoldenEye: Source. You have a smorgasbord coming your way so get a plate (with a GE:S logo). First this post, which has already given you what you most wanted ; Confirmation 2010 will get a second big release, and our first without a beta tag. Boy that feels good to say. And the release is big too! By big? We mean it (check below to see the justification)
Second, you are going to get a video to go with our announcement of the server preload files, which we talk about in this news. Then the sweet dessert, post #3 will be a beefy and highly anticipated mod release to get that MOTY phase 2 trigger finger jolting into 'vote mode' ; That's if it hasn't already! Now, Let's get into this.


From our end we have ready a nice selection of easy to run conditions for the community at large. No doubt the best yet thanks to our huge improvements and variables. Now we need the server fraternity to come to the table. Serious applicants will be given priority release when our server-preload becomes ready sometime mid-week. Those interested can send an email to Our official address between now and then to go on our list. Companies and individuals are both encouraged.
Our mod has seen a loyal base of servers and players through our beta 3 and 4 period. We feel content with how things have been in our community. But we are aware of the hunger we have to see growth, and to have all of these game-modes and refinements rolling out, viewed by as much of the modding scene as we can. If you or your friends haven't experienced GoldenEye: Source in a while, this is no better time in our history.
So to cater to the potential for an influx of players coming back, we are calling all hands to get word out about our Server Preload offer. This initiative allows those generous individuals and companies, the time to prepare their settings and get the mod ready for you. It's a sight busy for us to inform every one of our past providers that we have a release coming. That's why we need your help!
If you are a server company and are willing to donate more than one server to host our mod, it
would be welcomed if you can inform us in the email, so your URL of choice will be reserved for publishing in our release day news post. If you look at our history, we have always done right by those generous contributors to our server environment.


As you see above, the date is set. On December 10, will you be there? Is the question. We think 'yes' is an obvious answer, so when sitting down with your planner, wondering what mundane Friday event could compare with your first chance at playing GoldenEye: Source v4.1? Think about this, with your eyes!


If you've seen the changelist before, you understand that v4.1 is no mere "patch" to beta 4. In it's own right it is a monster effort by Killermonkey on down the whole team of contributors, to get this much done in just a matter of months. We decided not to realease only a bug-free code base, but also take these several months for tweaks on our maps and many other things to validate our beta drop. You will see a polish that you might get in most commercial titles.
When you are excited about a game visually, it's not enough. The more you know about the game, the better you could be, the more fun and longevity you can have with your GE:S memories. That's why our wiki is important and we really recommend you visit often. A noob can become a pro in short time if he understands how the mechanics work.
Do you like to make custom goodness? Check out those python command additions, to realize a huge potential for custom modes by the community. Get your mod on at our Wiki, today!


Another success has been achieved thanks to your votes! We are in the top 100 once again. Phase 2 is going strong and counting down the days. It's time for everyone reading this who wishes us a good placing, to mobilize their efforts to get out the word to your friends and social outlets online - that GoldenEye: Source will be out of beta by the end of the week, and everyone who plays, enjoys themselves and wants to be part of our loyal and long-standing community, should head over to our ModDB page and do the few easy steps to vote for us in Mod of the Year 2010 Phase 2.
For us it's not even about prizes. If you asked any of us - It would be such a thrill to know that the thousands of downloaders that install our comprehensive GoldenEye experience, who get moments or months of joy out of the mod, would also put their hands up with our name when asked what they believe is their Mod of the Year. You know what those prizes look pretty kick-ass though...

We'll leave you with some neat news regarding community contribution. Already, by release day there will be a 3rd party map converted for full use of the v4.1 features. Here is a sneak peak at the map with our playtesters posing. More info on this map Friday.
Spread the word across the web about this news post, that we are releasing the 10th, and keep your eyes peeled for the coming week of news.
GE:S Facebook Page
GoldenEye: Source Wiki
GE:S Youtube Page
Sincerely,
Team GoldenEye: Source.