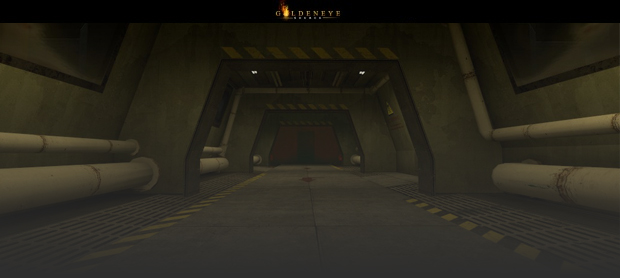 Welcome back! This is GoldenEye: Source's second round of v4.1 PR. In this showcase we will be discussing the details of v4.1 including the specific changes made to your experience from starting the game to making kills. We'll round it off with a very detailed list of our changes along with a look ahead to the final PR before release.

The team have worked very hard to deliver v4.1 and know that you are curious as to what we did without having to read our whole changelist. Well, here is your chance to get the best of the best with our Top 11 changes made in v4.1:
Overhauled Capture The Key Deathmatch (multiple capture points, drop/pickup timer, etc.)
Integrated a fully functional in-game help system that is gameplay defined.
Implemented walking animations when aimed.
Gun Game can have multiple deathmatch rounds per match.
Bullet impact ricochet sounds.
Completely overhauled Silo and added Casino.
Added an internal update checker to notify you of new versions instantly!
Implemented numerous gameplay HUD enhancements to bring you closer to the action.
Updates to Basement, Egyptian, Runway, Aztec, Control, and Complex.
Fixed an infrequent start-up crash related to the intro movie.
Implemented FMOD music/sound player enabling looping menu music and level load music
As you can see our main focus is on gameplay enhancement and user interaction. We are trying to streamline the mod for our new users, who download the mod for the first time and want a fun and easy to understand game. In this update we address this across all aspects, while also taking care of the griped problems from the already thousands of existing players, who downloaded and play Beta 4.0. In preparation for the coming out of beta phase, we continue to listen to your feedback and strive to make GE:S better with each release.
To see a full and exhaustive list of changes head over to our wiki: Full v4.1 Changelist

In-Menu
When you first load the game you will be treated to our intro movie (happy to report glitch free!) in our new custom movie player. You can disable the movie simply by checking the boxes in the lower right corner. Once you get to the main menu you will see several links on the left of the screen:
Options : Lets you setup your game experience including keyboard controls, mouse controls, voice input, and Advanced Options. GoldenEye: Source lets you customize MANY things in the advanced options panel. You should explore!
Create Server : If you want to create a local host server or tool around in any of our gorgeous maps head here. You can setup your server options and choose which map you want to load. Local host is NOT recommended for 4+ players if you chose to host it to the internet.
Find Servers : This is where you can find a dedicated server to play in. Make sure you UNCHECK "Show Map-List" to see all the servers available. You can filter and sort the servers just like in any other Source game.
Once you create or find your game you'll see the loading screen! (seen above)
In-Game
The first screen you'll see once loading is complete is the Server Info / Team Select screen. Here you can see the Message of the Day from the server and all the server's settings in one place. Select your team on the left and you'll then see the Character Selection screen. Here you can scroll through the various characters and choose the one you want. Some characters have multiple skins that you can choose with the buttons next to the 3D view of the character.
After selecting your character you'll be spawned into the game, if the round is not locked. Certain gameplay scenarios lock the round so you don't disrupt the current game in progress. You'll be able to join in once the round is over.
You'll notice that on the left hand side of the screen you will be presented with specific In-Game help! This is tailored to each gameplay and will show you exactly how to play and what to look for in the gameplay. If you missed the help, you can recall archived versions by repeatedly pressing "h" (default). Help is designed to be non intrusive and informative with a glance.
The scoreboard shows you the current state of the game and whos in the lead. In teamplay, it will show you the scores of the teams for the round. Team scores accumulate over several rounds and the total progress is shown on the HUD indicator in the lower left. Once the round ends, you'll be presented with the Round Report showing you the final scores and the awards that were given out to deserving players.
Gameplay HUD/Token examples
Here are some examples of the HUD for various gameplay scenarios. The top image for example, is of Living Daylights, the flag tag gameplay. In it this shows you (the carrier) and your gameplay help advises you how to earn bonus points on top of the native time points.
Also, in these screenshots we have displaying a collection of gameplay tokens that are utilized in many of our gameplay scenarios.

Coming up in our final round of PR, we'll show you the extensive updates made to Silo and Control. Silo has taken on a whole new look and feel, as well as an improved layout and gameplay mechanics with plenty of throwbacks to the N64. We'll also announce our official release date and show you some in-game footage of the gameplay scenarios in action.
Remember our forums and other social outlets are always welcome places to hang out, support us and find more!
Official Forums
Facebook Page
GE:S Wiki
Sincerely,
Team GoldenEye: Source.