0.92 has been out for less than two weeks, and have been downloaded more than thirty thousand times. That's pretty cool.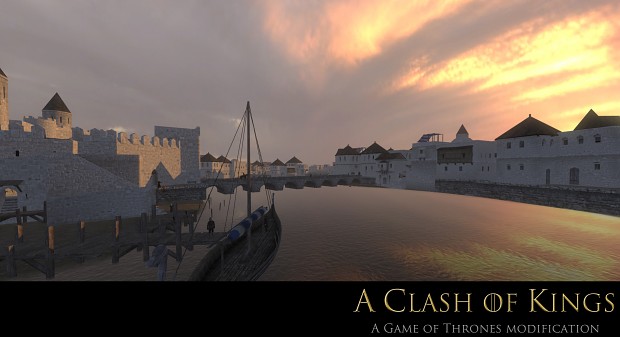 The work being done on 0.93 is progressing smoothly, and more bugs are being eliminated every day.
However, some are yet to be fixed, though they will hopefully have been eliminated for 0.93.
The current issues are:
Red text when entering Highgarden, does not seem to affect gameplay. Caused by the aristocracy script, not a priority.
Random crashes on the world map. I've yet to figure this one out, but got some leads that I'll be working on the next few days.
Ships sometimes do not revert back to the player icon when travelling on land.
Those three are pretty much the only major issues remaining. I imagine there's still the odd bug here and there, but it's mostly minor things, such as a tree being on top of a house, stuff like that.
These are the issues that have been fixed/tweaked.
Companions now have completely new dialogue.
Some lords no longer hold the wrong fief.
Rain House and Claw Isle prison scenes have been fixed.
Bridge positions have been tweaked.
Volantis now have bridges connecting the various islands.
The Eyrie is no longer impregnable.
Lords should no longer receive reinforcements at an alarming rate.
Swords have been made a bit better.
Damage/armor modifiers have been tweaked.
Couple of items have been removed, they where superflous.
Tournaments have been fixed, should now show the correct score/timer.
Essosi lords have been given new faces, to make them more Essosi like.
Some Essosi lords have received new names, based on the dothraki and valyrian languages. Read more about those at www.dothraki.com
Tournament rewards have once again received an overhaul.
Companions have received new gear.
Ladies have been given proper clothes.
Did various tweaks to the world map textures.
Due to popular demand, the Starks have been given a new banner.
Added Caractacus' custom scenes for Stonehelm, White Harbor, Erenford and Oldtown.
These are the new features that will make an apperance in 0.93.
Cattle will now follow the player, rather than having to be herded.
Essosi castles/towns/villages have been given an overhaul. Changed their position to make them more interesting, and gave many a new name, all of them having a meaning in either Valyrian (Lys, Volantis, Myr, Tyrosh, Pentos, Lorath, Braavos) or Dothraki (Norvos), such as Pendagon -> to wonder.
And the big one: The player can now embark with his ships from various ports, and travel all over the world. Only the NPC's now have restricted waterways, the player can travel all over the ocean.
General thoughts and frequently answered questions:
A Clash of Kings is progressing pretty well. If you played 0.1, 0.2 or 0.4, you know how much it has improved. Not much else to say on this subject.
However, various questions have been asked rather frequently lately, so here's a link to the FAQ: Moddb.com