Welcome fellow veterans and newcomers!
First of all thanks to all of you who downloaded the open beta 1.0. We really appreciated your feed-backs. It helps us a lot improving your experience.
Here's a general idea of what you can expect:
Various level bug fixes including: Vanilla Hoth map crash, stormies yelling "Mace Windu" to Rahm Kota, Alliance side not loaded in Felucia, various model fixes, missing sounds etc.
Screenshake reduced by 60%!
Captain Rex & Commander Fox in RED VS Blue game-mode are buffed
Rebalanced Heavy Blasters (RT-97c, DLT-19, Z-6)
Reticule appearing black is fixed. A brand new and definitive HUD will be added instead of this average placeholder.
Much more
If you have more feed-backs please feel free to report them on the page.
---
Now into the big news:
Features under development:
Implementing new buttons/tabs to the option menu letting the player choose his difficulty. Each difficulty level will reduce/increase (depends on your choice) the AI's aim and aggressiveness (screenshake might be included as well).
Brand new combo system for Lightsaber/Electrostaff/Force pike units
---
Era under development:
Clone Wars era is coming along nicely. This is a major update considering we decided to change everything that was planned. Back when I created this moddb page in early 2016 I was quite a fan of the 2008 TCW series. I wasn't the first to try out a TCW approach but definitely the first one using TCW-style-cartoonish models. Time has passed and various TCW mods popped out. All using the same models and concepts.
Now 2 years later I rediscovered the 2003 TV show, and re-bought all the 2003-2006 Clone Wars comics. I've always preferred the Legends universe over Disney new Canon and this Clone Wars era will reflect (hopefully) that good old stuff.
It means no more prefab TCW (CWA & SWRH) models. On the other hand it will take more time to develop, mainly because we are using a different clone mesh as base. All 3D kit bashes and clone textures are nearly from scratch, all textures are highrez (and approximately 10 different legions are planned).
As for the time period, we mainly focus on events occurring right before ROTS and its opening scene the space battle of Coruscant. Late Clone Wars in fact (phase 1 clones, early days of the war will be introduced but later, not our priority atm). Expect new maps recreating the Siege of Saleucami, Battle of Boz Pity, the Battle of Dantooine etc.
---
Pictures:
Battle of Dantooine, 187th legion. Already teased a few days ago you can now enjoy up-to-date screenshots of CT-108's last map (lightning has been added, new props etc).
327th Star Corps Phase 2 Clone Trooper (gear will appear soon).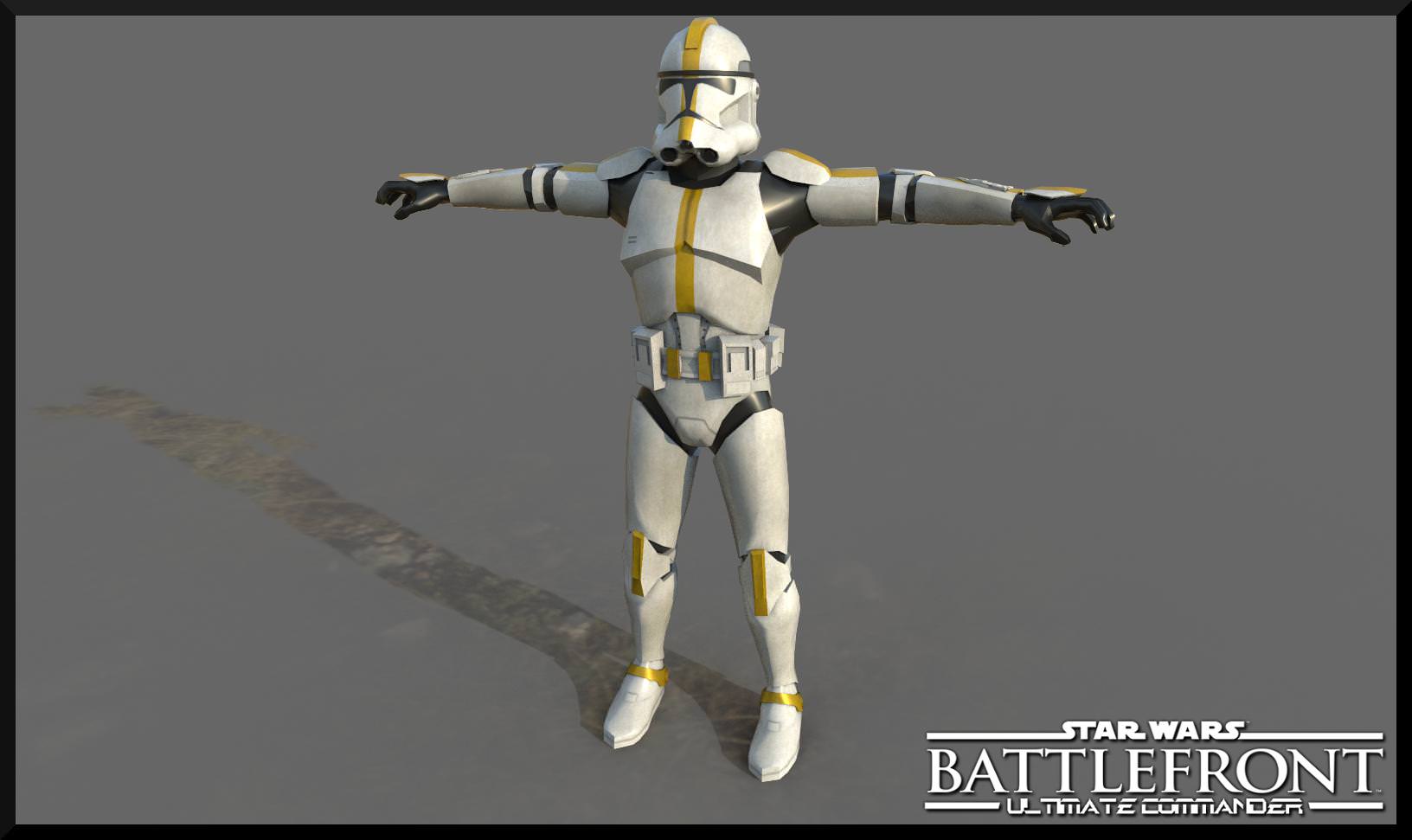 Thanks to our friend Sgt. Barlex for making these renders in SP. :)
For those who are interested in any "TCW-2008" content, there will still be some, don't worry. We will keep various clone legions and units: 104th Attack Battalion, Doom Legion, Keeli's Company, TCW-style 501st Jet-trooper etc.
In-game screenies of Doom Legion (Dantooine map is only for testing purpose):
Allumette has been working on a new interpretation of the battle of Hoth. The rebel alliance now has a concrete shield, bunkers are destroyable, flying GR-75s and the battle is set during the early morning.
Join our Discord!
By popular demand we finally created our Discord server. Join to chat, get exclusive and more regular updates. :D (click the image bellow)