Hello Hello, this is WildHeart speaking. How do you do?
The thumbnail for this newsletter might look familiar to you - and if you visited the mod's page in the last few days (or played the FX:Commander version of our mod in HW2C), it should! The Vaygr Defense Cruiser is here as the latest addition to "biggest & baddest" category of Homeworld spaceships, and it is packing enough heat to warm up even the coldest Outer Rim nights. If you checked out its official reveal you already know that getting anywhere near this thing is not recommended, and we will be looking to you to truly make the galaxy understand this.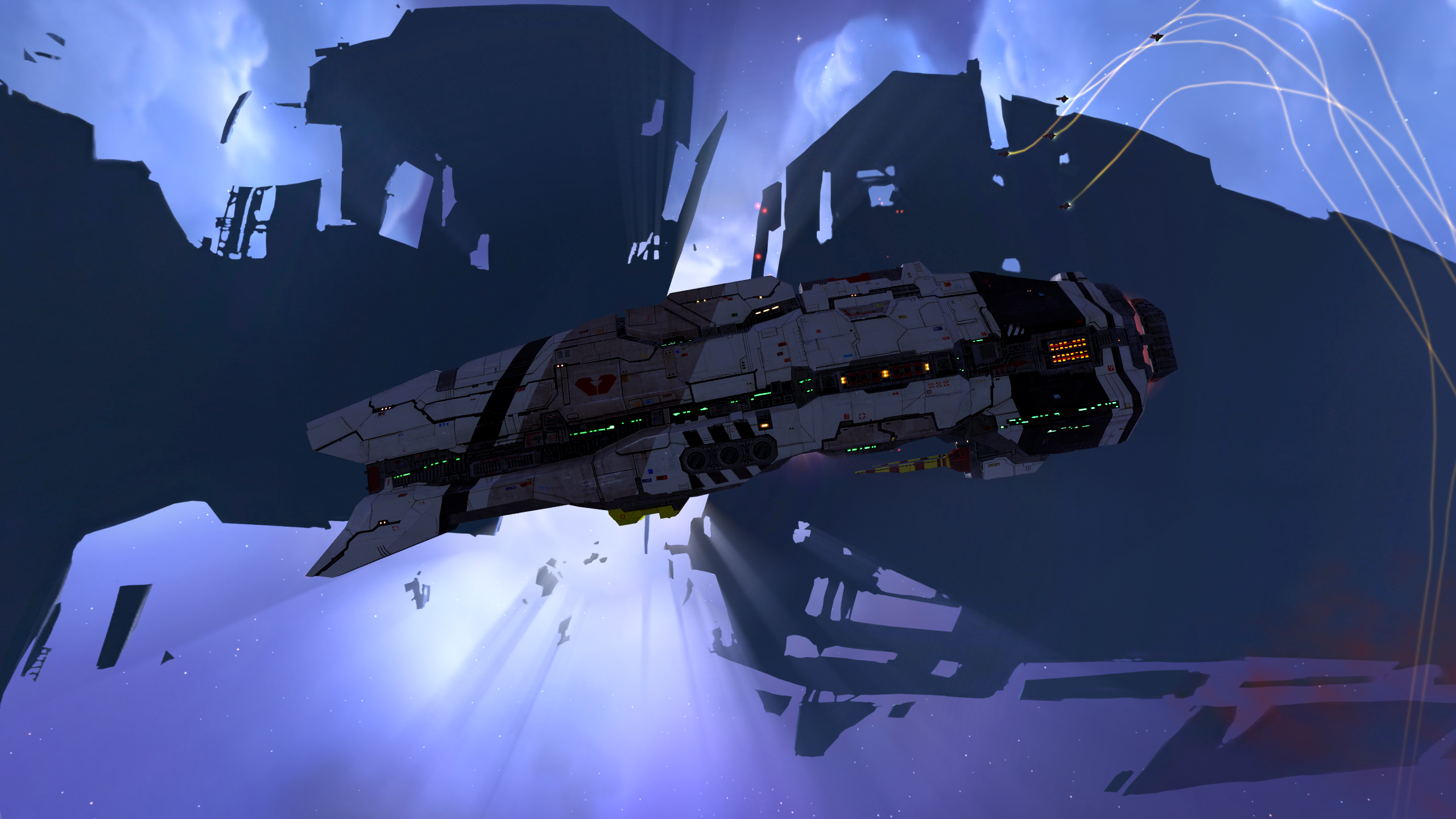 Take the helm, and formally enter the "Tyrant" into service in the 1.39 Build.
Which brings us to our next subject..
FX v1.39 - A Special Release
The Vaygr Defense Cruiser is one of the many extras we were able to cram into the upcoming 1.39 build of the FXmod since the previous patch preview was posted. Codenamed "Last Stand", we truly have gone up and beyond with this beast - everything has been smoothed out and rebalanced, new content and features have been added, and the whole package feels more a lot more solid, finished and complete than the FXmod ever was before.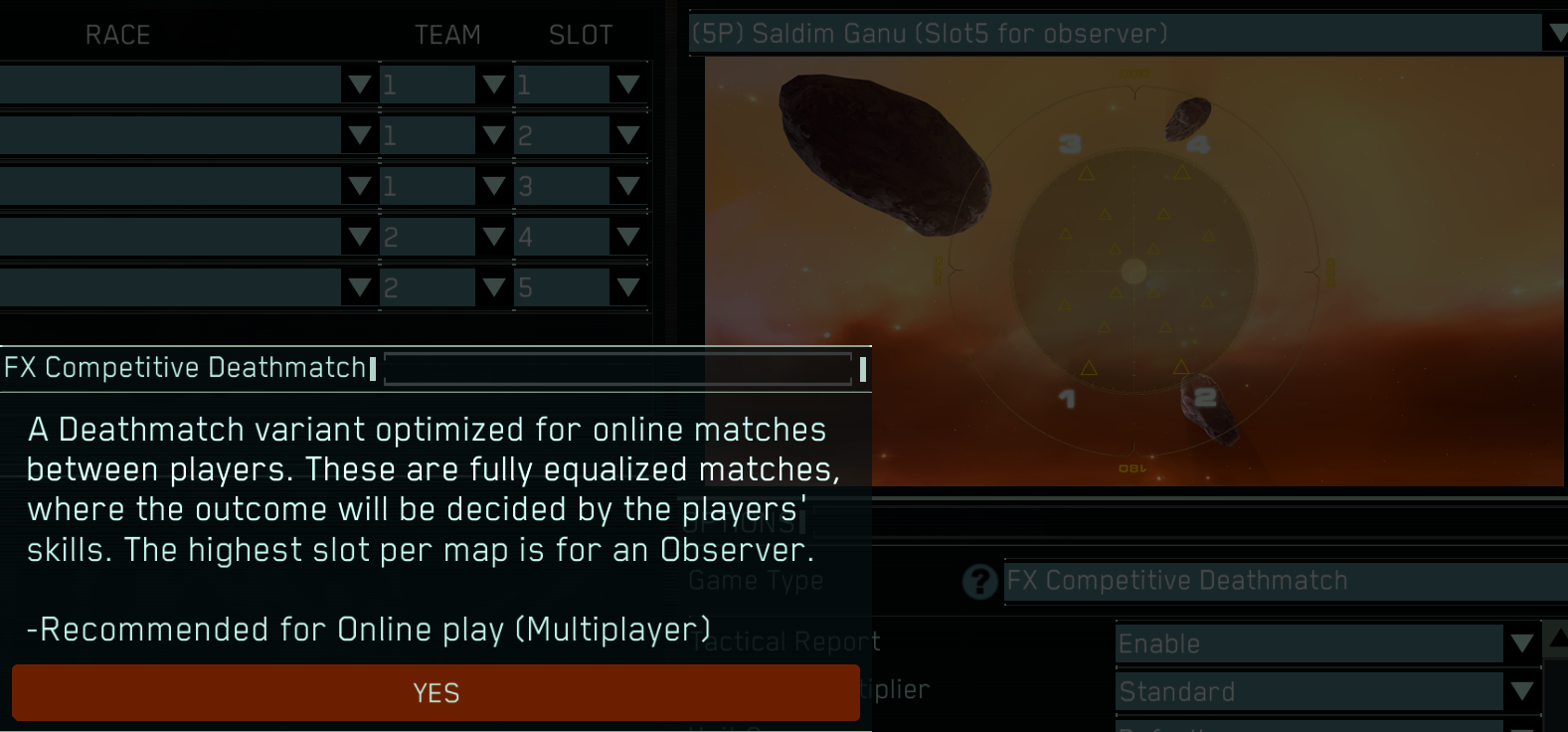 The return of the "?" button from Homeworld2Classic, which was absent in the Remaster.
One example of a small QoL script that has a big impact when it comes to making it all look more slick.
The best part of it all? It may well be coming to you before the year is up! At the time of writing this the last tests have already concluded, and the patch notes have already been sent over - all that we are waiting for now is for our guy to find a moment to finish compiling everything. When this will be?
We are aiming to deliver FX v1.39 right under your Christmas tree.
If Santa's helpers go on strike it will be before the end of the year and otherwise, in our worst case scenario, you will be playing Build 1.39 no later than in January 2022!
From Here on Out: 2022
FX:Galaxy, RPG Mode, and Homeworld3.
While designing the new Taiidan mini-campaign, we came to feel that "Last Stand" would be an appropriate name for the 1.39 Build for various reasons. Not only because you are attacking the Vaygr's last stand in Taiidan space, but also because we felt "Last Stand" reflected our plans for the mod as a whole.
With Homeworld3 set for arrival in Q4 2022, now more than ever we need to think about the future. This was hammered down the other day when Complex, which started around the same time as us back in the days of HW2Classic, announced that it will conclude its Homeworld activities in February 2022, marking the end of an era.
We don't know what the future holds, and life has made us realize that nothing can be set in stone - nothing can be taken for granted. Thus, our plans for the FXmod are as follows:
First, we felt that we really wanted to release at least one more build in the V1.X series of the FXmod. Not only simply because we wanted to add more content, but also because we felt like we wanted to tie up some loose ends, and just make the mod feel more "complete". This is the upcoming FX v1.39 build.
FX 1.39 will, for the time being, be the last planned REGULAR release for the FXmod in Homeworld Remastered. The other idea behind this release and name, "Last Stand", was that if no new version of FX is made (or is able to be made) in the future, we can at least look back with satisfaction and think "Yes, we left the FXmod for HWRM in a good place".
In 2022, we will put our full focus on our RPG Mode. Aside from having one more regular release, our other goal was (and is), to release a playable DEMO version of our highly anticipated RPG Mode before Homeworld3 is here. This is our second biggest goal, which should culminate in the release of FX v1.40 - RPG Mode (demo) somewhere in 2022.
Many players have asked us about our plans for Homeworld3. The short version is: Yes, we will try to mod HW3 when it comes out. "Try" is the keyword here. I will elaborate on this answer with the longer version:
FX:Galaxy in Homeworld3 (?)
Homeworld3 is set to use the UnrealEngine4. This has already made some modders declare that they will be migrating to HW3 when it comes out. Of course, we are big Homeworld enthusiasts and modders, so we would like (and will) try to mod Homeworld3 too.
However, there are a few things for us to consider.
For one, there is the size of the FXMOD. We started back in 2003, and as such are one of the biggest Homeworld mods around. While this is nice for the players, there are a few downsides for us. First, the FXmod is COMPLEX (no, I'm not talking about the other mod) - if you've read our 2.0 Developer Diary, or browsed through the Open-Source code of our mod (scripts), you will see what I mean. Something like the animation effect of the Nebula's main cannon already requires a good deal of code .. now imagine all other fx, the animations, the mini-campaigns, the AI behavior which we rewrote from scratch...in fact, the FXmod is so massive, that we had to develop our own script library (X-System) and ship it with the FXmod to make everything work.
Twice we had to redo everything already. The first time was when we migrated our mod from Homeworld2Classic to Homeworld Remastered. This was okay, but the second time was when GBX launched the 2.0 patch, which broke everything for us and other modders, and made us spent nearly 2 years solely on making everything work again. It would take another few releases on top to truly squash out all the remaining issues.
The second point of consideration is this: The FXmod was originally made as a race expansion mod, a port that brought the HW1C races into HW2C (before Homeworld Remastered, the HW1 races didn't exist in HW2). HWRM then did the same and improved the graphics, so we started expanding on content instead: new single-player missions, new systems and features, and newer, bigger spaceships while trying to bring the older ships from the HW2C version of our mod up to high-quality standards.
From the looks of it, Homeworld3 will be set all over the galaxy, and as such will be featuring many races: aside from the Hiigarans, we've seen previews for (allegedly) the Vaygr and Taiidan. If this is the case, where does this leave the FXmod? Do we continue our original concept, telling the story of all HW races in one game, or do we start over, as something brand new?
For example, if we continue with the current 'identity' of FX (all HW races in one game) then yes, we could use the ships of factions provided by HW3 .. but what about other races that may not appear in HW3, but are a key component of the FXmod and Homeworld in general, like the Kadeshi and Turanic Raiders? If we decide to continue with the current FX concept, there is the case of graphics, too - there still are many ships that use HW2 kitbashed graphics, or the "HW2.5" HQ graphics we used in HW2C. Most of these still look decent in HWRM (unless you zoom in too closely), but for HW3 we would definitely need to redo those. And what to think of the Progenitor ships and other big ships we made in HD, for HWRM? Will they still look good in HW3? Will there still be a role for those ships?
Lastly, there is the point of "time". Many original FXmod team modders left between HW2C and HWRM, and those who remained turned from students to adults/fathers. We have less people, less time..really all the work that went into the HWRM releases was done by a small group of people, who put time into those releases out of love for Homeworld - we don't get paid, or take money for modding HW. By the time HW3 comes out, will there still be a large enough userbase left to support modding? Will we still have time, or will there be people willing to pick up the torch?
As Hw_Lover put it:
It won't be easy considering the size of FX MOD, we will try to mod HW3 when it come out, to see what it would take. But we really can't make any promises just yet.
A Finishing Note
The future is not decided. But in the present, we hope you will enjoy our upcoming FX 1.39 release, and will look forward to a first release of our RPG Mode in 2022! With that, thank you for reading, enjoy the holidays, and stay safe. And as always, feel free to drop by our Discord for occasional updates, multiplayer matches, guides, or just a chat with fellow FXmod enthusiasts.
Best Wishes!
-The 9CCN Mod Team