Hello and welcome back to another update of Forgotten Hope 2.
It's been a while since our last news, but we're back on track after our short post-release vacation. Today, we have three renders of brand new vehicles for our next patch, but before we carry on to those, we have some announcements...
First off, we just want to say we are all very glad with the enthusiastic reception of patch 2.2. There has been a definite increase in player count and the comments on the forum have been almost exclusively positive. To make sure all our new players keep playing, we are currently working on a small patch, which mainly focuses on adding more maps to our Normandy Theater of War. Of course, as you will see in this update, we will also add more vehicles and weapons to this patch. Secondly, we have added yet another new developer to our ranks. Please welcome Darren01, who modeled and skinned today's Bedford QL.
Our first render of today is of the British Crusader Mk III AA tank, which will be the allied counterpart to the German Wirbelwind on Operation Totalize in the next patch. The original Crusader tank was made by Omni and Toddel converted it into the anti-aircraft variant.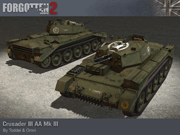 As the Crusader tank was being replaced by the more capable Cromwell, the last tanks of the series were produced without a turret, so they could be converted into 'special purpose vehicles'. One such special vehicle is this Crusader Mk III Anti-Aircraft tank, armed with twin 20mm Oerlikons. Around 300 vehicles were converted and used in the early stages of the Western Europe campaign. Their not-so-glorious career ended after only three months in service. Allied air superiority in Normandy proved so complete, that the AA tanks had hardly ever been used against aircraft and it was decided that their crews would be more useful in regular tanks.
Up next is an item you may remember from a certain well-known Hollywood World War 2 movie; the 20mm Flak 38 on Sd.Ah 51 trailer. The trailer was made by Toddel, Rad and K96, the Flak38 by Jodonnel.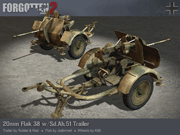 Although primarily an anti-aircraft gun, the 20mm Flak 38 can be equally well used against 'soft' targets, like trucks and infantry. The Sd.Ah.51 Sonderanhänger (Special Trailer), used to tow the gun into place, could also be used by several men to roll it into battle.
Today's last render is of the Bedford QL and features the British 'Mickey Mouse camouflage pattern'. It was both modeled and skinned by Darren01.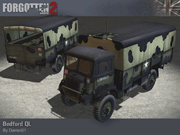 The Bedford QL was designed at the start of the war and entered production in early 1941. By the time of the Normandy invasion, it was the primary truck used by the British army and at the end of the war, more than 50,000 QLs had rolled off the factory assembly-lines. This particular vehicle is camouflaged using the distinctively British 'Mickey Mouse pattern', after the large, round and black 'Mickey Mouse ears'.
That's all for now, but be sure to come back later for another update. Until then, feel free to visit our IRC channel and our public forums to discuss this update and other news.