Today the Eye of the Storm development team would like to announce that work on the second episode is continuing and to present the first screenshot.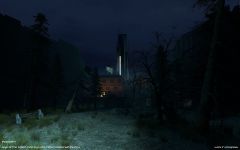 Judging by the screenshot you may think that Episode Two will feature a gameplay style very similar to Ravenholm. While there will be similarities you would be incorrect.
This episode will also explain the strange sighting of people that has been questioned since the start of John's story in Ravenholm.
The team would also like to add new features and are in need of a coder and a modeler/texture artist to implement them. If you think you would be suitable and would like to work on this project please contact the Project Leader at:
eots @ email . cz
Thank you for your continued support.