Unfortunately a couple of things came up which have prevented us from releasing on schedule.

First, we found that we were no longer able to edit SC's Launch Options automatically. Changing the launch options allows us to raise the entity limit, and is necessary for many Sven Co-op maps.
Investigation revealed that this was due to Steam changes relating to Steam Cloud. We contacted our old Linux coder Alfred, who now works at Valve, and he kindly offered to add a liblist.gam property to allow mods to specify launch options (Thanks!). This should be of use to other Goldsrc mods, also.
Note that it will be a while before the relevant Steam update rolls out, and until then, everyone will need to change their Launch Options manually. This will make things awkward for people who don't read the news, or can't read English. If you're reading this and know other SC players who aren't, please remind them to do the following after installing v4.5: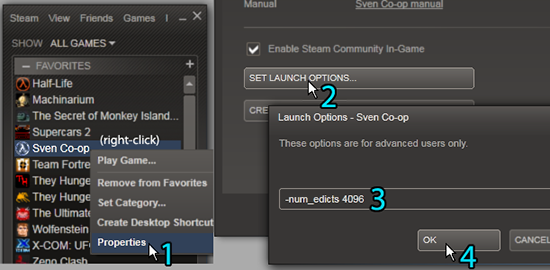 Immediately after sorting that out, we noticed that the FMOD EX team had significantly improved sound hardware compatibility in a recent update (FMOD is the library that powers Sven Co-op's sound engine). Since most people are sick of dealing with sound-related problems by now, we felt that minimizing them was worth the couple of extra days needed to upgrade to, and test, the new FMOD (can't just drop in an updated dll -- the SC code needs to support it).
Anyway, we've finished the upgrade now, and from initial testing it's not looking like there'll be any problems with it. This should be the final Release Countdown post... we may put something up on SvenCoop.com a few hours before the files are made public, though, just to let you know they're coming.
Until then, here's a rather unsorted copy of the Complete Except For The Bits We Forgot Sven Co-op 4.5 Changelog to pore through! With over three hundred and sixty five items, it should keep you busy for a while. The entire previous version history -- except for half of 4.0B :/ -- can also be viewed here. Wow... exhausting just to think about.
Alternately, if changelogs aren't your thing, you could play Rescue: The Beagles, or even Counterclockwise (3D Tron!). I would, if I had time for that sort of thing.