In the run-up to the Moddb People's Choice awards, the European Conflict team brings the fans an update revealing two new UAN units that replace previous versions, the UAN V5 launcher and the UAN Cobra gunship.
While the United Asian Nations' military force may not be as advanced technologically as its American Confederacy and Western European Alliance counterparts, the simplicity of tried and tested machines ensures the reliable delivery of death and destruction to the UAN's foes. The new V5 rocket and its launcher carry on this tradition of simplicity and replace the smaller V3 design. The V5 is an evolution of the notorious TOPOL ICBMs that has been adapted for smaller theaters of operation. Improved engines and smaller fuel bays have traded the intercontinental range for speed and the addition of even more high explosives in the warhead, bringing the TNT equivalent to 2.5 tons, more than enough to level all but the most fortified of structures and easily besting the power of its WEA and AC equivalents. Furthermore, intelligence gathered suggests the existence of another warhead to be used only in exceptional situations. Like any artillery piece, expect this vehicle to be protected by some form of escort as this heavy weapon crawls rather than sprints.
Features include:
Long Range missiles capable of delivering payload to distant targets with ease.
Versatile platform supports variable payloads.
Medium armour launch vehicle.
Meanwhile, the UAN has also developed a new assault chopper, designated the Black Cobra, to replace its Mi-28 Havoc fleet. This new model is both smaller and lighter than the previous attack chopper owing this to its Kamov sourced coaxial rotors and granting it amazing maneuverability. This doesn't mean however that the Black Cobra is less adept at wreaking havoc over the battlefield. Its twin autocannons will make short work of infantry battalions while its napalm rocket pods provide a versatile weapon against many targets including sturctures. Pilots are advised to fire in short barrages to conserve ammunition and remain more accurate but alpha strikes have been reported in the field. Overall, the Black Cobra provides both greater firepower than the WEA Viper and greater mobility than the AC Sioux, resulting in a Jack of all Trades gunship and has proven to be the backbone of rapid strike UAN missions.
Features include:
Support gunship capable of variable role in attacks.
Medium armour protection from ground based threats.
Napalm missiles and chain guns are devastating to ground targets, particularly infantry and structures.
As a bonus, we are glad to present a new wallpaper that our very own Pav3d has made especially for the UAN fans out there: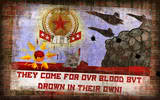 Voting for the Moddb 2009 MOTY awards is now up, so please stay tuned for the announcement of
Moddb.com
upcoming mod award winner. We would like to thank you all for the support.
EC team signing out.