Hello again Star Wars: BattleCry fans!
First off, we'd like to say sorry for the lack of an update in February. We've all been pretty busy and weren't able to get our stuff ready in time.
But do not fret! We're still making lots of progress!
Before we show off our latest work, we want to let you know that we've finished our F.A.Q. Please read it before asking us questions about the game. Thanks.

We have a few other announcements to make:
Our website is currently being re-designed and will be open to the public later on in the year
We are currently making new designs for our moddb, indiedb and Crydev pages
2D artist Josh Archer has created a new logo and has come up with a new presentation theme for particular assets. You'll see the new theme on some of the screenshots below.
Here's a list of new members who are lucky enough to make it onto the team:
'EAR' (sound artist from the Extreme Audio Recording company)
'Joshua Archer' (2D artist)
'Gen_Rhys_Dallows' / 'Delante Capers' (voice artist and currently working on a mod called Expanding Fronts)
'Joseph Greve' / 'lime517' (musician)
'Mandosis' (web design)
Now onto the stuff you've all been waiting to see!
3D modeller Sharky has made more progress on the Snowspeeder and we have a new texture for it. He's also working on the interior and we're all looking forward to seeing it!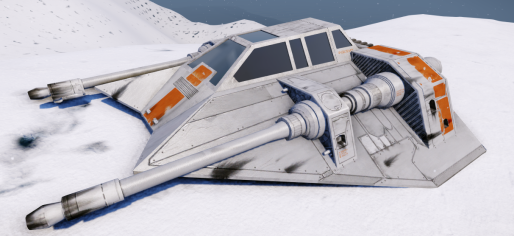 -
3D modeller and coder Ande has been busy making a kick-ass Rebel pilot: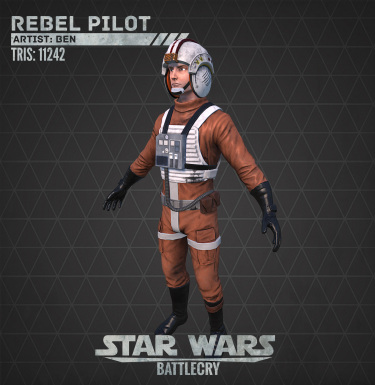 -
3D modeller Deforges has made the most iconic turret in the whole of Star Wars, the cylinder turret! The texture suits the model really well don't you think?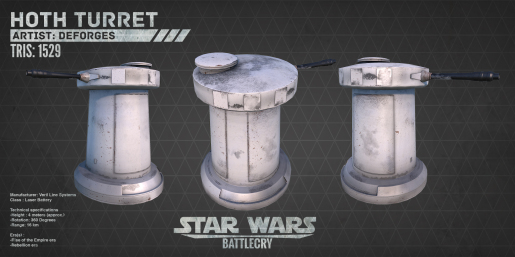 -
3D modeller and environmental artist Lephenix has also made an EG6 droid: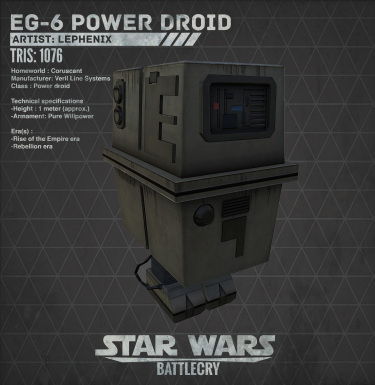 -
He has also been working on Palpatine's Office. Here's a very W.I.P screenshot: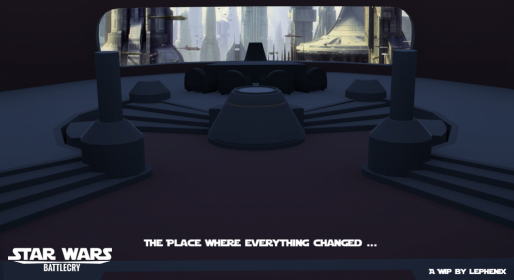 Although we don't have anything to show right now, sound artist Calum (tunednoise) has recorded a huge amount of voice overs (>1gb!) and we will be sorting through them soon! Keep an eye (or rather an ear) out for this.
Finally, before I sign off, our main animator Terach has encourntered a rather nasty bug in CryEngine 3. If you know how to solve it or know anyone who might be able to help, please make a post on the forum: Crydev.net Thank you!
Well, that's all for now folks, we hope this update was worth the wait.
Stay tuned for a dev diary this month...
May the force be with you!
PS: We are still looking mostly for talented environment artists! If you feel you're up to the challenge and could do with a bit of artwork to bolster your portfolio shoot us a mail!
rocknroll237@googlemail.com or a PM directly to the Mod/Dev Team!