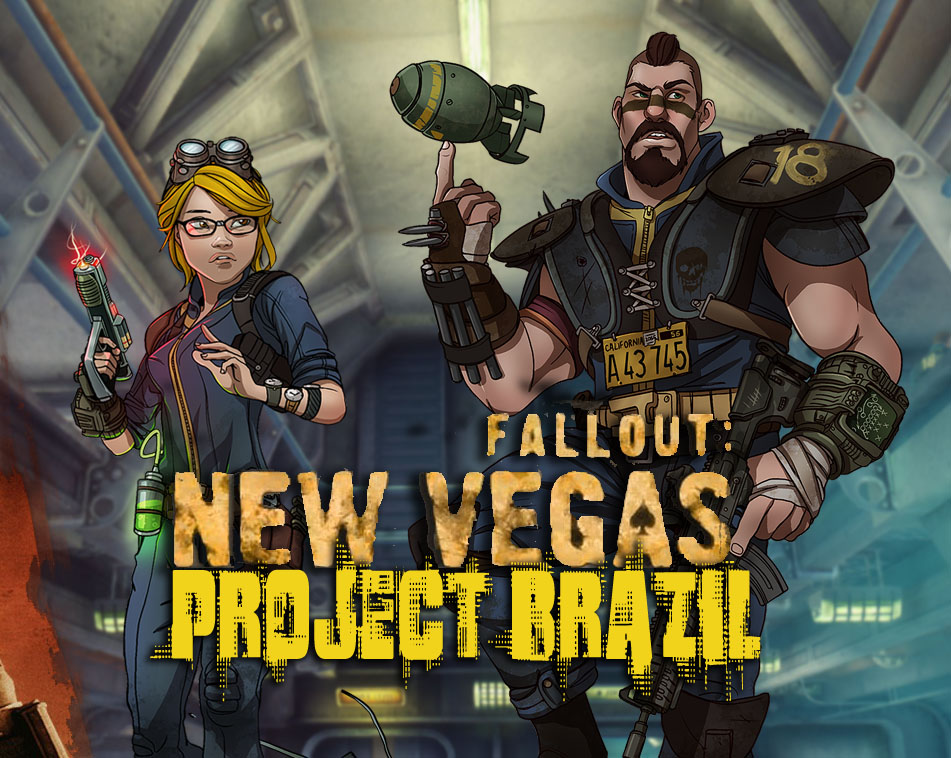 Development progress has been slow, but some stuff got done!
I took a 10 day vacation to San Fransisco to relax and release some tension. My last real break was in 2015, and I worked practically every day at my job or on FPB 10-12 hours, so I needed a detox week. Of course, the instant I got home I got the flu from hell, enjoyed a 4 day fever and lost my voice. :p BUT! Some progress was made, mostly by Rick.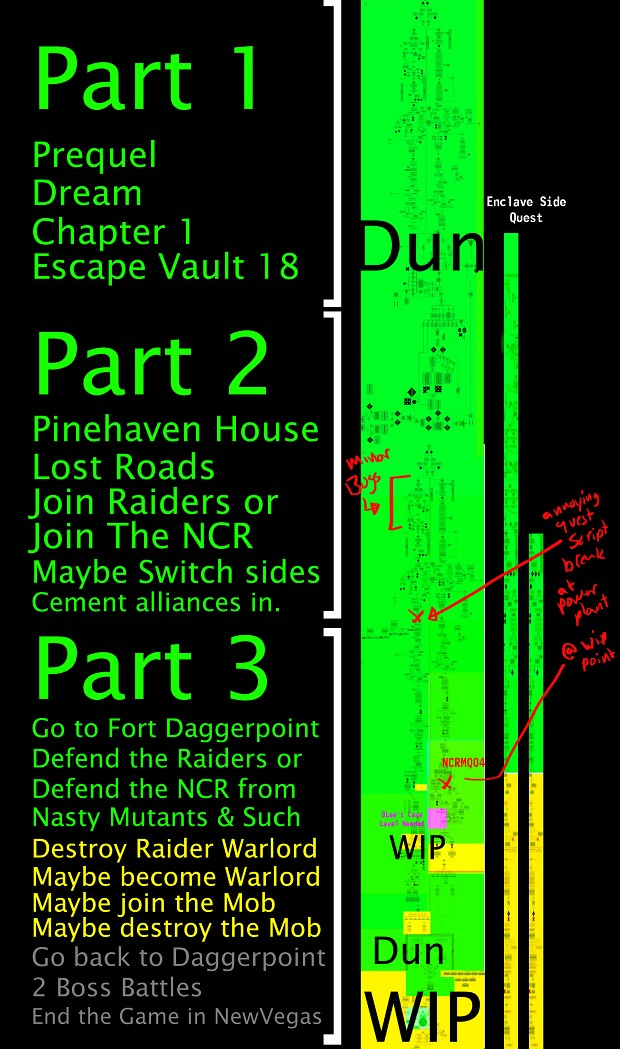 If you've followed us these past several years, you know that Part 2's storyline is divided in half just like Part 1. In Part 1 your decision to tackle or dodge Johnny Matheson in the opening moments of the game sets you down the Scientist or Warrior path (was once the Nerd / Athlete path, but it's got an update to be less harsh and more balanced.)
You also chose to try to help Save the Vault or Join the Enclave! You also found some or all of your Vault Companions and escaped into the Wasteland.
Those decisions get summed up neatly as Part 2 begins, where you go to Pinehaven and meet up with any survivors from Vault 18.
Not long after, though, you're introduced to the Survivalist Raiders, and their alliance of hostile psychopaths & rebels. You can join them on first contact by getting captured, or fend them off and escape Pinehaven. Further down the road you get another chance to be captured, or you can meet up with a Desert Ranger, who allies with an NCR Captain that needs your help, starting the New California Republic quest.
We've been plugging away at coding and making art, recording & editing voices for these two paths since January 2014.
2014 was a dead year, as you can see above. Project Brazil is primarily the work of RickerHK and I (Thaiauxn.) So when we burn out, the entire project gets put on a shelf. That was 2014 in a nutshell, just total, abject burnout. It took all we had to heft FPB out of the doldrums and get back on course.
2015 and 2016 we really kicked a lot of ass. 2015 especially, when we were racing to beat Fallout 4. When that didn't happen on time, we decided to just delay release until we could code ALL of our planned content and implement the entire vision for the mod. All 13,000 lines of dialogue.
Now that we're 3 months into 2017, we're at the bottom of the narrative, and the most complicated network of Main Quests I've ever written.
This is the quest where that cart I made is used:
You'll use this cart to sneak into Athens-Tec Mne with the help of NPCs you met earlier (or not, and you'll meet other NPCs to make up for that possibility.)
But that's just the start!
You have a kidnapping, politics between a General and Senator, an Assassination plot with 5 ways to complete including a freeform wildcard option... you can use your ally within the Shi to then get into the ranks of the Raider Warlords and convince them to help you assassinate said guy and assume rulership of the Raider Alliance... then you can go home to resolve that issue with the Senator and General.
I made that sound way simpler than it is. :p
This quest is at least 3000 lines of dialogue and rich with intrigue and betrayal. The code is immaculate, designed by RickerHK, and it's well on its way to being completed.
There's no "right" way to do it and all of it is a huge branching story full of possibilities and character motives. All on top of companion drama and possibly helping the Enclave (or not) and resolving past side quests that interfere with the main story.
OH! And the Super Mutants you released earlier radically transform the worldspace in the valley and go to war with the Raiders and NCR. So there is a lot to watch out for as sidequests get interrupted and combat takes a radical turn in difficulty.
So yeah! A simple quest! XD
I also went ahead and made a new Reflectron to start the game, because the old Vanilla textures were hideous.
This is more of a portfolio piece than an essential part of finishing the mod, but I also retextured the Khan Tents and the ubiquitous Boardwalk kit that I use all over Part 2. I can't help Rick code quests, so might at well make myself useful and retex stuff while we wait!
But, as part of the new opening scene on the Scientist storyline, it really ties the room together with the other HD textures. Can't start the game with ugly 2009 flat lighting and 1024 maps. No...
I had hoped March I'd have at least finished 1 or 2 of the Ending Slideshows, but I've barely got started thanks to getting horrifically sick.
This is a mock up of a shot I need from Fallout 3 -- not giving anything away, but Project Brazil's ending neatly ties it into the lore in the cleanest way possible, without ever betraying the identity of the Lone Wanderer or Courier while still heavily hinting at them being affected by your decisions in our mod. Even ties in with Fallout 4 in a very distant way.
So I guess this update really is Start to Finish. :)

Our January and February updates really revolutionized the game, adding all new assets across the fully revamped Part 1 starting area, and the Ending of the story in the final dungeons of Part 2.
Now all's left is patching in some extra NPC dialogue and the ending narration slideshow. With any luck, we're well on our way to ending Pre-Alpha Development by around May 2017, going into Alpha for a month or two, and releasing a Public Beta at some point after that.
When will that be? Dunno! When it's done I guess!
You can read more about our progress on the Design Documents Found Here. In the mean time, you can keep track of us on ModDB, Fallout Nexus, or Facebook. We've got a thriving online community centered around each one.
Cheers
Brandan Lee
Project Leader