After working our asses off for 3 months, we've decided just to go ahead and revert back to March 2016 as our release date.
If you want to know why it's taking so long, its because the FPB story is huge. It is essentially an old-school RPG where most encounters have at least 1 major branch, some of which have to take into account prior choices and storyline splits. That makes things very complicated to script - and 1 man, RickerHK, is the master architect of said scripting. He's backed up by Seddon and very rarely another programmer will drop by.



It is a very big story, even with the big cut content block.
That red area only represented 1/4th of the content, it was just really, really dense. And we voiced it all, so if someone crazy enough ever wanted to restore it fully, they could do it pretty easy. We left an amazing trail of documentation, and all the 3D and character assets for those are done and in the GECK. They're in need of quest stages, actor packages, and scene, event, quest variable scripts.
Also, there is a LOT more green. The companions and the entire first segment of game-play after leaving Vault 18 aren't represented here - this is only the main body of quests for the NCR and Raiders that make up the spine of the 2nd Instalment. The Yellow WIP areas are remarkably less labour intensive than the previous Green areas as well, since they are practically linear (go here, do this thing, calculate outcomes at the end to sum up past decisions.)

We did lose a lot of my favourite narrative elements in that red zone, where you could join the Shi or the Mob and really upset the balance of power in the California Wasteland. But in the end we needed more manpower. If we had a full time work crew this would have been easy, done in 5-6 months. The reason it took the last 9 months was doing it all in-between making a living in other day jobs.
With Holidays, final classes in a master programme, and me searching for paid work, we're going to need the extra time between now and march to wrap up our plans. Editing Audio has received a massive boost from Mark Hickman, who has been with us for a while writing extra lore notes and creating a mini-quest to find them. Along with Thomas McNiece and Yonezawa Takashi translating for our Japanese characters, and Sekiri voicing her, we're doing well in getting the majority of the voice files cut and implemented after I spent 2 months recording it.

Virtually all of our voices are now recorded. I'm missing 2 key characters we'll have to fill in using online talent, but they're in that red zone, so it's not a priority. I'm out of studio time this year, so I'll have to talent scout online for a couple burly sounding men next year.




We're just about done with the Raider Main Quest line. We just need to ensure that the player's alternate route, where they escape the Raiders to defect to the NCR is done. Rick is coding that now while Seddon takes a break to finish master's courses. He'll return shortly to help finish scripting the final battle at Fort Daggerpoint. We have to meet Annai Oran at Union City, talk to Senator Duville, then return to Elsdragon or Silvverman, fly to Fort Daggerpoint, tie into Seddon's WIP, and end the game after the final Boss Fights.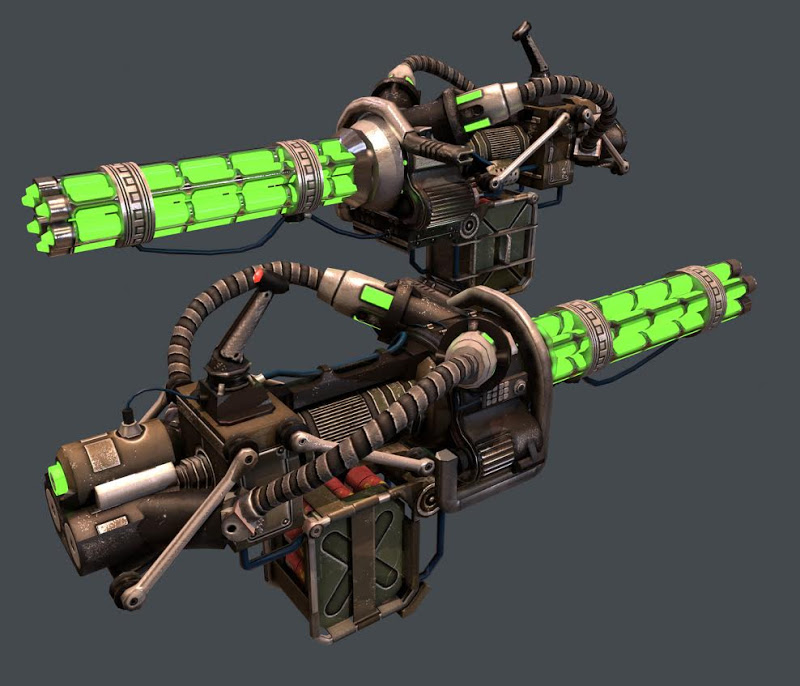 Speaking of the Last Battle - Vlad finished our final Boss Weapon, the Enclave Plasma Gatling Canon. It'll be held by the big-bad that neatly ties up the storyline from beginning to end. You can capture it and take it to New Vegas with you after the Credits, where you'll find it again at a suitable location and level. TAU34RUS's work rounds out our new collection of weapons and armours.




We also have some new Race body-types to show off. Our California Tribe has unique body paint and scarification, along with Vlad's excellent Tribal Armour. The Infected Savages have a sickly FEV glow to them that cracks through the old scarification as their skin rapidly flakes away to become Glowing Ones. You'll battle the Infected Savages at the Euripides Power Relay with the help of the Shi.

I'll return in a few days with some more screen shots of the new Vault 18 and part 3 and 4 of our voice demos! :D
You can read more about our progress on the Design Documents Found Here. In the mean time, you can keep track of us on ModDB, Fallout Nexus, or Facebook. We've got a thriving online community centred around each one.
Cheers
Brandan Lee
Project Leader