02.12.2012
----------------------------------

Greetings! Kevin here, with the first entry in the "Ethas: Embrace of Destiny" development blog! Today you will read about recent happenings within the developers' world of Ethas, as well as getting a taste of the upcoming Winter Update. So keep on reading!
The past couple of weeks have been tedious. We have had to prepare a lot for the winter update, and some problems have popped up along the way. In late November, we spotted an issue occurring within the Creation Kit, it seemed little at first, but quickly evolved into something a lot bigger than first expected (and hoped for). Long story short, it made it difficult for us to simultaneously work on Ethas within the Creation Kit. Thankfully, through hard work and great communication, we managed to fix the issue and keep the list of consequences short (Great work Eli, Andreas and Justin)!
However, even with the issue present, Justin was able to do some great work on Ethas. Eli and Andreas were quick to resume work after the issue was sorted out, and thanks to that, we are back on track. Ethas development is again at full!
While all of this unfolded, I did some concept art and created some models/textures. Right now I am focusing my work on the Ethisian Steel weapon-set, and a lot of you have been asking about the general approach I am taking for these weapons.
Now, Skyrim had a very dark and gritty feel, and most of the weapons in Skyrim had that same tone as well. With Ethas, I am going for a fantasy type approach that can be found in the previous TES game, Oblivion. Oblivions weapons had such a clean and mighty look to them, something that I longed for while playing Skyrim. If you view the image we posted some time ago of the "Ethisian Steel Blades", you can clearly see that these weapons are a lot cleaner than those of Skyrims. Ethas in general has this same development approach.
In addition, to give the player that extra feel of quality I decided to give regular weapons 1024x1024 textures, and unique weapons 2048x2048. So if you long for the feel that the Oblivion weapons gave you, look no further than the armory of Ethas.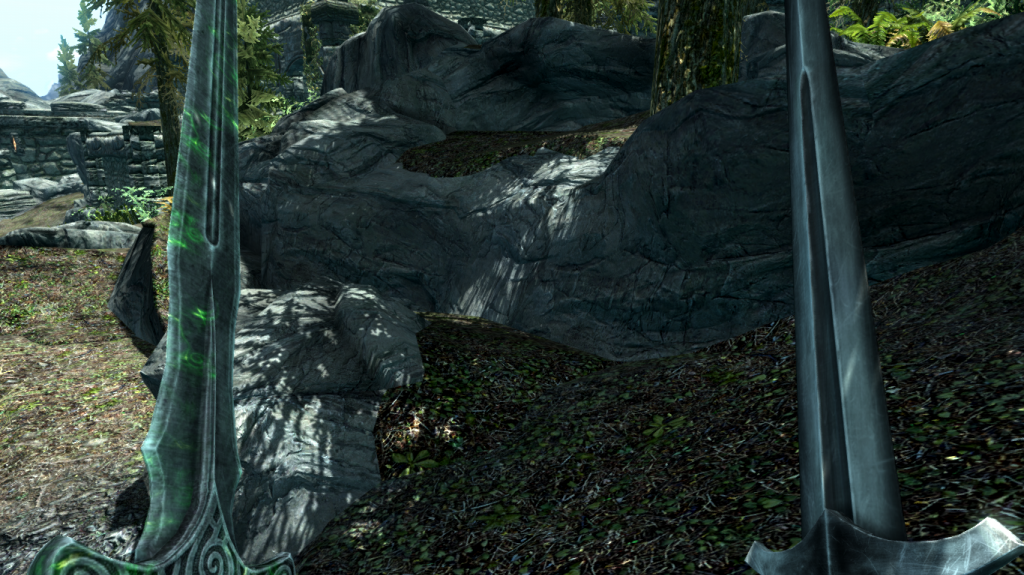 Side by side comparisson of the Ethisian Steel Longsword (right) and the Skyrim Steel Sword (left)
Of course, some weapons will require the dark and gritty visuals in order to capture the brutality of the wielder. But, all of this will be done within reason. Also, I am not planning to remake all of the weapon types from Skyrim. Sets like iron and ebony generally fit the name, so until further notice nothing will be done with these. But enough about weapons!
With all of the issues gone, extensive work has been done on the Western Reach, the Heartland and the Great Valley. Some fantastic dungeons have been created (one being a ship sinking while the player is inside), and some visually stunning landscaping has been done. Our goal of creating memorable landscapes is working out quite nicely. As mentioned above, we want Ethas to have a fantasy feel and vibrant look!
So with all this work done, I can say with confidence that Ethas looks stunning, during the winter and summer alike! All I can say is this, look forward to the winter update people!

----------------------------------
I hope you enjoyed the first entry in the Ethas
Development Blog, you can expect many more entries in the future. However,
there probably won't be another blog update before after the highly anticipated
"Winter Update" witch will arrive January the third, 2013. Until then, I wish
all of you the best, and I hope that you'll all have a very merry Christmas! And don't forget to
vote Ethas for the MoTY's :D
-Kevin, Ethas Development Team