Vanimals updated: our game got greenlit in June! Check it out here: Steamcommunity.com
(Original article from VRFocus Vrfocus.com)
Having seen success with four titles for smartphones, developer Vanimals Games are bringing the Eternity Warriors franchise to virtual reality (VR). The creators are seeking support through Steam's Greenlight system in order to get the title published.
The original Eternity Warriors was launched six years ago on smartphones and has had three sequels since then. The VR iteration will continue the series tradition of being a first-person hack and slash where players cut down hordes of demonic foes using an arcade-inspired combat system.
There are plans for three different character archetypes, the melee-focussed Warrior, the sneaky Hunter or the ranged Gunner. Each class will have a range of abilities available to them as players make their way through the various mission-based levels, which will feature dark, apocalyptic aesthetics. The developers are also hoping to introduce multi-player coop and PvP if the title passes the Greenlight process.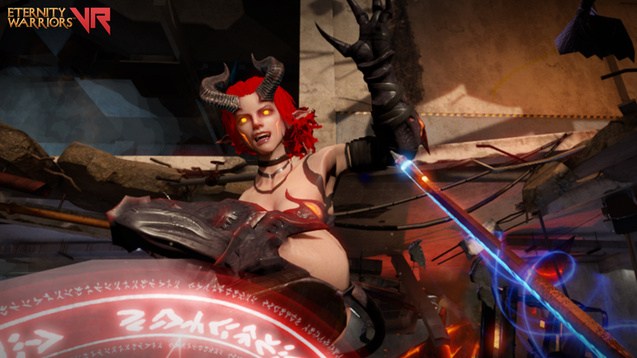 It is not currently known what VR platforms could be compatible with Eternity Warriors VR, though the developers have said they anticipate it will be available for 'PC VR platforms', which likely means HTC Vive and Oculus Rift. Vanimals Games are hoping to bring the title to PlayStation VR and mobile VR platforms at some point in the future.
The title will use enemies and environments that will be familiar to players of the mobile titles while introducing new mechanics and bosses unique to the VR experience. If the Greenlight process is successful, the developers hope to release a full version of Eternity Warrirors VR by Q3 2017.