Lotte has recently posted on eodmod.com some news about the progress on the development of 2.2 version of EoD Classic:

We are back with some news about EoD classic 2.20.
Ike has made progress in modeling some new buildings for EoD.
We have got some new houses and trenches for special maps.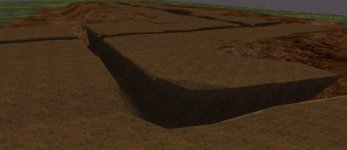 On a boring and lazy sunday afternoon I've made this map conversion for EoD.
It was just for fun to see how it will go with EoD.
It's the very famous Counter-Strike map called 'de_dust'.
Well, I was surprised how good it is with the bots in EoD !
I'm pretty sure this will give a lot of fun to the new version
And here's another sequel of the Que Son Valley series.
We have Que Son Valley, Que Son Valley - Aftermath and with 2.20 we'll get Que Son Valley - The Prelude.
All these maps take place in the same valley and you'll see some well known things again.
Finally there's a new map called Ho Chi Temple.
Also we'll have some new vehicles in EoD. Ike has build a river raft to cross rivers wich are to wide to swim. In Crash Point Baker for example.
And we will release a very old present from US Intervention mod: the T-62 tank.
This tank was in the build since v0.46 but never had been released. Sarge 31FR from BG42 mod has made new code for it so we are able to use it now.
Ok ok, the T-62 was not used in Vietnam - we know it - but it will be a nice add-on in one ore two maps.
Our plan is to have a release in autumn 2010 with a bunch of about 200 maps !