You know whats awesome? A Rocket Launcher that shoots chainsaws. You know what's even more awesome? A Rocket Launcher that shoots chainsaws, that light people on fire. That's what the basic goal of Booster items are. To make awesome things even more awesome. This is accomplished by giving guns various elemental effects, similar to what can be found in games such as the Borderlands series. Boosters can spawn on any of the weapons Bloodcrusher II can generate as their own unique part.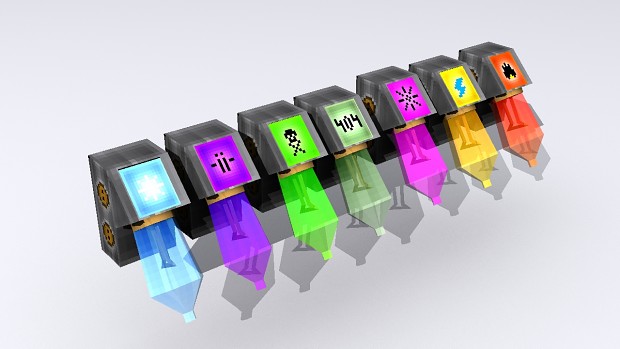 Lets go over each of the basic Booster parts in Bloodcrusher II, going from left to right.
First, we have the ice booster. It slows enemies down to a crawl until they stop altogether in an impressive ice sculpture.
Next is the slime booster, which coats enemies in sickly purple slime, which makes them take more damage from all of your attacks.
The acid booster rips through enemy armour. As a matter of fact, if your enemy so much as thinks about putting on armour, they take double damage.
Allow me to confirm that the internet is indeed an element, and we have been able to pack its pure essence into the internet booster. This booster simulates lag, and kicks enemies from your game on kill. That will teach them for killing admin.
Following it is the explosive booster. This booster, wait for it, causes your projectiles to explode in a magnificent explosion on impact with an enemy or surface.
The yellow booster is the shock booster, which completely ignores armour when it damages enemies. However, it does not reduce the amount of armour enemies have.
Finally, we have the fire booster. The fire booster lights enemies on fire for ongoing damage, unless your target has armour, which protects them through the fire and the flames.
Elements don't just have combat utility. They also factor into the scoring system. Affecting an enemy with an element gives you a small multiplier on each kill. By stacking multiple different elements on the same target, you can raise that multiplier considerably. More experience means you level up faster, which means you get more power and more perks at a faster rate to keep up with your enemies as the game gets harder!
That's all for this week, be sure to look out for Sunday's Crusher Cast at 8 PM EST, and tweet questions at our twitter account, @bloodcrusherii, or if you have no idea how small birds deliver 140 character messages, stop by in the cast's twitch chatroom.