Three years ago, a few months after the release of Dystopia version 1.10, the team working on Dystopia were still very fresh. The team consisted of members who had been there from the beginning, but mostly comprised of people who had only been there for a year or less.
This team decided that now was a better time than ever to start planning out a mission with Dystopia and their group. They would continue to support Dystopia through the years, all the while soaking every bit of information about game development they could up into their brains. They learned and learned and learned, striving to branch out and learn more programming languages, more art software programs, to play other games feverishly and take notes.
After the three years of continuing Dystopia support, the team decided to go public with their intentions. Puny Human was born and intends to leap forward into the future, creating fresh and inspiring games for many to enjoy.
Check out the website and sign up for the Puny Human twitter and facebook for all of our updates!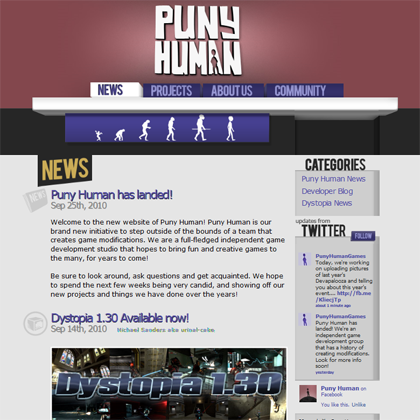 In a very short time, we will be announcing the other project we have been hard at work on. It will not be long after the announcement that we release the game to the public, we are very excited to show everyone. We will also be announcing some details about open development with Dystopia, and hope to support it and our other games far into the future!