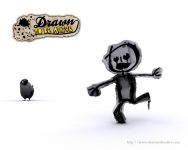 Hi guys,
sorry for the delay. As you may know, our game was developed as a school project in
Supinfogame (french game design school). We worked a lot until the end of the courses
to make something good. The current problem is we are now working in different studios
and we don't have so much time to work on the mod.
In fact, I didn't release the mod at the end of june because we wanted to finish the third
level. We're still working on it but the things go slower than at school. I hope you
understand. I've got a good news, here is a gameplay video.
We should start to produce a fourth level in august (with a new member). I'm going to have some hollidays soon and some time to work on the project. I can't tell exactly when we can release the mod. It will be released before the end of the year, I think around October.
I will post as soon as there is something really new.
Vgadjo