I've been busy lately.
First: The Annihilator-class Super Star Destroyer Purifier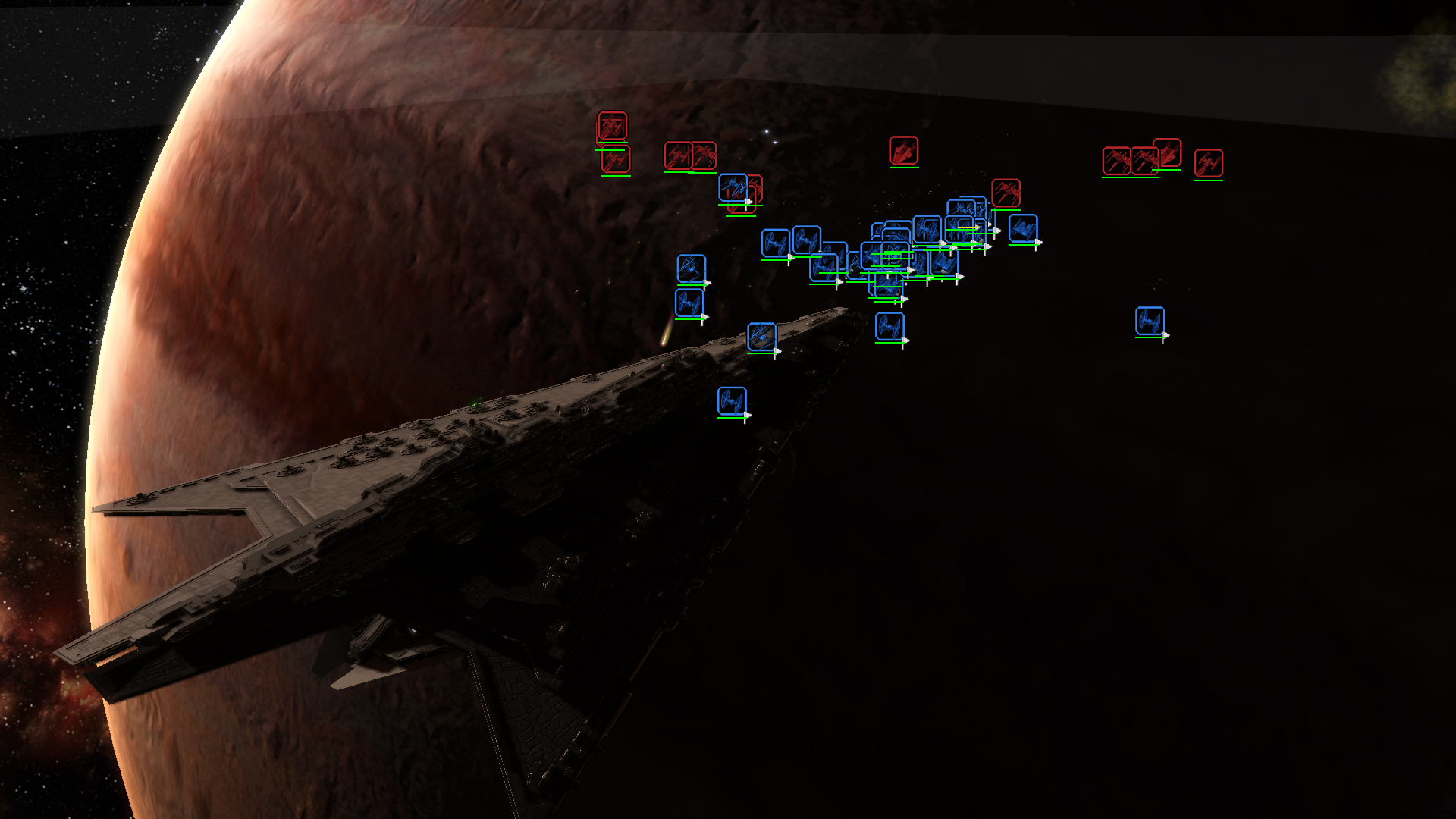 Here seen as it is about to be hit by the planetary ion cannon. I cri erytim.
Will probably do something about it completely draining even the largest of ships, since losing your 50000 starships firepower to something that cheap is...well, cheap.
Not entirely ready to show off the ship, but I will in due time. Haven't found a worthy enough enemy fleet yet. Safe to say it fires an impressive barrage.
Second: Replaced that god-aweful corruption particle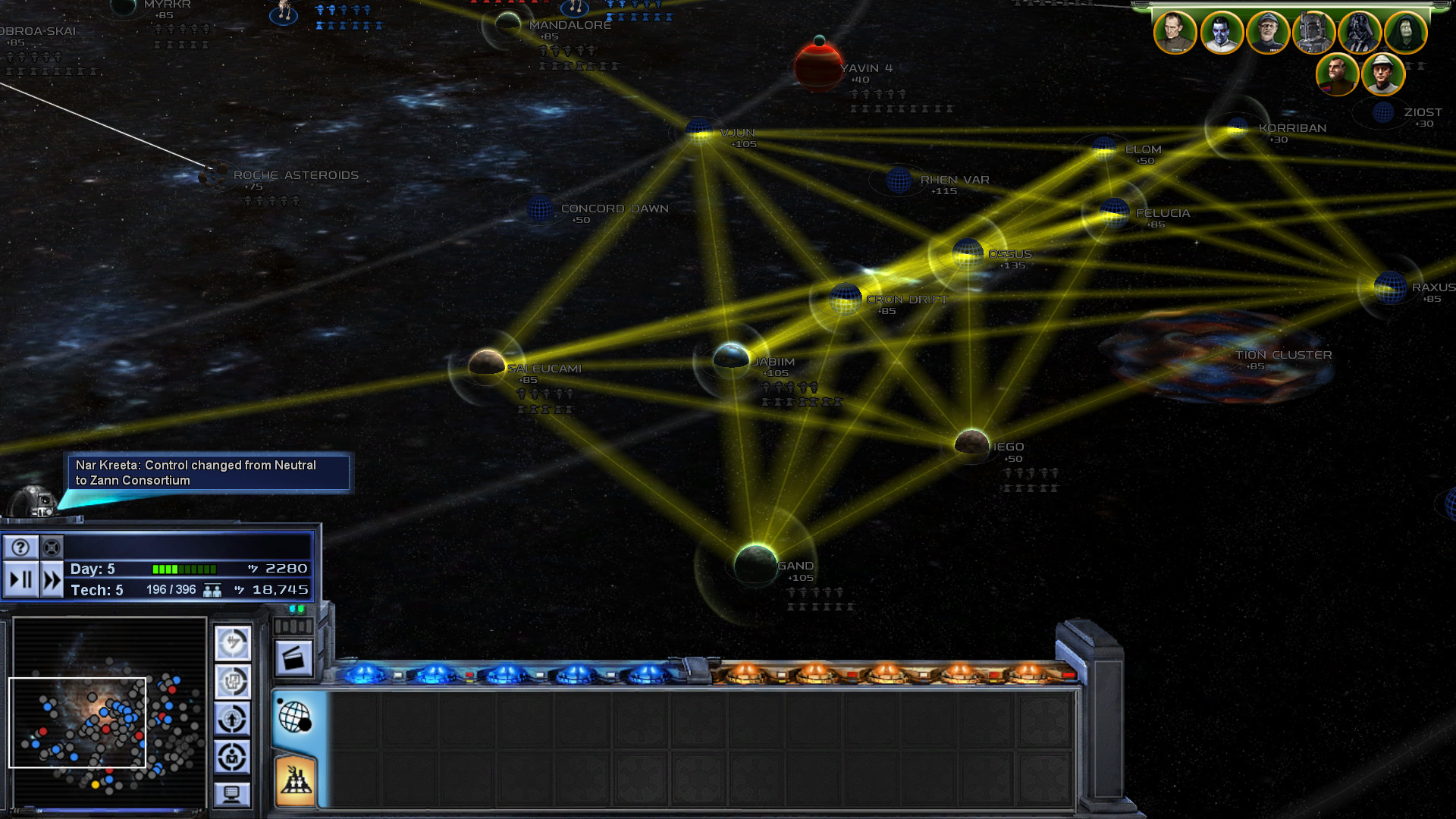 Now on to the big and not-so-flashy content. The actual, substantial part of the news post.


1. Starbases have seen a substantial upgrade. Longer range, heavier weapons. All starbases now boast four times their previous shield points. They are now capable of fighting off much stronger attacks. This ties into the next change.

2. All ships have their shield and hull points doubled. This includes all hardpoints for starbases (starbases have four times shields instead of two times as mentioned before), starships, and hero units. I wanted to make ships last a little longer. After some testing I think it gives a better feeling to not have ships take heavy damage to fast. Your ships can now be under attack without you having to worry straight away. Shields now feel like they give you some actual protection, and hardpoint armor feels like weapons have to chew through the hull of a starship instead of papermache.
3. All weapons, with the notable exception of missile and torpedo weaponary, have their damage slashed in half. In addition to this, laser and turbolaser weaponary has been slowed down considerably. The damage reduction was done after I concluded that my starships do not provide me with a sufficient lightshow. But I cannot change the starships to fire more without also reducing their inflicted damage. Hence the damage reduction. I was content with the missiles and torpedoes firerate, so I left their firerate and damage as it was. I'm currently going through all starships hardpoints to roughly double the ion, laser, and turbolaser firerate.
4. TIE Fighters are back! The Empires starships that spawned TIE Interceptors now spawn TIE Fighters instead. Higher tier ships spawn a small number of interceptors as well.
5. The ISD, Allegiance, and Bellator have had an addition increase in hardpoint health, since they didn't feel like the fortresses of metal that I wanted them to symbolize. Cost has been slightly increased to compensate.
Because people still seem to have some difficulties getting the mod to work, I'll keep this installation section here below for visibility.
-----------------------------------------------INSTALLATION-----------------------------------------------
Quite a few people have reported crashes. To fix said crashes use the GoG version of EAW, which has been altered by GoG to work on every system, alongside the 4 GB patch.
4 GB patch: Youtube.com
This SHOULD fix any crashes people have.
Special thanks to user 0il for pointing this out. You should check his other videos since he has smooth battles with 100 pop cap. Very cool to look at imo.
I recently bought GoGs Empire at war Gold pack. ( Gog.com ) It works on all versions of windows, including 10, which is what I now run on my new machine. GoG ensures that every game it has on its platform runs on almost any system. With this you no longer need to install any 64 bit patch, or crack, to get it to work. Just install and play. Then, after applying this crash fix to both the EAW executable as well as the FoC executable ( Youtube.com ) I can run the game at 50 pop cap without crashes, this even holds up in 2v2 skirmish vs hard AIs. Here is a video of me doing that: Youtube.com
TL:DR
1. Get GoG version of EAW.
2. Install GoG version of EAW.
3. Apply crash fix.
4. Install mod.
5. Play mod ---> no crashes.
6. ???
7. Profit!