Video montage
First of all, I'd like to feature this video montage made by Wedgeridoo. It is very well made and I feel that it is also a great showcase of this mod:
---
Important: the mod is no longer standalone
Previous versions of the mod used to run out of the box, just by opening gzdoom. This has changed on the latest versions and there are now prerequisites in place:
PSX DOOM CE and PSX FINAL DOOM CE now require DOOM2.WAD to run, much like other DOOM mods.
DOOM 64 CE now requires DOOM 64 (Steam/2020 rerelease) to run.
While this might look discouraging at first, it is not as complicated as it seems.
PSX DOOM Instructions
Just place DOOM2.WAD in the same directory as gzdoom or in its [IWADSearch.Directories].
If you have DOOM 2 installed in Steam, open its installation folder and copy the DOOM2.WAD from the base folder (not rerelease) into gzdoom's directory.
If everything went well, you should see this when opening gzdoom.exe: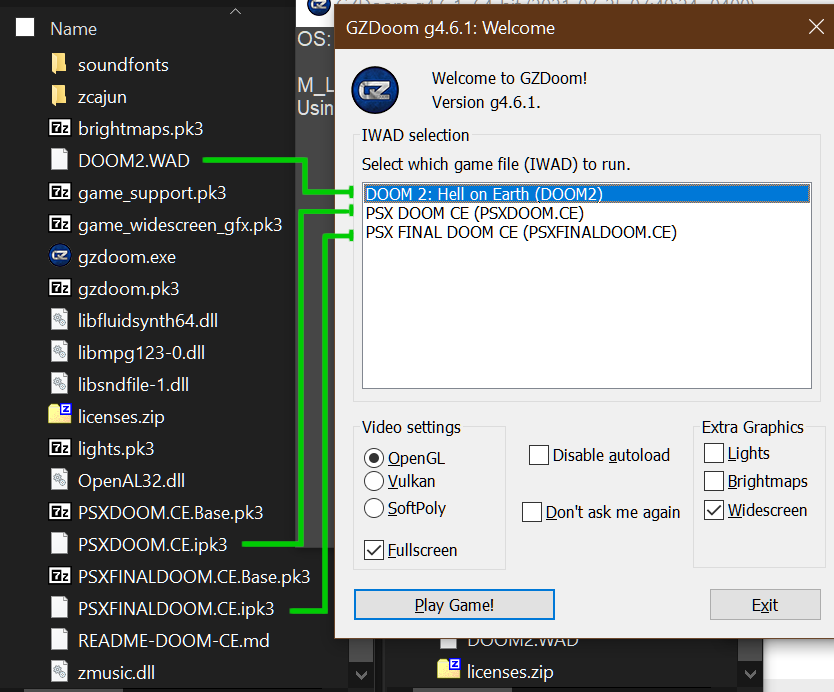 DOOM 64 Instructions
The Steam DOOM64.WAD will not be recognized by gzdoom by default, so it has to be patched. Included with the mod is an automatic patcher (doom64-install.bat). Just run it and after it completes the mod will be ready to play. Special thanks to phredreeke for the idea and initial implementation.
The auto-patcher will try to find your Steam installation of DOOM 64 and automatically patch and create all necessary files to play. If for any reason the Steam installation is not found, you can copy DOOM64.WAD to the same folder as the .bat file and it will use that instead.
If everything went well, you should see this when opening gzdoom.exe: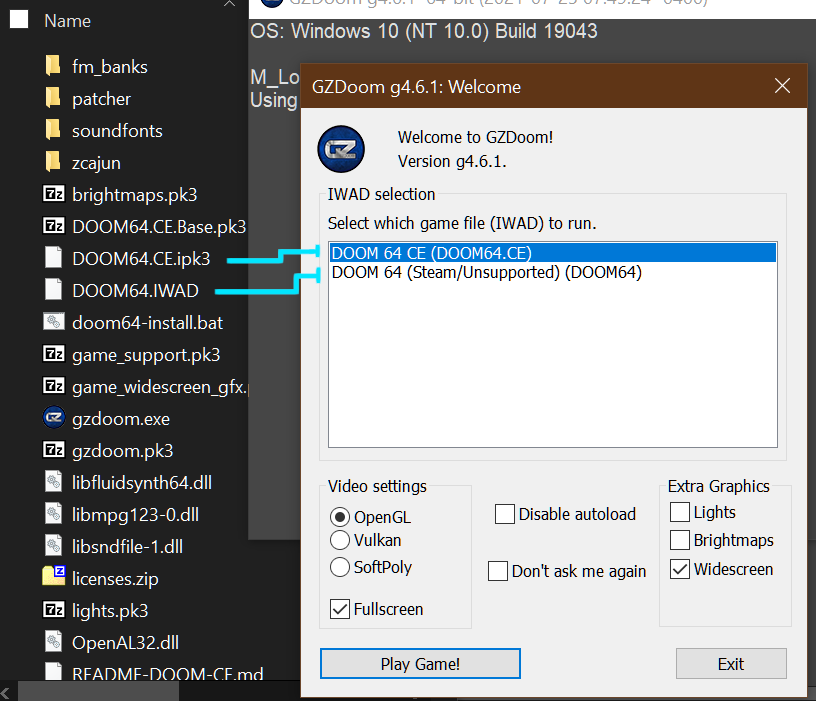 Do not run the entry that says (Steam/Unsupported), because it is not compatible with gzdoom.
If for any reason the auto-patcher fails and you'd rather do it manually check out this video tutorial prepared by Crob4r, who streams DOOM 64 on Fridays and has been streaming this mod for several weeks now:
---
Sneak peek
Finally, here's a sneak peek of Beta 64, a DOOM 64 megawad I am porting to work with this mod, coming soon. Crob4r has also been playing an alpha version of it his Twitch for the past couple of weeks, so you can check out his channel as well: