It's been a while! The last few weeks have been hectic, but we've almost vanquished the demon that is the completion of our first publicly available demo. Here's some information of how we've been polishing the nuts and bolts of it for your gaming pleasure:
Tether wrapping and unwinding; a feature that was the bane of our existence for a long time. Finally finished now! :D
For a while the two of us have been working on separate builds trying to progress core game mechanics as fast as possible. This meant we had to spend a substantial amount of time integrating our progress back into one project, a task loathed by almost every developer we're sure. We also decided to tackle a substantial number of bugs in this time; many to do with the tether wrapping and unwrapping around obstacles, and also many arising due to collision issues from the obstacles being thrown into the mix.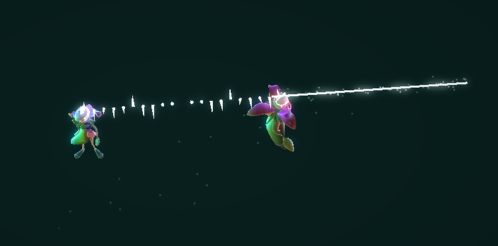 One of the simpler bugs to fix...
Another new feature we have added to the tether's behaviour is a form of tension that forces players to maintain some loose proximity to one another while connected. This has a large impact on gameplay and we are still fine tuning how much slack we need to give the players. Nevertheless, the added tension certainly adds a greater sense of physicality to the tether and requires more teamwork to navigate around.
Our new physical collision obstacles needed models of course. These currently consist largely of rocks and brambles. This is of course ground breaking and revolutionary to games as a medium!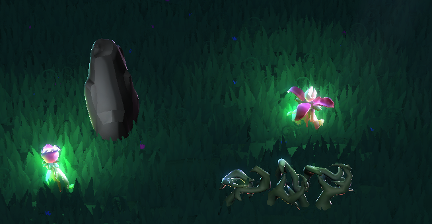 First pass of the tall obstacle that catches your tether, and the short obstacle that you can be pulled through.
Some animation will play when pulled through the brambles, complete with particle twig breakage.
Also, pending some testing we can now say the game supports colourblind players substantially more than before. The new breaker bullet may be a bit over the top at the moment, but it certainly won't be missed by anyone.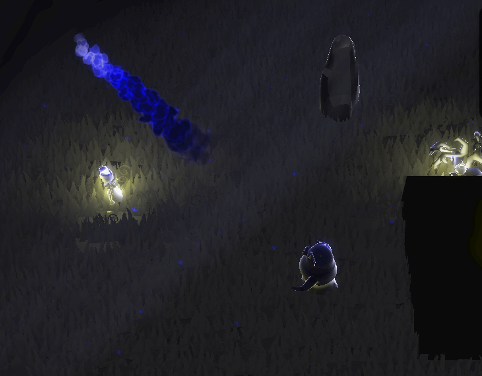 The game viewed with a filter to simulate Deuteranopia colour blindness.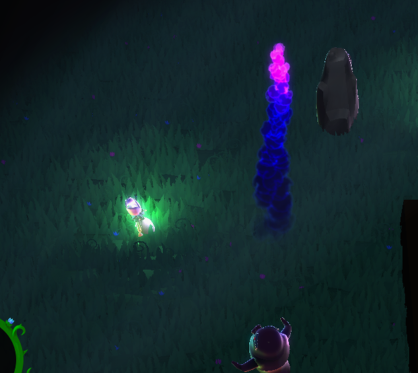 A breaker bullet looking terrifyingly large.
As we've added a new level system, we've also been experimenting with a number of different goals of late to encourage different styles of play within the game. One such example is our "occupy" objective. Occupy is a co-op king of the hill style objective. Before you can access the next level you must have remained within the given area (which periodically changes position) with at least one player for a given time.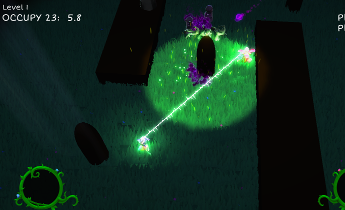 The 'occupy' area needs to be more readable at a glance but functionally it is very satisfying.
On a final note, perhaps the coolest thing we have show off is something by the incredibly talented musicians we've hired! Check out a sample of the music they have produced for BrambleLash on Soundcloud:
Damian Dolin
Menu Music
In Game
Leanne Puttick
Higher Difficulty In Game
Leanne has also put a boss track together which sounds phenomenal. Now to make some bosses...
If some of these things are looking and sounding like something you'd like to get your hands on, we've got you covered; Our demo will be available here on indieDB in less than a week! Get excite!
- Love, ByteSprite