HIYA Fighters!
Welcome to another devlog, this time about the heroes of Okinawa Rush. Before we get to that though, I'd like to once again extend my gratitude to anyone who's supported the Kickstarter and/or wishlisted the game on Steam, you're the best! For anyone who has not checked out the demo yet, you can download it HERE. We love hearing from our fans so make sure to leave any feedback, we appreciate every comment!
Heroes
As you know, in Okinawa Rush you get to play as one of the 3 characters: Hiro, Meilin, or Shin. Each with a decidedly different playstyle, move-set, and personality. This made me think that a short devlog elucidating some of the differences between the heroes may be a good idea, to give you a better feel for each of them. It's also good to familiarize yourself with each of them if you don't choose to pick them, just to know their strengths when playing with a friend in the 2-player local co-op mode. For example, each character is more proficient with a certain type of a weapon which lets them wield it for longer without it breaking.
Hiro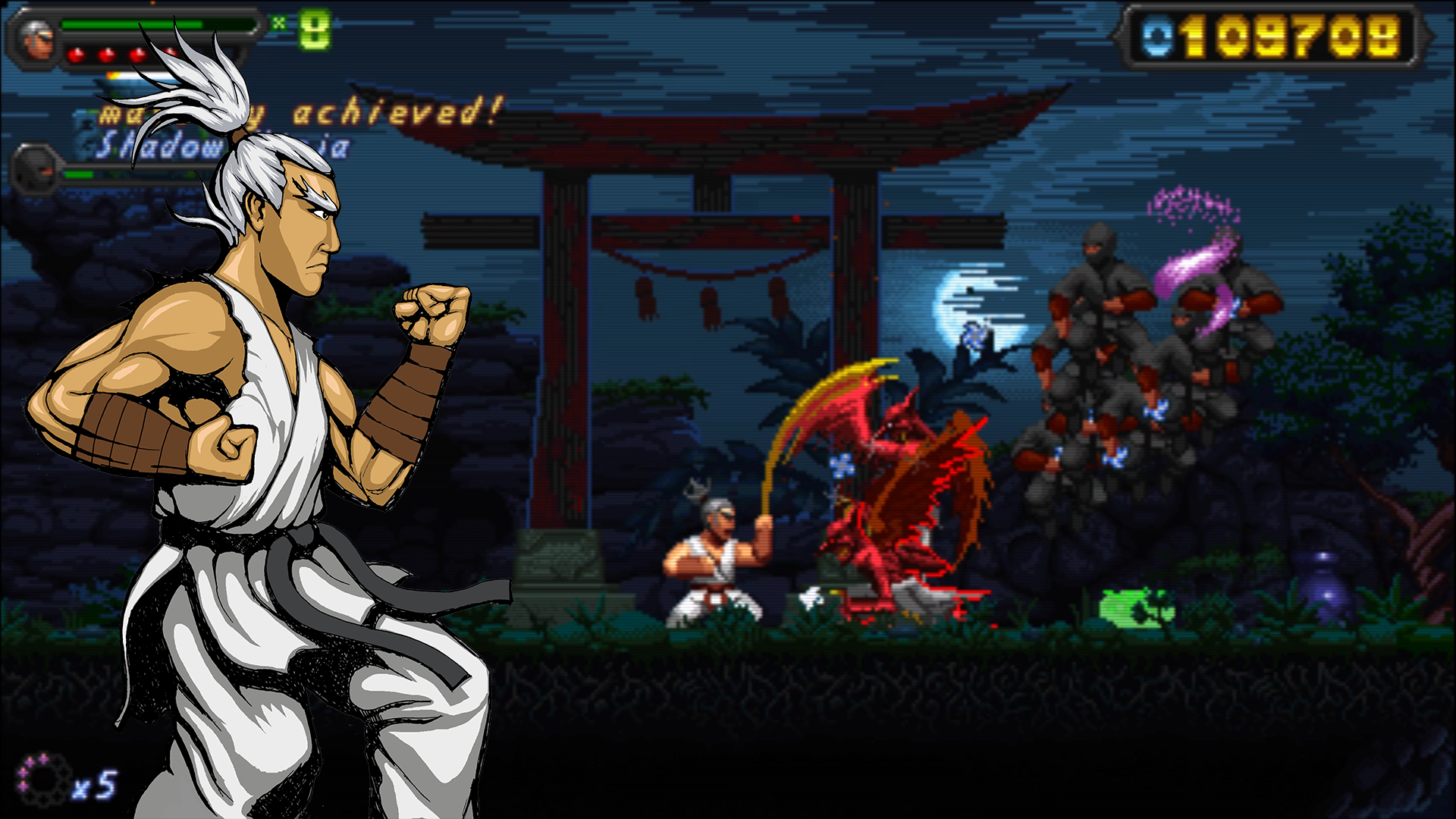 Hiro is an Okinawan karate master and the "main" character. He and his brother Shin, trained together for many years, and this allowed him to develop his secret technique. Those decades of training have honed his martial arts skill to a supernatural level. Hiro is able to summon fire at will and his ferocious "shinku-kia" scream can obliterate any foes that stand in his way. He's also the character most proficient with swords. He ventures on the path of vengeance after the Black Mantis Clan murders his wife and kidnaps his children.
Meilin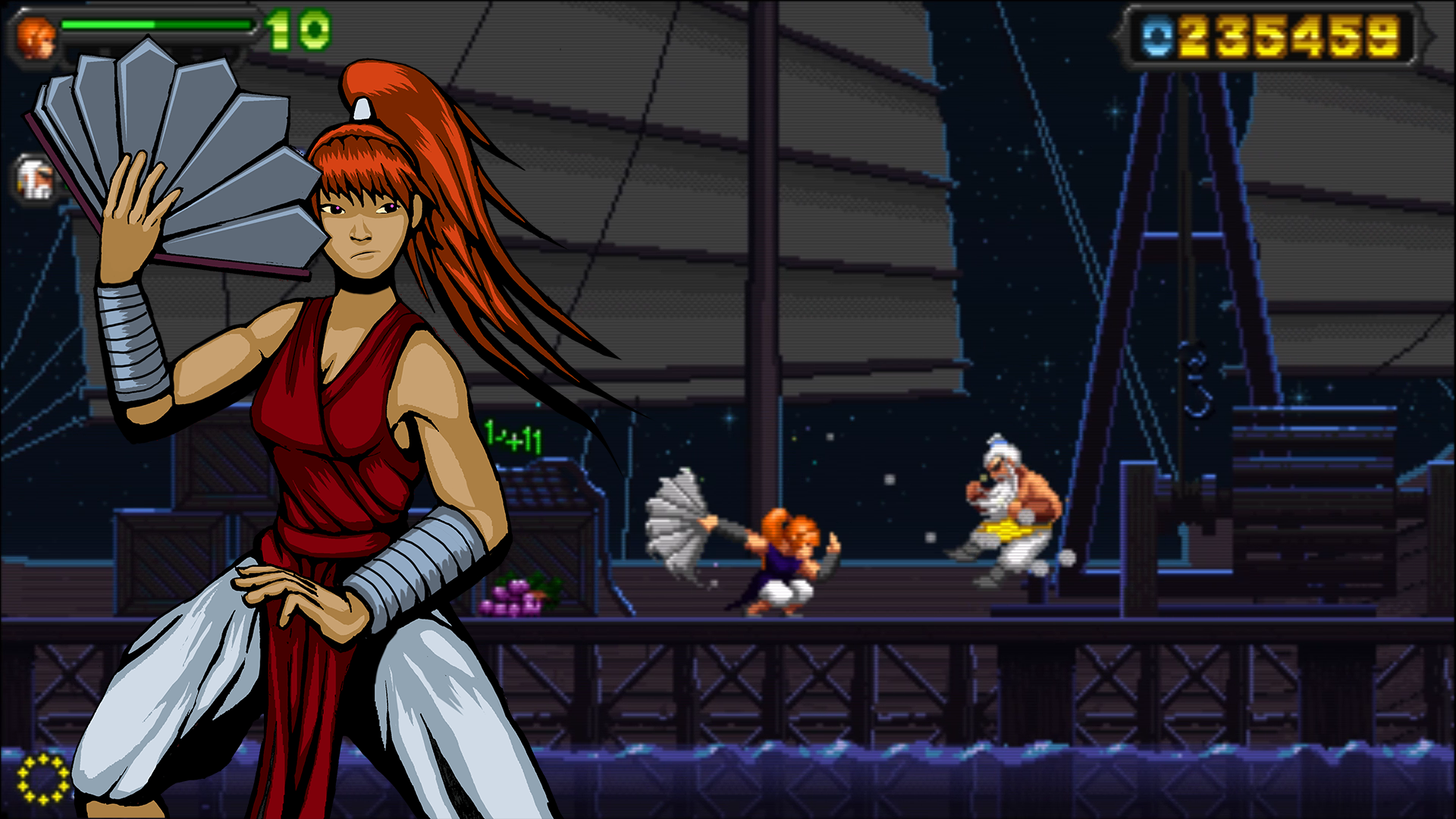 Meilin is a master of Wing-Chun, Kung Fu and Tai-Chi. She is the character most proficient with nunchakus but her weapon of choice is a bladed combat fan. Thanks to her supernatural abilities that she has honed for years, she's able to conjure those fans at will. She uses chi energy to empower her attacks and thus is able to send her enemies flying across the room, and her "scorpion kick" delivers a deadly poison. Anyone who stands in her path learns that she is not to be trifled with. She sets out on a journey to find her father and finally arrives in Okinawa.
Shin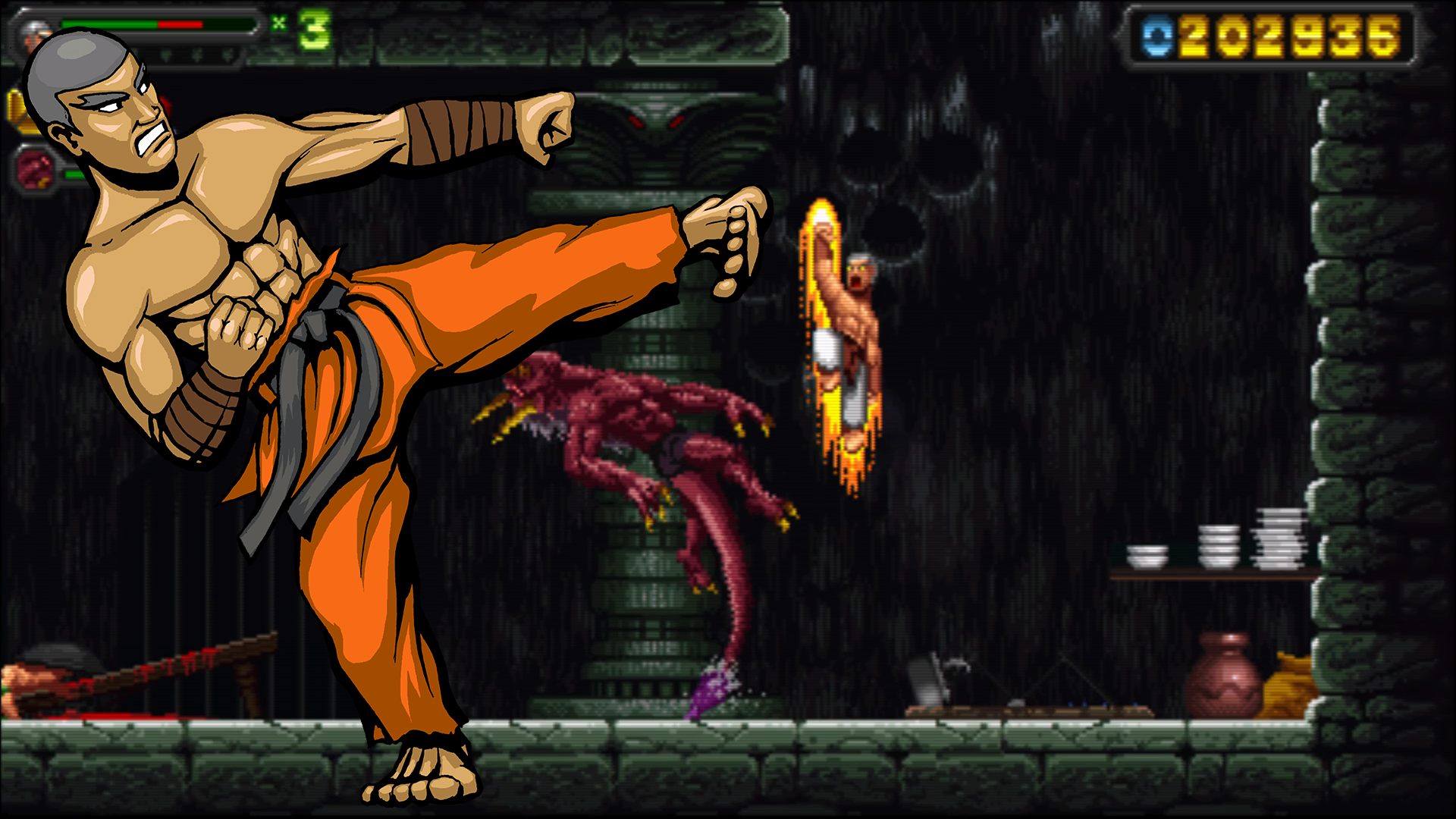 Shin trained martial arts with his brother Hiro but has left Okinawa to pursue a more spiritual life. In service of that, he has joined a Zen monastery and continued his Karate training alone. His time at the monastery has made him the character most proficient with bo-staves. He did not however plan to use his combat skill, being aware of how devastating of a power he possesses. He has lived peacefully for many years, not letting his emotions drive him and lead him to violence. Unfortunately, his peace has been disturbed when one of the monks of his order, who had mysteriously disappeared a few months prior, turned up suddenly on the steps of the temple. Poisoned and battered, the monk bared a mark of the Black Mantis Clan on his shoulder. Not able to control his emotions anymore, Shin leaves the monastery to put a stop to the atrocities and to find an antidote for his ill comrade.
Well, that's it for this devlog, I hope you have learned a bit more about each of the fighters. Do you know which character you will play as? Let me know in the comments! I also invite you to check out the demo and post your impressions. As always we appreciate all of your comments and feedback, and please stay tuned for more devlogs like this!
Until next time, brave warriors!