Hello everyone,
I'd like to give you a short insight into the development of Tactics of World War I. The last two weeks I've been working on tank battles and the 8th game level.
Tanks
World War I was the first conflict in which tanks were used on the battlefield. Especially the allied powers Great Britain and France developed and built formidable tanks, seeing first action by March 1917. With its limited resources, the German Empire mainly used captured Mark IV tanks, so called Beutepanzer. Only a few tanks were constructed by itself, of which the A7V assault tank is the best known. The first 20 A7Vs saw action in mid 1918 and it was too late for them to change the course of war. Nevertheless, in First World War the first tank battles in history took place.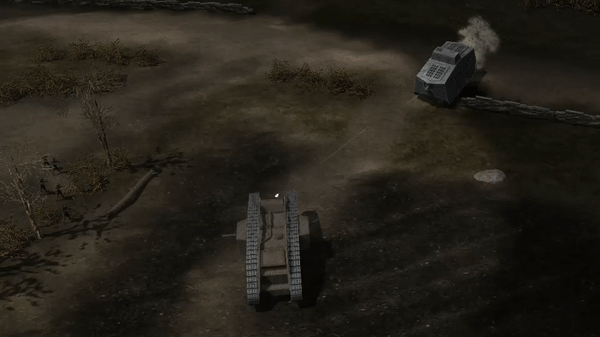 Tactics of World War I will feature two tank types: The iconic and mass-produced Mark IV tank as male version with two 6 pounder guns (with an additional skin for German captured Beutepanzer) and the German A7V assault tank.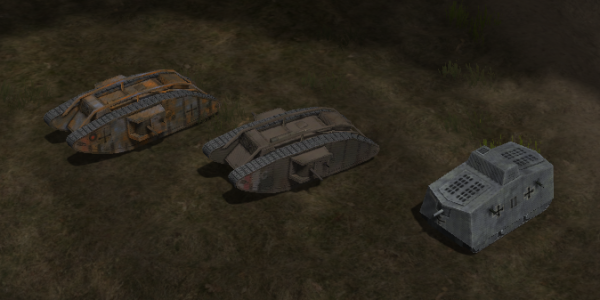 To make the tank battles more strategic, I added a ricochet and vulnerability model to the game. The ricochet system calculates the angle at which a projectile hits a tanks armor. If the angle is too obtuse, the projectile will bounce off the armor and cause no damage to the tank. If a projectile doesn`t bounce off, the vulnerability model will check the thickness of the tank's armor and reduce the damage inflicted accordingly. In the picture below you can see the vulnerability skin for the A7V. The brighter the red, the thinner the armor. The bluish parts of the tank indicate parts that - if damaged - are likely to cause a mobility kill of the tank.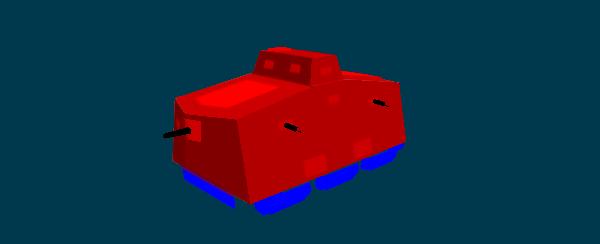 8th level
After breaking through the Hindenburg-line in late 1918 the British forces pushed deeper. Their ultimate objectives were the support lines deep behind the German front line. In this level you lead a small tank detachment supported by infantry to advance deep into the German lines in order to capture an industrial railport.
Up next
As a next step, I will revise the first levels and the tutorial. Furthermore, I will finish the story and add two more missions to the game.
I hope you liked the short insight into Tactics of World War I. You can find out more and wishlist the game on steam.