Phase 1 is Completed!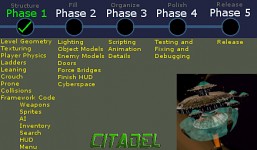 The base code framework is now completed and all level geometry and texturing is complete (except for cyberspace).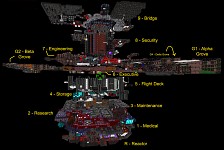 Here I have attached an image of the entire space station as seen when outside the level in-engine. All levels have been recreated exact to the original game's levels. There are currently only a few minor additions, notably being able to see the escape pods from the flight bays, buttons have a bit of thickness to them, doors have thickness, grating has thickness, and a few minor tweaks to fit doors in nicely since they have thickness. Texturing is completed as well and is oriented and aligned exactly as the original game.
Next Phase, Phase 2 - Fill. This next portion of the plan is to add lighting (or shadows depending on how you look at it), create all remaining 3D models for the objects, ammo, weapons, and enemies, and finish HUD code. Basically, to go through the game and fill it with all the objects and enemies in their proper locations. Also, Cyberspace will be created soon.
Moving right along now. Lighting will take time, but hopefully not as long as recreating the level geometry.
Take care everyone, and don't forget to salt the fries!