Written by Pande
Hello everybody! As many of you may know Jedi Knight Galaxies has been on a wild roller coaster ride for the past few weeks, hopefully no one's fallen off. Because of issues with server payments the primary server is down for the moment, and we are working on finding a permanent replacement so this sort of thing doesn't happen anymore. It might appear that JKG is at a standstill, but if you've been on our IRC channel (irc.arloria.net #jkgalaxies) you'd know better. Unfortunately we haven't updated the site regularly either as we've been too busy working on bug fixes or new features. This has regrettably left the general public in a state of confusion. Therefore I, Pande, am writing this news article to set a few things straight and help explain our current situation.
JKG: Versus Phase 1 is entirely playable, but we don't have an official server at the time of writing. We released a temporary serverside, but unfortunately it is a bit out of date compared to the developer serverside. Several members of the community downloaded the serverside and are home-hosting from Europe and the US, and for the past few days there has consistently been at least 1 server up. Huge thanks to StormJedi, Seth, Hicks, and Silverfang for this.
We are working on restoring the missing content from the serverside. The largest issue being outdated serverside maps, but also some outdated code. However, the biggest problem we've been facing has not been the slew of crashes caused by the smallest of errors and in the most unlikely of places, or the server issues. It has been publication. Many people got the wrong idea of what this release of JKG is, and we can't blame them. It was a rushed release because we wanted to show the public we had more than just some screenshots (and we made a promise to release it in September). We had a lot of hidden content and even more play testing to do, and without a community to test our systems we were sluggish in implementation. Because of this, many people thought they were downloading a mod of an entirely different game style, and thus were disappointed.
Despite the early release and misinformation about what people were downloading, we are now proud to have a fully playable game, that will only get better as we roll out the new maps, game-modes, and UI. It is thanks to the many people who have been helping us test our game in the last few months, and to the people who continued to join the server despite it crashing and to those who were told over 5 times to uninstall and redownload the mod to fix our infamous Red Fog Error (now obliterated, by the way). Thanks to those who have been hanging out in the IRC channel for so long, shout outs to Nightcrawler, Hugo, Fighter, Lorian, Darth Oblivion, exidl (the mysterious one), Ori'Ramikad, Troll_x), Solstice, StormJedi, Hicks, Seth, Tommy, and anyone else I've forgotten to mention, my apologies, as they say the mind can only hold seven items of a list in good memory before it surrenders to stupidity.
I also believe a huge thanks is in order to our coder eezstreet, who has single-handedly led the coding of the entire Phase 1 gameplay and in only four months has brought the game so far towards team-based, fluid battle. It was not long ago that we'd just play what amounted to normal JKA, with cheats enabled and an entire arsenal of our new weapons, and no credits or shops or teams, blasting each other to bits. We are proud to take part in this gameplay with our new friends in the community. He has worked tirelessly to bring us a new way of combat in JKA, and his work will be even more appreciated when the lightsaber and vibroblades find their way into JKG: Versus. You will see, you will see...
Lastly, I want to thank everyone for the kind words and free advertising that is being done purely by our community. There is nothing better than having a new member join the IRC channel and hearing that someone we already knew told them to try out our mod. I would like to personally add that when people give me such kind and useful feedback on my maps, it really feels great. I've worked hard on these maps and had to hide them from the public for so long while they were in development. Believe me it brings such joy to play my maps with you guys.
Okay, so whats next? I think it is time we deal with the number one issue of confusion. You will see this mod referred to as Jedi Knight Galaxies, or JKG, or JKA Galaxies (the now defunct mod ours originated from) quite a lot. When people download our game, they can be confused by the lack of that 'galaxy' part when they come in-game. This is because we are not going to delay our mod's (full) release to go for that end goal of a LMOFPSRPG (Large Multiplayer Online First-Person Shooter Role Playing Game, say that ten times fast!). We are using a phase system to bring elements of our game to you, and should an end to our mod seem inevitable we can always fall back to a playable game instead of just fading off into oblivion like so many mods have. This way, there is always something for you to play and the game will grow with you. Let's run over what these phases are:


Phase 1: JKG: Versus
This is the current phase. This phase represents what a Phase 2 faction ground war PvP will be like -- pitting yourself and your team against an enemy faction. In the current game, you start off in or near your faction base, and you are given 1000 credits to purchase weapons with. In your base is a shop, containing a random assortment of weapons. The goal of the game is to use team-work to tactically defeat the other team. Credits are awarded for every kill or assist.
There are 5 maps to play on at the moment. Three of them are official timeline accurate maps: a Tatooine Spaceport (FFA3 remake), Coruscant Lower City Streets, and an Arena on Tatooine. We also have a 'flashback' map of Taris that you have likely played before as it was originally a contest entry to JK3files by our lead mapper at the time, MaceCrusherMadunusus. We also have an updated version the classic Bespin Shaft CTF map from JK2 by Silverfang. Finally, we have a Third Party map by Szico VII - a conversion of his latest map, Blueice Nightfall. Note that this link is to his JKA version, the JKG version is auto-downloaded through our launcher when the third-party content tickbox is checked.
On the topic of the launcher, that is another aspect to our mod that wasn't well publicized. In order to play our game, you will need to install the game through the Jedi Knight Galaxies launcher, an external application that checks for our constant updates and gives you access to installing/uninstalling the mod, the game manual, and a direct connection to our official server (when it's up, that is). The design of the launcher has also been remade recently, and it's pretty wicked if I may say so.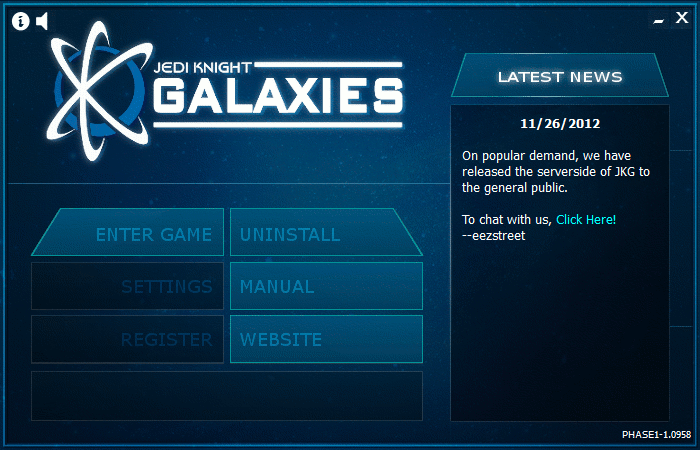 We are working on a slew of updates to expand on this first phase:

Last Man Standing game modes:
Ticketed: your team has N number of respawns to share, when the number reaches 0 it's LMS for that team.
Per-player: a small number of respawns each, with 1 round of play.
Pure LMS Rounds: simple one-lift LMS, first team to N round wins is the victor.
3 more Official maps:
Korriban, another MaceCrusherMadunusus map, a tight corridor map.
Tatooine Streets, by Pande, an expansion of the Spaceport map that quadruples the playing area.
2 more Third Party maps, also by Pande:
Duel of the Fates (Theed Hangar)
NEW Saber System:
It's

JEDI

Knight Galaxies right? Don't worry, eezstreet has been diligently working on a new saber system for our game. We'll save this update for it's own article, so stay tuned for future updates.
Map Data and Expanded Map UI
To display team-mates and located threats, and plot targets for your team.
Bounty System for Kills
The more kills you get, the more you are worth to others when killed.
The following represents a good sketch of our goals and visions for each phase in the project. Please remember this is a work in progress and is therefore subject to change.


Phase 1 - Version 1.5:
We like to think of this half-phase as a more 'off in the future' list, since they don't affect gameplay or mod size so much. However, they are most definitely planned and in some cases a requirement to move forward. This phase is technically still part of Phase 1, but represents some of our goals leading up to Phase 2 development.

All new chat system:
Chat modes, like Global, Cross-server, Team, Local (distance based), and a messaging system.
IRC integration for Cross-server, also allows players to chat with people in the game without playing it.
Database system, to store information such as:
Player info, score, bio, favourite weapons, last login, online/offline indicator, clan affiliation, most played faction, and provides players with a mail system and a friends list.
Phase 2:
This part of the game will be a sandbox game. Locations will include Tatooine to begin with but other, less expansive locations such as Coruscant, Corellia, Ando Prime, and Cloud City are likely candidates after. The game will be about player interaction, doing small quests and PvP events with your party, faction, and friends. Faction events (the current Phase 1 gameplay) will be frequent and rewarding, and a crafting system and full stat system would be in place.

Phase 3: The distant future.
A more expanded version of Phase 2, with more of a focus on the personal story of your character and your involvement in your faction. More quests, more items, etc. Basic voice acting where applicable, likely for all permanent NPCs in the game. More expansive maps and more explorable areas.

Phase 4: The final frontier.
This is where everything comes together. Building off of Phase 3, we will tie the planets together more firmly. Phase 4 is about tying up loose ends, as well as wrapping up the story elements and finalizing a lot of the details. After this phase, we can truly call our mod the LMOFPS you've been waiting for, with more content and balance updates possible even after that.

So that is all you need to know about how we are approaching our goals. Because of our jumbled start, we plan to do a relaunch of our mod when the following things have happened:
The UI for the main menu is finished.
The game is 100% reliable and we have our server back.
Stay tuned in for the big date announcement. We want to have as many players out as possible for the grand reopening. We would also like to have everyone who plays during the re-release to record a demo in their console on the big day and send the demos into us at jkgdevs[at]terrangaming.com. A full news post will be released with more information on this event closer to the date.
In the mean time, please vote for us for Mod of the Year 2012! Also, for your astronomical pleasure, here is an awesome list of statistics compiled by eezstreet.
Limits Broken

Number of weapons possible (before hitting model limits, effects limits, or running out of hard drive space, etc): 4,294,967,296. That would amount to roughly 440 TB of models, effects, etc, assuming the current rate of file growth remains the same.
That would make the number of combinations possible in the ACI amount to 58,862,069,600,000,000,000,000,000,000,000,000,000,000,000,000,000,000,000, 000,000,000,000,000,000,000,000 different combinations. Not including items that are consumable.
Number of hilts possible (one saber): 13,204,693,700,000,000,000,000,000
Number of hilt combinations possible (two sabers): 8,718,197,080,000,000,000,000,000,000,000,000,000,000,000,000,000
Player cap doubled on servers (64 players max).
74 bugs, major, minor, etc confirmed at release. Of those, 13 are still persistent. That means that roughly 0.8 bug(s) are fixed every day.
There are 89 guns in the game. If there were 89 ACI slots, you could load up all of the guns in the game and flip through them without issues.
The Saber System
While the main game code contains 563,297 lines of code, the saber system contains 564,910 lines of code. The saber system also uses outdated code, and strips a lot of code out. Despite that, it contains 1,700 lines of more code.
Projectile blocking code took a week to perfect. Saber blocking code took 5 days to perfect. Saber visuals took 3 days. Stance balancing and other stuff is ongoing.
All of the saber moves, combos, chains, special moves, etc are customizable with a simple text editor (no code required)
The Players
There have been over 800 unique players on our official server when it was around.
So far, there have been 8 servers which have not been considered official, as per the newly released serverside.

All major bugs and crashes could not have been fixed without the help of players like you!