- Written by Jake
Hello all!
Yes, it's that time of the month again.. the Jedi Knight Galaxies team presents the 25th issue, of our long running Developer Diaries. I know we are a day late with this, but hopefully you'll forgive us by the end of the article, and we hope you've enjoyed this last month with the big increase in the number of updates, and the short time between them, following our new public reveals schedule, as out-lined in our last developer diary.
To kick things off, I'd like to show you one my personal favourites. Something you'll see me roaming around the sands of Tatooine in quite often, the X-34 Landspeeder, modelled and textured by Karpman. This particular vehicle model was manufactured by the SoroSuub Corporation, measuring 3.4 meters in length and sitting at around 10cm above ground level whilst cruising, and with a maximum speed of 250km/h. Oh, and yes.. it's the same model Luke Skywalker had in A New Hope, though it has, a somewhat different paint job.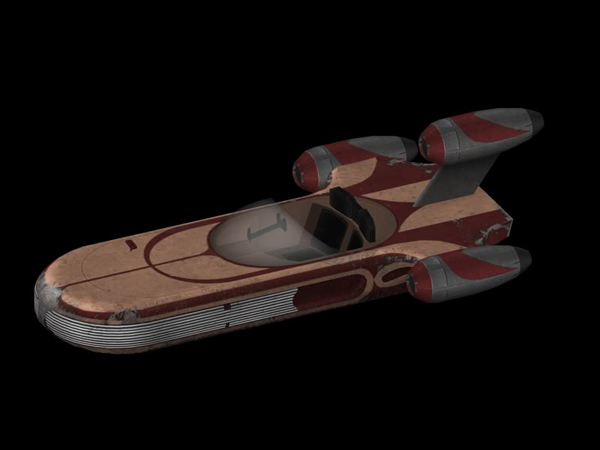 Moving on, we have a small, and you might say 'random' piece of content, but everything is important in my opinion, and it's just too damn nice not to show off. I'm speaking of course, about a Jedi Holocron, once again, modelled and textured by Karpman. For those who don't already know, Holocron stands for Holographic Chronicle, and as you would have gathered by now, if you didn't already know.. they are used to store phenomenal quantities of information. Jedi's would record their experiences into the device, and then future Jedi would use them as a means of teaching. And yes, the Sith use this technology to, infact, records indicate they used it for at least three thousand years prior to the Jedi. Anyway, without further delay, I present the Jedi Holocron, in all its glory.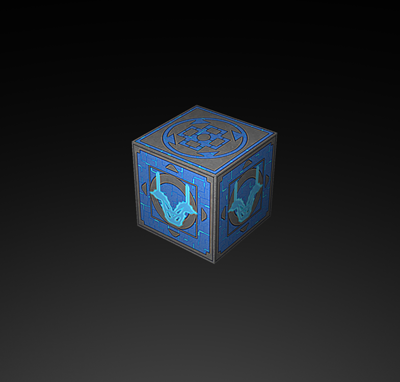 And finally, here we have one of the many options available on the Human Male for legs and torso, when creating your character. both parts were modelled and textured by DT, our very own 'player model' guru.. and as you would have seen in the last diary as well, he's doing some truly impressive work.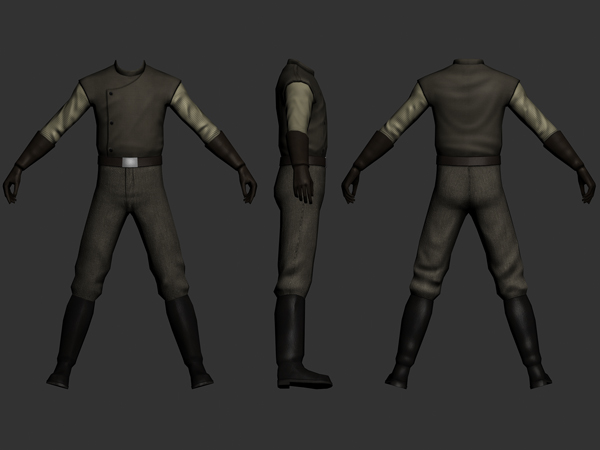 Two other news articles have also gone up today as well, which you should definately check out.
Jedi Knight Galaxies - Community Content
Jedi Knight Galaxies - Summer Time Giveaway
Anyway, I hope you've enjoyed this months Developer Diary, and I'm sure I don't need to say this, but all content above is still a WIP, and should be considered as such. Keep you're eyes on the site and forum, as we continue to give you updates each and every weekend in the form of Developer Dairies, POTW's and Fortnightly Updates!
- Jedi Knight Galaxies Development Team