We haven't made any updates for a while, but we're working really hard. This year has been really turbulent and stressful, yet full of progress. I would go so far as to say that this year has brought on the most important progress this project has ever seen, and it's very rewarding to experience. So if this is all so rewarding and things are going forward, what's all this about turbulense and stress? A problem we have always had on this mod is a problem that has been so much more outspoken this year. We have searched for new talent like any other mod team and received our share of really gifted people. The problem is that, with the exception of 1, we have lost all the members we gained this year. I don't have the official count, but we are talking more than ten(!). This has lead to pretty much a complete halt in our search for new talent. It's simply too expensive to recruit and teach only to say your goodbyes a month later.
The phase we are in with this mod is a what we call the internal demo phase. That means we are focusing on a part of the game and pushing all our hours on this to bring it to a stage where we can call it 'complete'. When I say complete, I mean complete in the way that you can play the part (be it a level or an episode) from start to finish with puzzles, monsters and items. As you may already know, we have been in this internal demo phase all of this year. You could read about this in Devblog #6 - The beginning of the end, a devblog from late April. Working on this internal demo ranges from mundane and tiresome to inspiring and giving. It's by no means an easy process and it takes a lot of effort - much more effort than everyone working on their own stuff, scattered about the mod. This is the real deal! This is a process that shows who on the team is up for the task and who lacks the abilities to work as a member in a team with deadlines, clear goals and a critical eye on your work.
Note: We are still open towards new talent, but these have to be of the best quality and intentions.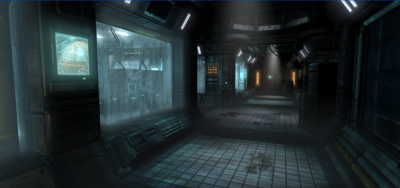 So, how far along are we in this internal demo phase?
First of all, we need to split this into two different scopes: small and large. The large scope is Episode 1. We will not stop working on the internal demo before all of episode 1 is playable from start to finish. The small scope is on 2 different levels, one in each end of the episode. As for how far we have come since last time, let's recap where we were at in late April: Back then, we were working intensely on E1M2 and beginning the initial prep work for E1M3. E1M2 was at a point where no more rooms needed to be created. This was before puzzles, flow, monsters and items came into the picture. E1M3 was still in the planning phase. Now, in mid November, E1M2 has been completed on the terms of the "internal demo". This means that the entire map is playable from start to finish, including puzzles, monsters and items. Two of us have been focusing solely on E1M3 for a long time, and we have gone from the planning phase to having an architecturally complete map. Half of the puzzles are implemented and the flow of the map has been planned in great detail. The map is ready for monsters and the rest of the puzzles. A third level designer has been working intensely on E1M8 and been doing a great job on that. The entire map has been planned out and he is currently working on finishing up the geometry. A fourth level designer is working on E1M5 where we now have a very good plan that will make this a spectacular level. In addition to all of this, E1M4 has had the vast majority of the areas completed and now just needs the final planning and gluing of parts. E1M6 & 7 are still in the planning phase. We are more than pleased with the progress we have made here, and everything seems to be speeding up as we go along and learn the different processes of finalizing levels.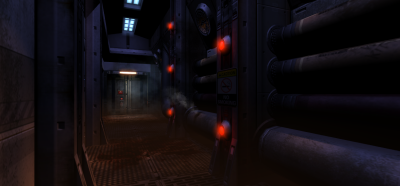 A lot of the finalizing process is about scrapping what is not up to par. While we are all proud of the work we have made for the mod, we must also realize that the assets we created back in 2004/2005 may not be good enough for 2009. While it's a common task, I see it as my personal responsibility to weed out in the levels as we shape them. Some areas may look nice, but lack the level of authenticity we are looking for. Last week, I took a look at my very own Landing Terminal. As I'm sure you've guess, this is a spaceport version of the airport terminal. This is where people wait to be taken off Mars. The landing terminal as it was, looked nice, but it didn't convey the feel of a terminal very well. I had this advanced architecture that followed the contours of the room, shaped by the different doorways and stairs. It was a piece of "art", but completely worthless as a terminal and therefor not good enough for the mod. We had a short discussion about it on the team before I replaced it with a much better version that fulfilled its role as a terminal perfectly. When people see the landing terminal, we want them to associate what they see with the terminals they know from real life. This terminal is part of E1M3 and it was not the first or the last change to have happened.
Another example is just beyond the terminal: There is a maintenance area with a few machines and an inoperable elevator. The theme of this area is a lot more metallic and dirty than the 'polished' terminal. The problem was that the contrast between the terminal and the maintenace area was too great. Only one door separated these two styles. The solution we found was to introduce a small "locker" room where you wash your hands and dress for the duties of the maintenance area or wash up after a hard day's work before going through the terminal. A change like this may seem insignificant to the untrained eye, but at the end of the day, it's these details that determine the success of the mod. Authenticity is a key word for us in this phase. I would like to direct a personal, yet public, "thank you" to the other level designers and especialyl geX, who have put up with my frequent restructuring and demands for revamping specific parts of the levels. I'm glad you guys have put up with me for this long, but the resulting levels speak for themselves.