It has finally come down to Hell. One can't help to feel that Hell is the most sought after piece of Phobos. The Hell portion of Doom3 was criminally short for most people's tastes. I myself however found it to be rather dull the first time around. It actually ended up feeling like several maps instead of simply just one. While I have come to appreciate that one map a whole lot more over the years, I still think it was a bit of a failure.
So, what does that mean for the Hell of Phobos? Well to begin with. Colors are a more prominent member of Hell in Phobos. Still not to the level of the original Doom mind you. After all we are trying to stay true to the source. But it will be a lot more varied and vivid than the caves and plateaus you explored in Doom3.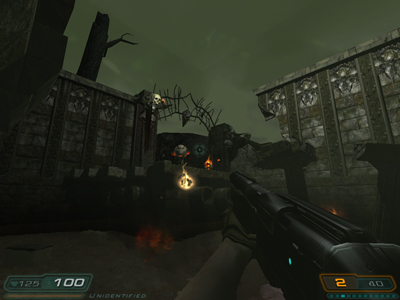 A lot of the level design for hell stems from original Doom level design principals. While we're not trying to mimic the game play of Doom, since we find that pointless. We are doing our very best to rival the quality and variety of it, and carry over things that we think fit well with the game we are making.
The story will be cut down for this episode as well. The story will keep on until the end of course, but since being in Hell is mostly about getting out. Survival will be the No.1 component. You expect to get hell, and you will get it.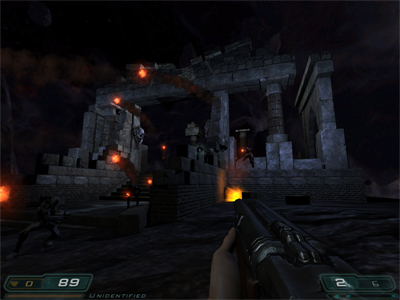 Building Hell.
Hell is naturally a lot more organic than the cold steel of Mars and Phobos space bases. This means we have to work on a drastically different way for most of the time. A major component of the world is made up of models instead of the commonly used brushes and patch meshes common to the Quake-Doom3 engines. Most of it can simply be built using low polygon models, but anything that is of special character needs extra work in getting the proper fitted normalmaps. For instance, every demonic face needs a hi and low polygon mesh to complete the process. This is naturally, not a process that is limited to Hell alone. The other episodes will have these things too, sometimes the regular level editing capabilities just isn't enough. But not nearly at the same degree.