Most Important Update Topics
The team is gearing up for the EGX submission deadline. This has shifted focus from feature implementation to really polishing and pushing our current Kenshi mechanics to make them airtight for a potential playable demo. The Archer mechanics will be on hold for now while we get the Kenshi really polished. Here is a video of our WIP 1v1 demo:
Programming Update
The programming team will be focused more on existing bug fixes that pertain to basic sword combat and game play so that we can have an airtight, bug-free demo rather than trying to implement a bunch of half-baked features that won't play well or have issues. Ideally, we can get a solid demo together sooner, rather than later and proceed with the regular development path.
UI Update
This area probably needs the most work to get ready for the demo. We'd like to get things polished with better art if possible, but the functionality is already in place and we're excited about what we have so far.
Environment/Level Update
Connor and I have been hard at work getting more set dressing props done for Gifu Crossroads, and continuing to populate this large battlefield level. We've been really pushing SpeedTree creation and getting more variety in our foliage. Performance has been a concern, with such large, open levels; so we are re-assessing some of our processes and hopefully we can get Gifu performing better in the near future.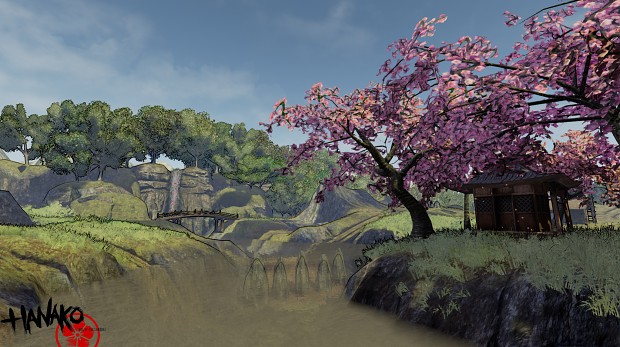 Character/Animation Update
The ninja character is in progress and is looking really good. We're excited to show you guys once he gets to a good point. The animation team is working hard on getting the Kenshi animations as awesome as possible for the demo, and we're especially happy with how all of his combos/abilities have turned out recently.
Make sure to follow us on social media for the most recent updates:
Twitter: @HanakoGame
Facebook: facebook.com/hanakosoulofthesamurai
Twitch: twitch.tv/hanakogame