Welcome to a new dev. diary for 3:00am Dead Time, though this time our article will also include many exciting announcements and news besides only the game. Let's start, there's a lot to cover!
During the last days we have been working very hard to revamp and greatly improve our website. As we prepare for the new stages on the development of the game and the announcement of a few small projects we've prepared for the Unity Asset Store, we knew that we had to greatly renew our presence online.
That's why we are very happy to share with all of you our brand new website, now fully integrated with SSL protection, mobile version, a highly improved support section to make it much easier to contact us, and much more!
But that is not all. We have also prepared and launched this week our official forums, with special boards for the game, our projects, tools, etc. We recommend you to visit and join, as we will start posting exclusive content there since July, and all upcoming development diaries will be available there a few hours earlier than here on IndieDB ( due to the approval process ).
But now lets talk briefly about the progress made to the game in the last weeks, and finally about two new additions to our website, two new projects that we want to share with all of you.
NIGHT SHOTS, MULTIPLAYER &
FULL NIGHTS OF CODING
One of the troubles of being a small development team is that most of the time there are more heavy tasks than members to do them. Right now we are in the stage of development where all the gameplay features are being tested over and over to kill some stubborn bugs, make sure the game has a good performance across PCs, improving the netcode and in general working on the code side of things, since most of the graphic art is ready and being introduced to the levels.
After several weeks of almost no sleep and very heavy work, things are looking well as we start with more complex multiplayer tests this time inside the actual levels. Another perk of staying up a full night coding the game is that inspiration comes to make some cool night shots and program a better nightvision system for the game. At 4 in the morning, it seemed appropriate.
As we keep making progress on the development of the game, we have also started to make great optimization improvements on the outdoors portions of the game. Given the size of some of these outdoors scenes and their complexity, it was a must before we get ready for the Early Access release.
But we are so far very glad with the results. And now with the website, forums and core functions in place, we are getting ready for new videos of the game and its multiplayer in action to be released in the upcoming weeks.
But this brings us back as well to the new 2 side projects that have also been launched on our website and that we are really proud to introduce to you :
In our last article we talked about our plans to release some of the tools and resources we've made while developing 3:00am Dead Time. That is something we have been planning for years now, to create a platform where we can release affordable tools, content, art assets, code snippets, tutorials and much much more to help out other game developers. The PIDI Game Development Framework is this platform.
Starting this June and during 2017 and 2018 we will be releasing regularly new developer assets and tools for games as part of this framework and toolset, giving developers access to the results of thousands of hours of work that we have put into improving and easing our workflow while developing our own games. The first projects planned for the platform are INI parsing and real-time planar reflections systems for Unity as well as several UI / 2D assets and 3D models. Later this year, we will also be releasing our extension to the Unity audio system as well as several tutorials and as time goes by, more of our custom software, shaders, models, textures etc. will be made available through our website and / or the Unity Asset Store. But that is not all what we plan for this framework, so there will be many more news coming in 2018.
While developing 3:00am Dead Time and looking at the content of the game, the topics we touched upon and the graphic nature of many of the most distressing scenes, we wanted an easy way to let players know what to expect. We wanted, most of all, to make sure that people knew that this game was meant for mature audiences unlike our previous titles and our phone games.
The easiest way to do this is with a rating system, but obtaining a rating for a game can be an expensive and / or very time consuming process. As an indie with plans of releasing a title on Steam rating your game is entirely voluntary and knowing this we decided that if we were going to rate 3:00am Dead Time by ourselves, we wanted to do it in a clear and complete manner, with a system that would be reusable across many titles and many genres.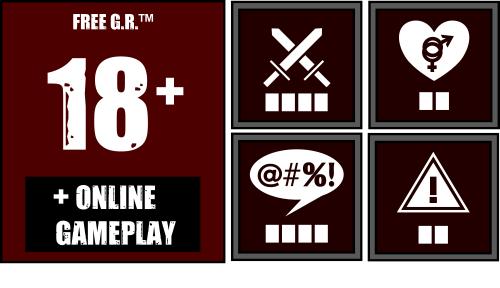 That's why we designed Free GR or the Free Games Rating System. It is a completely open, free of charge, unofficial and voluntary games rating system with comprehensive guidelines and easy to understand ( and integrate ) designs, slightly inspired by the old TIGRS system but with a minimalist style and a more comprehensive set of rules and fields aimed to fit all kinds of games and adjust to your needs.
We are making this system fully available to all indie developers that want to include a rating on their game's websites / profiles / trailers but cannot get an official rating for any reason.
All of our games listed on our website will, form now on, port one of these ratings. We hope that this system will be of help for all developers concerned about informing their players of the content in their games.
If you want to learn more about this system go to our website
or contact us at freegr@irreverent-software.com for details in how to use it for your games.
Thanks for reading, and until our next development diary!
The Irreverent Software Team