Hi there!
One of the key things I want for Victopia is to preserve the simplicity and generalization of Victoria II, keeping it close enough to the base game that a seasoned player can hop in and understand what's going on, what can they do, and what may happen. That means keeping goods, production lines, and the economy as a whole, both stable and predictable enough, and not that far off from the base game.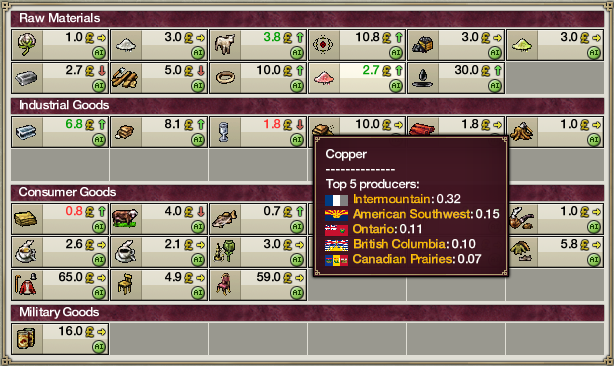 Some of the added (and modified) goods: Rare Earths, Phosphate and Copper, among others.
I want to keep is just as the base game: 48 goods, with a few caveats: timber and lumber are merged, oil now includes gas, cotton now involves all textile crops, cement has been replaced by construction materials, etc. At the same time, factories are more (and increasingly) dependent in white collar workers (e.g. clerks) and executives (e.g. capitalists) than in the Victorian era, and job loss and deindustrialisation will be an early economic issue to work with.
At the same time, resource discovery and exhaustion will be a key part of the mid-game: the discovery of new sources of oil, metals, and rare materials will be balanced with the depletion of existing reserves. Would you rather purchase resources and goods from the world market, or spend costly (and risky) endeavors to discover new resources under your lands? Is it worth it to shut down unprofitable mines, or to subsidize their exploitation of ever-dwindling resources?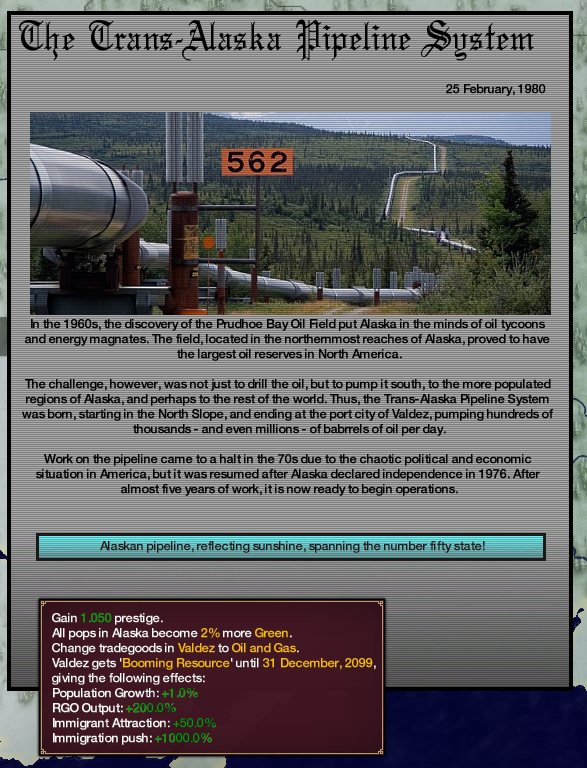 The Trans-Alaska Pipeline, an early (and booming) new resource in Alaska.
Resource exploration is not limited just to the actual provinces; offshore resources will rise in prominence as the land-based deposits become exhausted and, in the far future, space and deep-mantle mining become more and more prevalent.
Likewise, arctic exploration begins as a research and prestige endeavor, but it can become a matter of colonization and military supremacy. For the far northern countries, it may even become a matter of survival.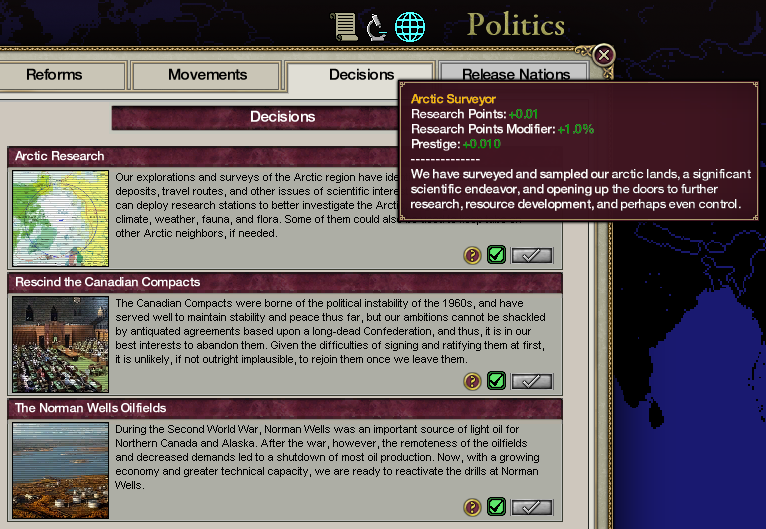 A brief overview of the decisions window of the Northwest Territories, with some modifiers present.
---
Version 0.05 is out! It has some new content, focused mostly around the Arctic: Alaska and the Northwest Territories. It also has some amazing music from Timecrawler 82, new sound effects, more pictures and GUI improvements.
It also has a bit more of lore in Alaska, with a few events firing up when you start to provide overall and regional backstory, as well as a modifier for the Alaskan Spirit to provide a bit more differentiation and flavor between the countries. Eventually, all countries will include these events and modifiers.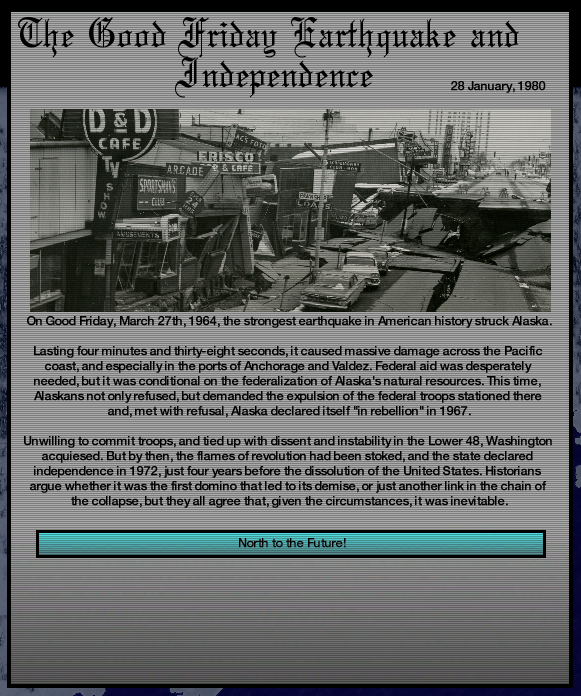 Thank you!