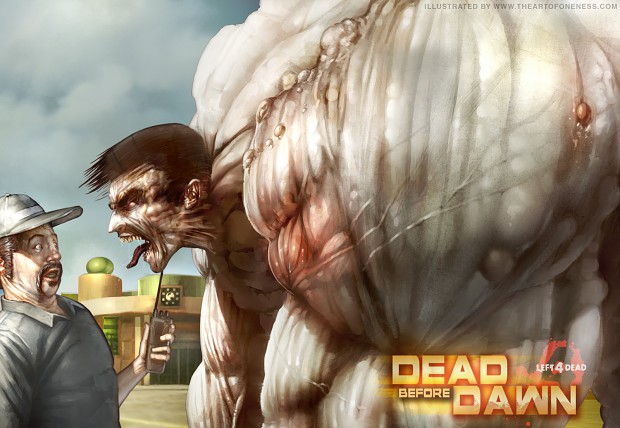 What would be Batman without Robin, Captain America without Bucky, Gabe Newell without Chet Faliszek, Darth_Brush without CosmicD and ofcourse our Crossorads Mall without the head of Security, Hank Kowalski (but without Jason and Billy)?! Yes, DEAD!
Right now we creating a Dev Group here on Moty to gave the whole DbD-Team a face. Without all
sidekicks "Dead before Dawn" wouldn't be so great. And ofcourse, without YOU we wouldn't be under the 100 top mods on moty. Thank you!
We've been working on Dead before Dawn over 2 Years. This weekend was very interesting for us. We would like take a little break and show you some great news.
As some of you might have heard, Valve mention "Dead before Dawn too" on its blog.
L4d.com
We are now on Valve's Left 4 Dead 2 servers. YES, you can mount your Chainsaw against the undead with low pings and all your friends and you can also enjoy "Dead before Dawn TOO" in Versus without any connection issues.
Checking YouTube we found a bunch of cool "Dead before Dawn" gameplay videos and reviews. We would like to take this opportunity to show you guys, some awesome "Dead before dawn" Reviews:
Let's start with Deadrawstar's Youtube Review:
Now, if some of you want to polish your german language, feel free to watch a cool "Dead before Dawn" Preview from the german Games-Magazine "Gamestar":
Gamestar.de
Our all-time-favorite Games-Magazine "PC Gamer" voted us for in March 2010 for "No.1 Top Left 4 Dead 1 MOD". This is a honor for the whole Team for all thier work.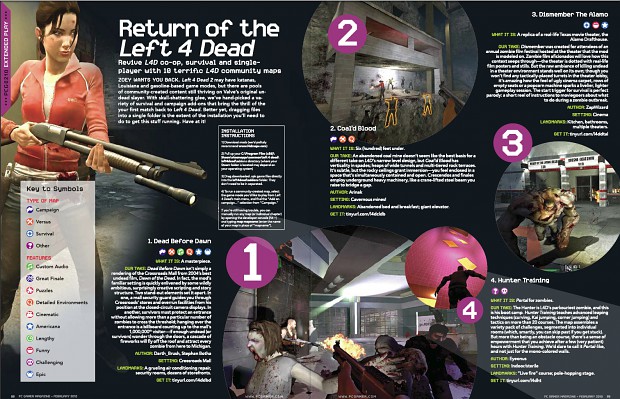 As one of the top-rated MOD for Left 4 Dead 1 on L4dmaps.com we've been worried about "just" porting Dead before Dawn for Left 4 Dead 2, so we decided to pimp all maps on Left 4 Dead 2 Standards. Jaz from "PC Gamer" simply loved the new version:
If you Check out our Image-section here on moty, you will find a couple of more Reviews.
Download "Dead before Dawn TOO"
Well, if you still didn't download "Dead before Dawn too", this is a great oppurunity to get it for Left 4 Dead 2. You can grab it on the following links:
Moddb.com
L4dmaps.com
Right now we preparing a Director's cut version of Dead Before Dawn, exclusively for left 4 dead 2. This version will show you the mall that we had prepared in all it's full glory. Full of events, atmosphere and zombies!
Later in DBD's life cycle we would like to bring one finale update of the campaign. So we would be glad if you want to help us find things that we can improve in "DbD too", To that end, you can post your suggestions about "Dead before Dawn (Too)" on the Steam-Forum:
Forums.steampowered.com
Also if you get lost in the Crossroads Mall or you want to know how to open some of the secret areas in "DbD TOO", post it all there. If you seriously think the Gate-Event in map 4 is way too hard, call the Crossroads Mall Security for help.
And last but not least, join the Crossroads Mall gang on Facebook!
Facebook.com