Promotion Week 3: ArcheAge
In this week CryENGINE 3 promotion week on CryENGINE3 Developers Group we take a look at ArcheAge a MMORPG that is being developed on the CryENGINE 2 and 3. Thats the reason I'm posting it on both CryENGINE 2 and CryENGINE 3 Developer group. According to the developers it won't be a CryENGINE 3 game until the following beta stage planned in November 2011.
If you missed "Promotion Week 1 or 2" on the upcoming CryENGINE 3 titles then check the following links:
CryENGINE 3 Promotion Week 1 - Forged by Chaos
CryENGINE 3 Promotion Week 2 - Nexuiz and Sniper: Ghost Warrior 2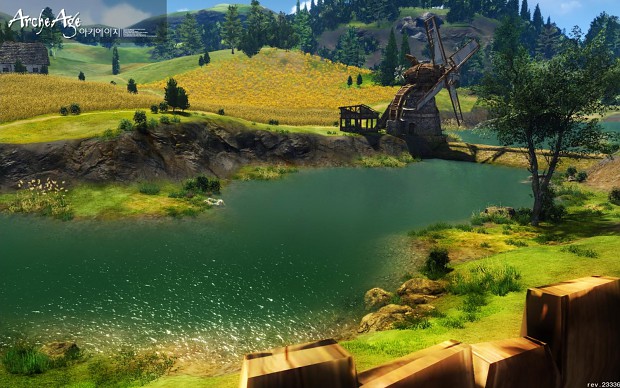 ArcheAge a MMORPG has been in development for three years by Korean developer XL Games. With a budget of around $ 50-60 million dollars. They started the development with CryENGINE 2 but they have recently started to adept certain parts with CryENGINE 3. For the moment the graphical work has yet to be applied for CryENGINE 3, so far they applied the physical engine and animation from CryENGINE 3.
I could tell you a lot about the game and its gameplay in which characters can build houses, enjoy massive pvp battles, adventure in a free-roaming world and that the beta is at fase nr3, but at this moment there are no plans for a English language release yet (However they do plan on a US / Europe release later on). So until they announce a world-wide release (or just Europe / Australia / America) I'm just gonna leave you with some inspiring level design videos:
You can view more ArcheAge level design videos in our video section here.
If you want to know more about ArchAge visit the following links:
Official site
All that we know about ArcheAge.
Thats it for CryENGINE3 Development Group promotion week nr. 3. Next week more CryENGINE3 upcoming game news. Thank you for reading. And dont forget to join CryENGINE3 Development Group.
update week 4 is out now.
Follow the latest CryENGINE 3 related news on Twitter: