---
In the latest episode...
First of all, I'd like to thank everyone for their support ever since the release The Dark Army: Uprising Remastered, especially those who have been providing feedback and reviews so I could improve my craft. Feedback is important, and even if not all reported issues have been fixed this far, I am still glad you're willing to help me with my projects. Be sure all remaining reported but not fixed issues are still being studied and worked upon.
As some of you know, lately I've been working on two additional projects in the shadows, which were both supposed to be revealed back in July, but due to unexpected private reasons, I was absent for a while, and couldn't proceed to reveal anything properly in the end. This month seemed like the perfect time, especially since both of these are coming next month; not to mention that the aforementioned projects "leaked" on the official Dark Matter Productions website, due to a wrongly scheduled site update, so some of you are already in the confidence. Anyways, one of the projects, that is exclusively related to RealRTCW, was just revealed (I invite you to read about it here if you haven't): it's RealRTCWCOOP, a crossover of the Return To Castle Wolfenstein: Cooperative Gameplay and RealRTCW mods, shaped as an add-on upgrade for RTCWCOOP. The second project, on the other hand, is related to The Dark Army: Uprising itself, plus RealRTCW, and that's the "remaining" one we're going to talk about, right now. It's called The Dark Army: Uprising Cooperative, and YES, it's the official cooperative iteration of The Dark Army: Uprising, based on The Dark Army: Uprising Remastered!
---
Is this Real?
Bringing The Dark Army: Uprising to RTCWCOOP is something that I'd have never imagined I'd be able to accomplish. But it's been way easier, and faster, than I thought. I mean, The Dark Army: Uprising Remastered is the version of the mod used as base for the conversion, and you may know that it was crafted exclusively for RealRTCW. But I really wanted players to be able to play the mod together, have fun moments together. So I asked myself "How could I make this conversion easier?" - and that's when I thought of the parallel project, RealRTCWCOOP, as a first step in the right direction towards that objective. Because, creating RealRTCWCOOP, I ported a lot of RealRTCW elements into RTCWCOOP, which made the whole single-player to cooperative conversion of The Dark Army: Uprising Remastered way smoother. So when I completed RealRTCWCOOP, I basically used it as a base to build The Dark Army: Uprising Cooperative because I now had less elements to import/convert. Most of what was remaining was mapping, AI and scripting related stuff.
I am glad to announce that, starting October 1st, 2020, all 3 campaigns of The Dark Army: Uprising Remastered (Day, Night and Dark campaigns; 21 missions total) will be playable cooperatively, from 1 to 8 players, in The Dark Army: Uprising Cooperative, for RTCWCOOP. Before I conclude, and let you admire the few screenshots below, I'd like to say: thank-you once again for your support! Get Psyched! ❤️
---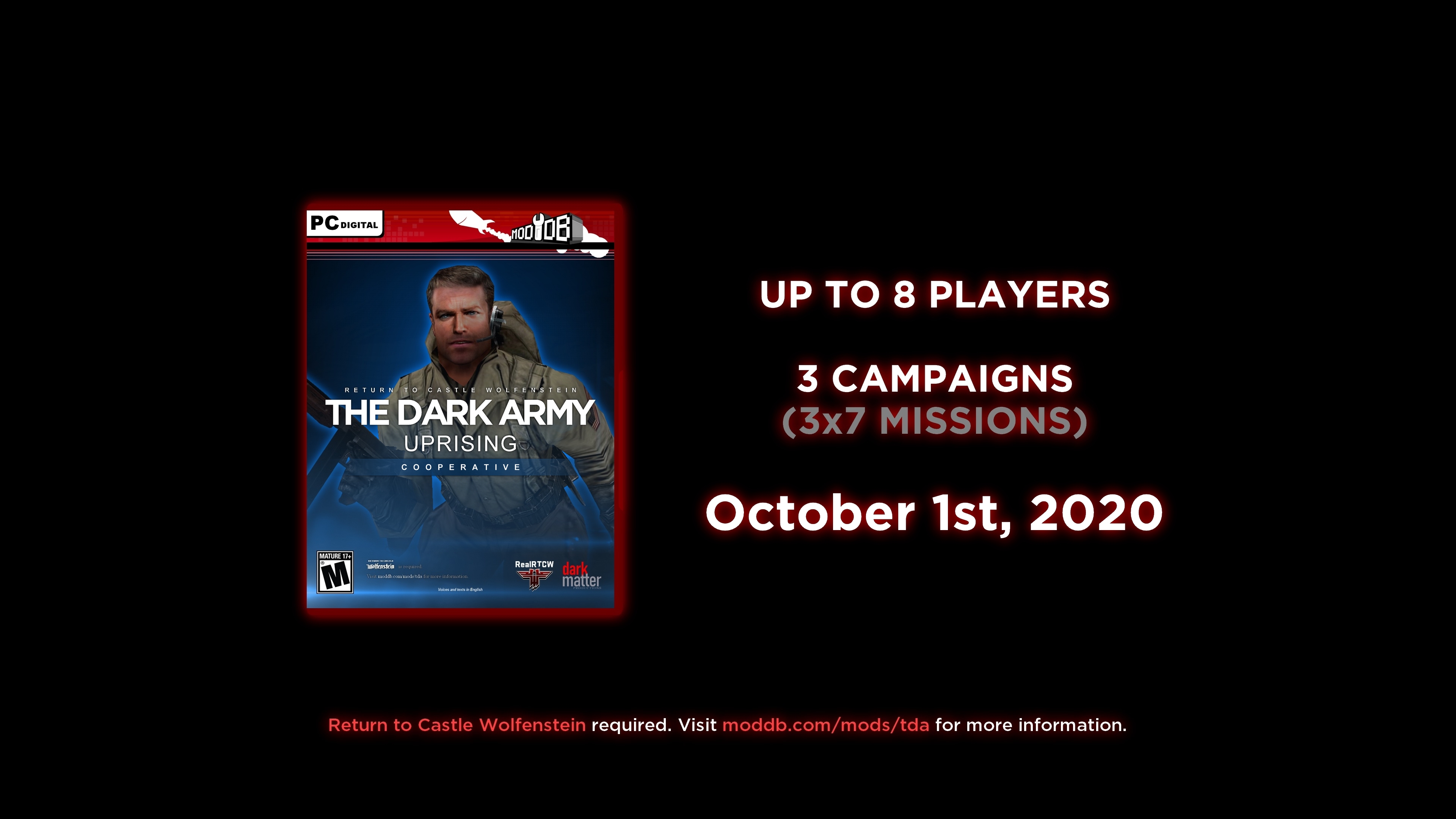 ---