Dear friends and fans... It has been a long ride since Contra 007 came out. Many years passed, many things happened, good and bad...
You all know that we changed team as we never expected we would. Many people are gone, busy with real life, our friends... Other bad things happened too, our precious was almost ripped off. We survived everything, gathered strength and continued our work. And yes, finally finished Contra 008 FINAL version.
We thank you all for your patience, sometimes it seemed we are not working. But we really had, learning new things, trying to find time for Contra and keep it alive.
Once again, I need to say thanks to these people who answered all my questions and helped us a lot. Track their mods and support them:
VectorIV
Zeke
Kris
Anubis
Anto111ka
Before we get to the real thing, we will give you small gift, for your patience. New remodelled units.
Demolition angry mob: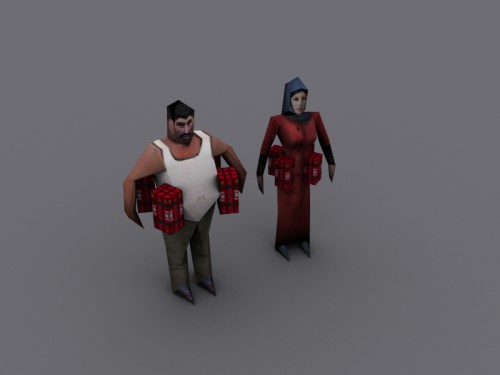 And, new model for Assault general, Underground Command Post: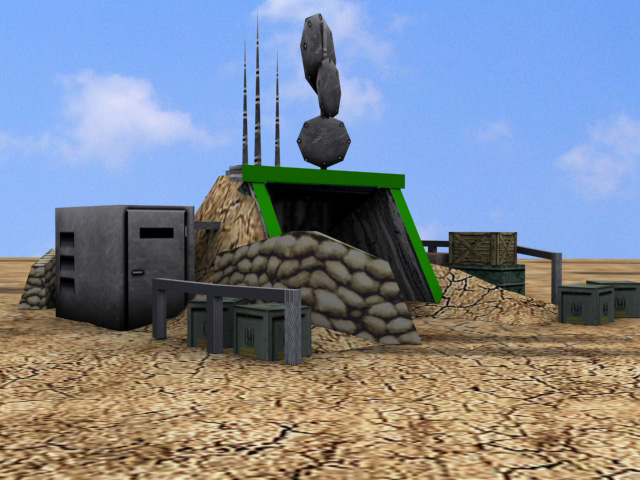 I need to remind you that Predator_BG (my dear friend and equal partner in this project), has made launcher for all of you who want English voices, and don't like our new voices. You will also have the option to choose new music or original, running game with or without shellmap.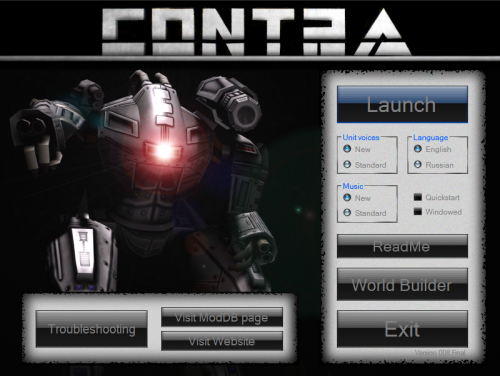 For pure and total enjoyment of 008 FINAL, I recommend you to play with New unit voices, and New music. Speaking of music, we are saying thanks to:
ToneSlave who was a part of our team, but due to RL couldn't participate more. He made menu music, lobby music, and credit music. Also,
Charlie Lockwood who made awesome music for Enhanced mod, and gave us permission to use it. You will see how awesome music it is when you start playing.
One more thing, please understand that GLA does not refer to any country, no matter of language. PLEASE UNDESRSTAND THIS AND TRY TO ENJOY CONTRA!!!
And now, just a small guidance to all generals, some tips:

As known, most annoying general. Make plenty of defenses, hide, build superweapons and take your enemy piece by piece. Valanx and Thor are great supporting units for defending base, or to eliminate important enemy units and structures. Saturn is the slowest super unit in game, but most effective. Great armor, building options, and weapon that takes every target.

General who relies on air force. We reduced the need for micro, F18 units now don't waste missiles, they retarget on another enemy unit. If you have some skills, you will own the map. Comanche is now main unit, he can take both air and ground units, be invisible and search for hidden units. If you reach rank 5, with auroras and Wyvern, you can take everything down in a few seconds.

Slow, but powerful tanks. If you are not very skilled with micro, and just like pure force, then this is the general for you. His tanks can match any other tanks on the battlefield. Laser Thor is very powerful. Omega tank, as super unit, is artillery which is good against structures and tanks. Make sure to protect power structures.

It's all about heroes. His strategy is hit and run with small, weak but fast units at start. But at the end, you have many heroic units. He is the only general in game who uses multiple limited units like: Terminator, Cyborg Commando, Seraph, Nemesis and Cylons. Combine them all together and assimilate your enemy.

Most people will complain about lack of defenses, but why would you need defenses if you play as the most aggressive general in game!? Push forward with deadly units, or sneak from behind and simply erase half of the map with Hadron Collider. The most powerful super weapon in game is available at rank 3. But beware, "if you build it, they will come"!

Strongest infantry units in the game. Used for various atacks. You can either use them in Troop Crawlers or spread them on the battlefield in swarms. This general gets 3 types of artillery units with each major rank. His ambush powers can ensure you victory. Spawn Bunker, Barracks and drop airborne units in the enemy base, clone them... and destroy everything.

Everyone saying his super unit is from hell. Well, maybe he is considering its the strongest unit in game and can take any unit face to face. But to come to that, you will have to use well balanced tanks. Great general if you lack micro skills, and if you just started playing Contra.

Do you like playing with fire? Then this is the general for you. Burn everything up. He has special strategy with fuel trucks which are available at rank 1 from Command Center and they are stealth. Fuel truck can spill fuel which can be ignited by almost any flame unit. If you sneak up with them in the enemy base, or on group of enemy units, your enemy will be shocked with his units burning.

You gotta love this general. Pollute both ground and air, and watch all enemy units coming at you almost dead from all this acid, toxin and silicon clouds. Fully upgraded Qaraqurt as super unit is a bringer of death. If you face this general, prepare some medics...

When playing as Assault general, you don't have to use any particular strategy. You have good tanks, and great artillery units. But at rank 3, you have Tunnel ambush power. If your enemy forgets about that, you can send all your units in his base, and make him regret his lack of knowledge and attention. This general has the best parts of each GLA general. Obstacles are cheap but hard to destroy, they can stop all units from passing the terrain.

You can make everything stealth, any unit and structure. At rank 5 you can even blackout the map of your enemies. Question remains, how will your enemy fight something which he can't see??? Sneaky and deadly general. No one loves to play against him. Do you?

This general will be noticed for sure. Explosions everywhere, traps for any purposes and special demolition attacks. Strongest Elbrus Storm and mobile nuclear super units which literally erase half of the enemy base. Once you start spamming with this general, your enemy will regret playing against you.

And at the end, some installation instructions. Thanks to Contra launcher you can now have other mods in your Zero Hour folder. Extract all files from archive and folder "Contra008FINAL" to Zero Hour folder, start Contra Launcher and enjoy.
This version is mostly focused on online gaming. So please, join us on Tunngle. Challenge is finished, so you can enjoy brutal enemy too. Skirmish is working, but it's not polished to the end. Mostly known problem is that if you use Panic Attack as stealth general, it can cause crash, but it happens 1/5 times.
For even better experience, download GenTool.
Visit C&C:Online. It is a GameSpy emulating server for modern Command & Conquer games, adapted to work for all the Command & Conquer games affected by the GameSpy closure (Generals, Zero Hour, C&C 3, Kane's Wrath, Red Alert 3). You can still play your favourite C&C online like before, without the need of third-party software.
Until the next adventure (Aliens!??), we wish you Happy Holidays. Join us online and support Contra everywhere :)
Creator
dcesarec
predator_bg