Many of you have been curious to know what is going to be new for the next version of C&C Tiberian Dawn Redux. Well, sgtmyers88 has posted a couple of interesting videos to provide that answer!
Many of you have been wanting to see further improvements and fixes made to the AI and you also wanted additional improvements to visual details.
Well, we got em' for ya as the C&C Generals SAGE Engine is now being pushed to it's bearable limits!
C&C Tiberian Dawn Redux v1.4 Special Features Video

This is a preview video showing some of the updates that have been achieved for the Mod in the past year since the release of version 1.3 back in December 2009.
FEATURES:
1.) Terrain, Water, & Lighting Updates
2.) New Volcano Effects
3.) New Particle Effects
4.) New Building Strobe Lights
5.) Special Visual Effects For Tiberium
6.) Retextured Models & Modified Animations.
7.) Specular Lighting Applied To Models
8.) GDI RailGun Turret In Action
9.) Nod Black Hand Laser Turret In Action
10.) New Stealth Tank "Lazarus Shield" Effect
11.) Improved Skirmish AI
12.) Improved Framerate
Nod Mission 07 Demonstration Video:

This is a video showing the 7th in-game campaign mission for the Brotherhood of Nod.
MISSION BRIEFING:
The Brotherhood has located a huge field of Tiberium in the area. The nearby village has laid claim to the field. Eliminate the villagers, as to prevent any infection of our own workers. GDI forces are reported to be minimal, so elimination of them is of secondary importance.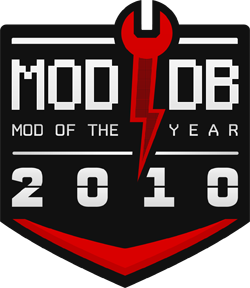 The C&C Tiberian Dawn Redux Development Team wishes to give a big THANK YOU to everyone for supporting C&C Tiberian Dawn Redux! It is because of YOU that this project has made the list of Top 100 Mods for 2010!
C&C Fans Unite!
2010 sgtmyers88 & the C&C Tiberian Dawn Redux Development Team